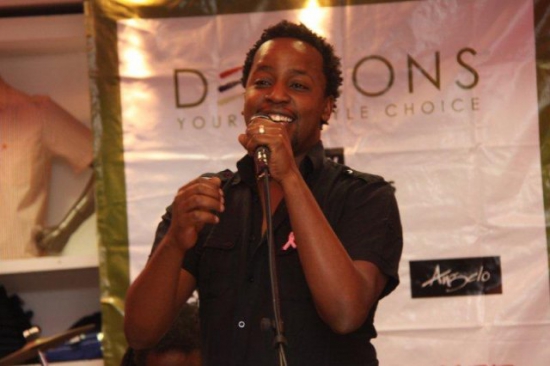 By Sheila Kimani (@sheilakimm)
"Just a man" hit maker Kanji Mbugua has made a name in the Kenyan music scene and continues to set the pace especially for the live music performers. With a strong background in worship and ministry, Kanji has won hearts and represented Kenya on the global platforms.
Born and raised in Nairobi, Kanji the last born of 5 was exposed to extracurricular activities at an early age. As it were, his elder sibling were already discovering their talents and joining related schools. It was thanks to this that his father encouraged him to take up music. Kanji attended Makini School for his primary school education, and then went on to Nyeri Baptist School where besides music, he joined the basketball team and led his team to the provincial finals.
Soon after high school, his involvement in several youth programs and activities saw him appointed to become Kenya's Youth Ambassador to the world. This opportunity granted him a chance to travel the world, and understand the conflict resolution processes after which he received a diploma in conflict resolution.
Upon settling down after the tour, Kanji put his best foot forward musically by taking voice lessons, learning production and mastering the art of music in finer details. To further perfect his skills, he attended Biola University and upon his return formed the Milele Group alongside Harry, Kaima and Christian with whom they produced albums titled 'Forever', 'Level Up' and 'Afrique'. This further steered his brand and led him to pioneer Kijiji records through which artistes like Hellon and Chizi launched their albums.
With a well-equipped band dubbed "The Villagers Band", Kanji has managed to pull off some of the most memorable live performances and has gone ahead to release award-winning albums. His most recent album 'Rauka' has been receiving impressive airplay as fans keep affirming that it blesses their lives. Quite the family man, artiste and mentor, Kanji has surely been a force in the Kenyan music industry and it's for this reason we applaud him as our mcm today.
Related Topics