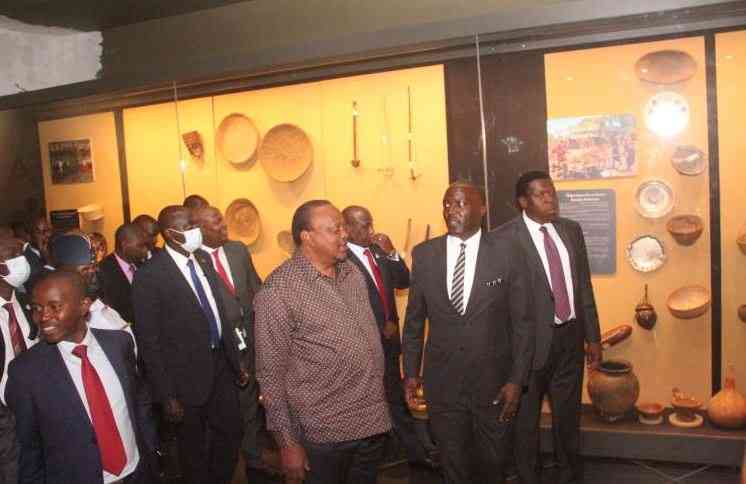 President Uhuru Kenyatta has hailed the renovation of the Uhuru Gardens in Nairobi, saying the historical grounds had suffered decades of neglect.
The President said that the historic grounds identified by founding fathers as a site for Independence, had been turned into a den of drug abuse and illicit sex.
He narrated how together with senior officers of the Kenya Defence Forces, they came up with the plan to renovate the grounds.
"When we got here, the officer manning the gate asked how long we wanted," he said of his first trip to Uhuru Gardens before its inauguration.
"We decided that this site, which our forefathers decided would be our Independence site, would host our history," President Kenyatta said, adding that a place where tens of thousands of Kenyans were held in a concentration camp had been ruined by immoral acts.
He described the grounds as the "custodian of Kenya's historical and cultural artefacts which will help us celebrate our good, see our bad and remember our ugly acts."
The president was speaking to journalists he hosted at the grounds yesterday.
He said that the 16 galleries currently completed out of the planned 33 would be open to the public soon, calling for patience.
"It is going to take some time. There are many processes involved and we do not want to rush it. We want to ensure that we have captured everything," he said.
Some of the things the president said he wanted captured were historical bits of all of Kenya's ethnic communities which would help in understanding different cultures.
"It is a mix of all these things that makes us Kenyan," the president said, adding that the museum and national monument set up at the 68-acre amenity would enhance how history is passed on to other generations.
Chief of Defence Forces General Robert Kibochi said they want Kenyan artefacts, lost during colonisation returned. "We have to work with Parliament to establish a legal framework to bring them back," he said.
Gen Kibochi said that the amenity would be open to the public at a cost that will be agreed upon through stakeholder-engagement.
It is at Uhuru Gardens where the Union Jack was lowered and Kenya's flag hoisted and national anthem recited for the first time.
The location was declared a monument in 1997 and its logo captures the symbolic Mugumo tree which was planted by the first president on the spot where the national flag was hoisted, and a shield which signifies unity and defence for freedom.
Related Topics