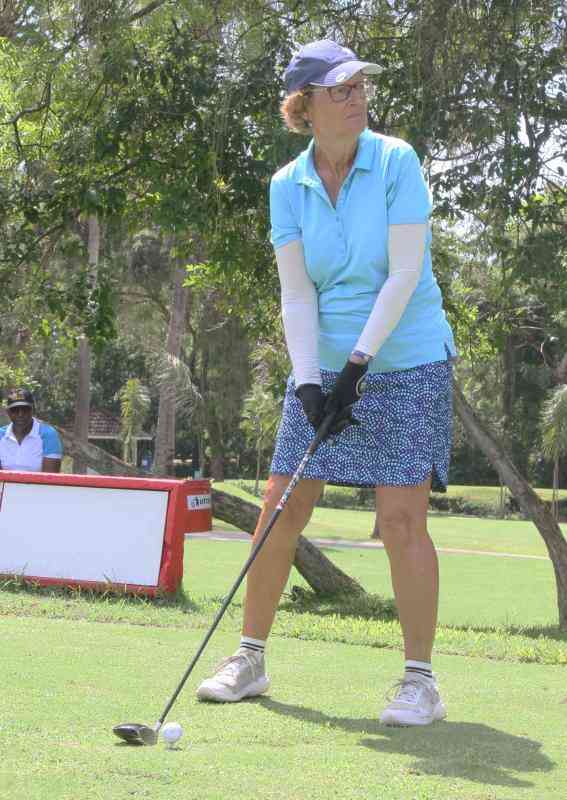 Golfers will be painting the Nyali Course in Red, Black and white when they get down to business in the club's Lady Captain's farewell tournament.
The championship, which will be played tomorrow, is organised to bid farewell to the outgoing Club Lady captain Annemarie De Jong in the day-long tournament.
The event is sponsored by Blue-Ravens Lion, ABSA Bank and the club. The event has attracted golfers from the home club, Mombasa Golf Club, Leisure Golf Resort, Vipingo, Malindi and Guests of the Lady captain with valid handicaps.
The day's dress code in the course for the ladies will be Red, Black and White, while the men golfers will be appearing in Green and Black.
De Jong, who served the club as the Lady captain for the last 12 months after taking over from Mary Kandu, confirmed that all plans were ready to ensure a successful day of golf.
"I would like to thank club members for having given me an opportunity to serve them successfully and hope the incoming office bearer will continue smoothly from where I left", said De Jong.
Lady golfers to watch on the day will include Alyssa Jamal, Caroline Mokaya, Mary Kandu, Florence Karimi, Christine Kinyeru, the Kaur sisters of Harsimran and Rasmeet.
According to the draw, the team of Kamami N, Kaguru J, and Kisaka G will lead the men from 7:20am at the first tee off while from the 10th Tee at the same time will be the group of Khagram S, Omae N, Kanji V, and Kanji R.
All the ladies will play from the first tee from 11:20am led by the team of Florence Karimi, Pauline Gichara P, the Mombasa Lady captain Glady's Kasi and N. Gathunga.
Elsewhere, ICEA Lion King of the course will pitch camp at the Thika Greens Golf Resort today from 6:40am, before moving to Ruiru Sports Club tomorrow.
Karen Golf and Country Club will also on the same day host the January 2023 monthly Mug golf tournament, which will be sponsored by Heritage Insurance. [Maarufu Mohamed]
Related Topics