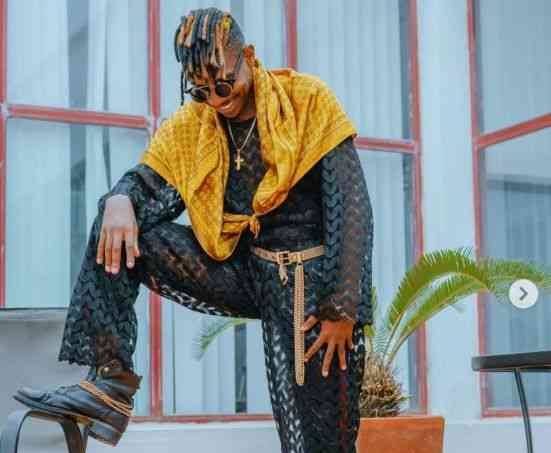 Vivian Kenya is in the eye of a storm over a post she made about death and cancer, complete with a picture of a lady in a hospital bed. Many rushed to offer condolences, then when she released a songtitled 'Cancer', even more felt cheated.
This is only days after Odi wa Murang'a found himself in the midst of a saga that is still playing out with questions as to the authenticity of the claims.
It started with a video, that in typical Gengetone fashion, was shot on the rooftop of what appears to be a residential building. Odi is speaking, narrating how he was caressed by a bouncer of a lounge, ending with him warning Nairobi men to be careful out here.
No sooner had the likes piled up than Eric Omondi came out guns blazing, explaining that Odi was a liar, and sharing a video of the Boondocks member disappearing towards the washroom with a lady. More counterclaims followed.
On Tuesday, Odi said the person on the video wasn't him, and that Eric was casting aspersions, challenging him to release the video of Odi and the girl being intimate if indeed he had it.
"@ericomondi watu si wajinga I know you were paid by the club to pull down this story I was harassed and that video you posted that's not me…"
Did the younger man release the rooftop video to own the narrative, or were the bouncers as sneaky as he made it seem? And, why didn't he complain to the management about the harassment?
Odi, born Francis Macharia, has other ideas.
When we talked to him on Wednesday, he said: "I am weighing my options but I am headed to the courts. I do not have a problem with the establishment, but it is the bouncers that I have a problem with. What they did was not right."
According to him, the bouncers had mishandled him in ways that he would not want to happen to anyone else.
"That is what pissed me off. The mishandling. I do not even have a problem with Eric, because he is just being used. But I want people to speak out more about harassment from club bouncers."
Eric himself has been caught in a web of lies, openly stating that he was turning 40 and with no child or a wife. Hiding the known fact that he had fathered a son with a media personality, itself a contentious issue that was unknown until he was accused of being a deadbeat father by the TV host.
Speaking to Wasafi Media, the 'Play 75 per cent Kenyan' ambassador said, "I tried to get a wife from my show 'Wife Material' but I failed. I am turning 40 years old, sina mtu, sina mtoto, sina bibi," claims that he had to clarify after fans noticed an anomaly in his narrative.
"I was talking about my life turning 40. I have no house or children to go home to. I want children who will welcome me when I get home. I need two children this year (two girls), so pray for me," he said.
Still, on comedians, Nasra, who made a name on Churchill Live, has now been twice caught pulling a fast one on netizens.
Recently, she was exposed for pretending she was organising a Beyonce gig, only for hawk-eyed social media users to expose her as a liar. She had created fake screenshots to intimate she was in talks with the Grammy winner.
"Of course, Beyoncé did not DM me. That is a joke. I am a comedian; I do these things to make people laugh," said Nasra recently, but it was not the first time she has done so.
Last year, she posted a Sh59,200 hotel bill as hers, only for it to emerge that it was Vera Sidika's.
A top comic with a pull that saw Kenyans open their wallets to fund her communal activities in Wajir, why would she resort to lies, and not just once, but twice?
"Artistes lie or alter the truth, for several reasons. But mostly, for clout chasing, relevance or getting the numbers," said Agnes Nonsizi, publicist, media personality, music executive, YouTuber, voice-over artist, and events host.
"We are in a space where celebrities want to remain relevant."
Nonsizi, who has appeared in the drama series Kina, believes it is a wrong approach to use lies as it distorts what is true or false later on, and can impact relationships with corporates or other brands.
"There are some lies that can cost you. When you are building a brand, you have to think of it as a whole. You cannot build a brand on lies," she said.
In August 2018, Kobi Kihara's online life came tumbling down. The celebrated media personality had posted salad on her Instagram page passing it as hers, only for it to emerge that the picture had been downloaded from Google.
More investigative work revealed dozens of such images, appropriated from search engines and other content creators.
As her world burnt, Kenyans accusing her of posting and living a fake life, she deactivated her social accounts, but before she apologised, said; "I am sorry to everyone who I misled, forgive me. I should have thought twice."
Nonsizi says that owning up is the only way to go when found out.
"Nothing deflates people more than owning up. It is important to own one story. PR is not only altering the truth, or being economical with it; it is about building relationships which cannot be built without trust."
She adds, "artistes miss the plot because they do not have publicists or PR professionals to guide or direct them on the route to take whenever something happens."
Celebrity lies are not a Kenyan thing. LeBron James, the NBA player is now the subject of memes, for lying blatantly on numerous occasions.
Bron, as he is commonly known, has been caught lying that he watched a Liverpool FC game when he did not and that he listened to Migos in 2010, when in fact, the group had not released any music yet.
He also lied that had watched The Godfather six times when he could not even name a favourite line.
What's interesting about the NBA all-time leading points scorer is that he knows what people think of him, and speaking on a podcast late last year, he said; "I always keep it true, baby."
The White Stripes, an American rock duo, claimed to be siblings, only to later emerge that they were a married couple.
Then there is Jussie Smollet, the 'Empire' actor who cried wolf, saying he was racially harassed with homophobic slurs, only for it to later emerge that he had set up the whole thing.
But the most natural celeb lie is chopping off actual age by a few years. Deejay Kaytrixx has done it and caused a Twitter storm, and so have Eminem, Rebel Wilson, Jennifer Lopez, Nicki Minaj and pro footballers.
In fact, in a petition filed by a Kibra voter leading up to the Kibra by-election in late 2019, it appeared that McDonald Mariga was 'born twice', once in 1984, and a second time in 1987.
According to the petition by Leina Konchellah, it seemed Mariga had completed his high school education at the tender age of 15.
"It is curious to note that the complainant presented a national identity card indicating his date of birth as April 1987 and further presented his Kenya Certificate of Secondary Education indicating he sat his Form Four examinations in November/December 2002," the sworn admission stated.
His brother, Victor Wanyama, is 31, as per Wikipedia and other football sources.
Wanyama at one time went to court to sue Shakilla, who had claimed that she had slept with the Canada-based footballer, for Sh700,000 per night.
She apologised on a live video, probably to escape the humongous court fines that awaited.
She would later claim she makes millions from the adult entertainment platform OnlyFans, before an online sleuth googled and traced a screenshot that Shakilla used to concoct the lie.
Nonsizi sees building brands around professionals as the only way celebrities can keep up with the scrutiny.
"In Kenya, we lack the structures and as publicists, or managers, we are too few to serve the market. But artistes who have the right teams have a leg up."
Related Topics