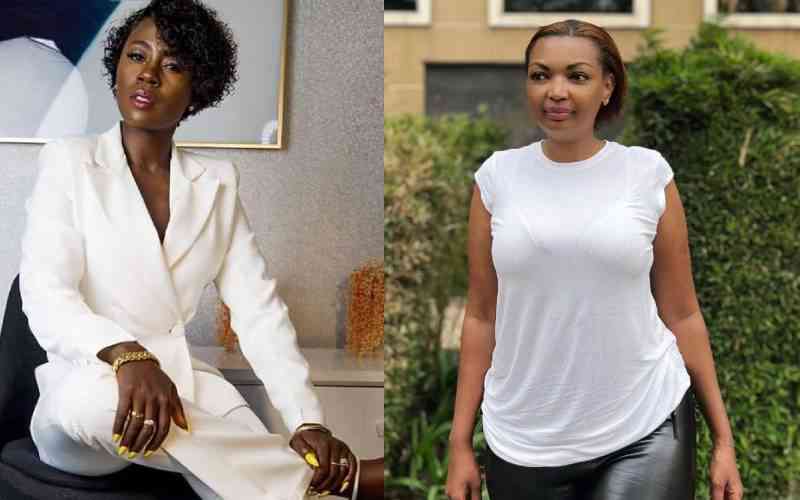 On Monday, top Bongo storyteller Disasta Vina, the self-proclaimed Black Maradona, released an eight-minute rap song in his usual part life lessons, part diss track style.
The song, ironically named 'Best Friend', was aimed at rising rapper Rapcha, who had earlier released a diss track called 'Story Nyingine' aimed at Babu Tale, Young Lunya and Dizasta, calling out the latter for liking a Tweet that was not in Rapcha's favour.
Born in 1999, Rapcha took a leap of faith, disparaging an accomplished talent manager and the two rappers. Unlucky for him, Dizasta is one the most devastating pound for pound Swahili writers on the continent and 'Best Friend' is a testament to that.
Welcome to the beautiful world of celebrity egos, where clashes are the order of the day. Everyone is king and the fans are the biggest beneficiaries of, at times, well-written and carefully thought-out takedowns. Ask Jay Z.
We've had a fair share of lyrical beefs where K Shaka's Otero and K South's Bamboo went after E-sir, Klepto squared it with K South, Mwafreeka took on Chiwawa, and Khaligraph crossed the borders to duel with Nigeria's Blaqbonez.
Producers like Deejay Stone made a name making diss songs for various artistes.
Outside music, we have seen Eric Omondi in a never-ending battle against Bien, Huddah Monroe in a global-trotting beauty contest with Vera Sidika, Gengetone shining lights Ethic against Ezekiel Mutua, and Kileleshwa MCA Robert Alai against anyone with an opinion, or a night club.
As we await to see if Rapcha, mentored by legendary sound engineer and pioneer producer P Funk Majani will hit the studio, here are some beefs that will give audiences the action that has been missing for some time.
Jalas Vs Eric Omondi
With the comedian and radio show host now in parliament, it won't take much before Eric Omondi starts bashing him for not pushing the #PlayKeMusic Bill through the house.
Eric, who has been vocal in pushing local media stations to play not less than 75 per cent of Kenyan music, will find a way to accuse Jalas of not doing enough while working at Radio Maisha, Milele FM and Kiss 100.
For not pushing the Bill, which was tabled in the last parliament by Babu Owino and Charles 'Jaguar' Njagua, Eric and his troupe of four will protest outside parliament, calling Jalas' name loudest, while making a commotion.
Georgina Vs Shakilla
The queens of tattoos and nudes could have to have a go at it, because the videos of Georgina Njega gyrating and exposing herself will surely have made Shakilla's blood boil.
Famous for being famous at only 19, Shakilla will feel her infamous throne is being threatened by Georgina, who, allegedly, made the videos while in her teens.
Because both are vocal, unapologetic, and always ready for a fight, it will make this an interesting match-up that will involve more nudes, explicit captions and exes coming out of the wood to take sides.
Otile Brown vs Brown Mauzo
Otile will release a song called 'I hit it first', aimed at nobody, but Mauzo will take it personal, and say he came up with the shared name before anyone else, including Bobby and Chris Brown.
Mauzo's Instagram post will be liked by his wife, Vera Sidika, and that will make Otile mad, and he will remind everyone he featured Vera in a video with 17 million views years before Mauzo met her.
You Guy, by P Unit, will come back into circulation, as would a male KU alumnus, who would be interviewed by Mungai Eve about Vera's student life on the Thika Road campus.
Diana B vs Sarah Teshna
One is a socialite-cum-rapper married to an award-winning gospel artiste-cum politician, while the other is a talented and award-winning actress married to a footballer who is a European champion.
There will be receipts, DMs screenshot, and baby daddies roped in, who shall be forced to take sides in this tiff. Bahati will release a song about exes.
Robert Burale Vs Andrew Kibe
Both have been pastors, and were even friends, but now, Kibe is a top content creator with misogynistic opinions and fake hate for anyone and everyone, while Burale is a suave life coach and dapper dresser.
They both know how to survive in Nairobi, and they know each other's secrets, so a war of words would be interesting.
Ever ready for the tea, netizens will have to pick sides, either for the man of the Twitter streets, or on the side of Mr upmarket circles. Throw in Edgar Obare and you have a three-sided Kung Fu fight.
Femi One Vs Shekina Karen
Fresh from an AFRIMMA win, Femi seems untouchable, until the dope Shekina, the Dai Dai rapper, comes out in an interview to say she is the better rapper of the two, just underappreciated.
Femi, who has participated in a number of lyrical beefs including one with a femcee she dubbed Pilau Njeri will feel attacked, and post her gong, with the caption 'Shhhh!'.
Shekina, who has a trove of collaborations with among others, Khaligraph and SWAT, will reply with her own caption under the image of her petite frame and in boxing gloves, 'New Rap Queen, recognize.'
With both boxers deadly in the booth, we expect some quickly shot videos and name calling, and we are here for the platlist.
Nonini Vs Jua Cali
This one has been boiling for some time, with the two veterans said not to be on talking terms.
The 'Manzi Wa Nairobi' accuses Clemmo of not supporting him as he did Jua Cali, letting him go the explicit lyrics way when the Calif Records owner knew brands wouldn't touch a rapper who was famous for dirty lines. And because Jua is in Clemmo's corner, the accusations will rope him in.
They keep name dropping each other in subsequent interviews, love lost, but what we need is a lyrical war, bars of deep personal secrets and funny mchongoano.
Akothee Vs Karen Nyamu
This is how it would all start. Akothee, who holds nothing in, lectures the nominated Senator on how to keep a husband, and the family unit intact.
Akothee, who is proud of her musical, business and family achievements, will feel she has the right to educate her 'young sister', but Karen won't take it well, and in her style, will be spotted and recorded confronting Akothee at a busy mall.
There will be a scuffle, hands thrown and later, when it cools down, short videos will be posted with explanation and vows to quit alcohol.
Katapila Vs Mbithi
Few rap artistes sound as similar as the two young cats. Katapila, who won the OdiBets Odinare Challenge in 2021, is a fast spitter, a lyrical caterpillar with diverse styles, while Mbithi is a super hot lyrical freak with swag, urban bars and innuendos.
It is comparisons like these that get rappers agitated, being caged, placed in some box by the media, and instead of dissing writers like myself, one will drop disparaging subliminals about the other, and a lyrical fight will ensue.
Katapila has King Khali on his corner, while Mbithi spars with King Kaka. Tight one.
Related Topics