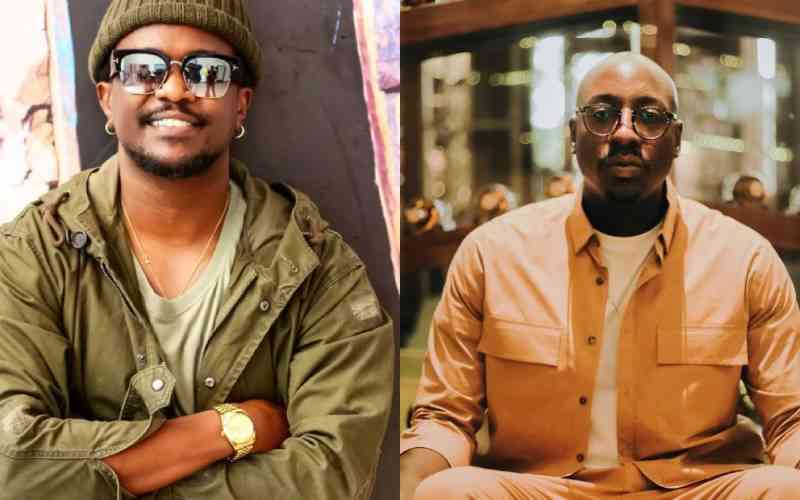 2022 was big in matters music, and more artistes are promising to come out with a better version of themselves or their music.
Despite the usual old names that has been in the industry for a while there are also some new ones that promise to cause ripples. Here is a mix of the old and new that will set 2023 alight.
Nyashinski
He has learnt the rules of showbiz. He is the G.O.A.T. and a visionary rapper. From the Klepto's era up to date, he has always been coming with bangers even after the long musical hiatus.
He blends his lyrics well with current issues and would even have his unique way of performing. And he recently cemented his status in the industry with the famous Shin City concerts. We wait to see what he has in store for us.
Bien
Away from Sauti Sol, Bien has proved he can stand by himself despite being in the group for more than a decade. Last year, the group took constructive break to work on solo projects.
What followed next was pure 'Mbwe Mbwe' with Aaron Rimbui and Fully Focus made us see different 'Dimensions' of Bien.
His single 'Bald Man' surpassed a million stream in less than three weeks. He is definitely going international considering the bold steps he is taking.
Shekina Karen
Coming into the limelight after Khali Cartel 4, Shekina had a successful year in 2022, which eventually saw her featured on 'Dai Dai' by Fathermoh. The hit ultimately became an internet sensation and TikTok challenges were made from it.
Her way of telling a story leaves fans asking for more of her music.
Fathermoh
Soon, Fathermoh will be taking over the Gengetone industry. After being featured in several gengetone bangers, Fathermoh has been dominating airwaves with his magical lyrics.
He was in Mbuzi Gang before they broke up. His solo projects have been doing good. His previous group is well known for fascinating club bangers. Some of the songs include 'Shamra Shamra', 'Wagithomo' and 'Sherehe Sheria'.
Wakadinali
When it comes to drill music, a sub-genre of Hip hop genre, Wakadinali is one of those that have made a name for themselves.
They are becoming a crowd favourite to a point that fans clamour forced organisers of one of the biggest events last year to add them to their line-up.
They are the best drillers hands down. 'Geri Inengi', (Subaru ya mambaru) is one of the chart-toppers that became a national anthem.
And they are still coming up with great hit after great hit.
Buruklyn Boys
This is the crew trying their best to dethrone Wakadinali as the best drillers in Kenya. They are soon releasing an album that will most likely rival Wakadinali's. Drill lovers should be ready for more and more bangers from the group.
Brandy Maina
In a list of independent artistes with good flow and a great script, Brandy will always be at the top. The Sauti Academy alumnus has released several timeless hits that show we should always expect more from her.
'Danger Dinji' and 'Kubali' are notable songs that convey her magical prowess. She has collaborated with likes of Ethan Muziki and Maandi.
Kanambo Dede
Her freestyle rap became the genesis of her fame. It did not go unnoticed. Seeing a big talent in young girl, King Kaka signed up Kanambo Dede and took her back to school.
In her song dabbed 'Walahi', Kanambo tells a tale of the hardship she has faced in life, including the birth of her child.
She narrates how her mother was disgruntled by her because of dropping out of school. This song became her breakthrough after King Kaka and Nana Owiti took her back to school.
She sang her way back to school. Literally.
Her freestyle rap and collaborations have seen her gain more popularity. Her fans are looking forward to see her releasing more songs soon.
Rekles
In his former crew, Ethic, Rekles was one of the most outstanding members with his enchanted lyrics.
Later, he decided to do some solo projects. In one, 'Khali Cartel 3', Rekles won the hearts of many fans.
He has several songs, including 'Bang Bang' where he featured Shugerhee, 'Knockout' featuring Assasin and Bila Beef, among others.
Rekless is an exceptional artist in every way.
In music videos, you will always notice him with his distinctive style of a bandana and local boy vibe. His style of music is inspired by where he grew up.
Boutross'
Before fame, his passion for music saw him perform on several stages. However, Boutross has over the years released a number of singles and two mixtapes with AD Family.
He has found success with a number of hit singles that gave rise to his fame.
Ndovu Kuu
Christopher Thande, Krispah a.k.a Ndovu Kuu, is a music producer and rapper. He rose to the ranks of fame after producing his song, 'Ndovu ni Kuu'.
Not only did the song bring him some controversies but has also propelled him to greater heights​.
He was recently crowned the Pulse Music Video Awards Male Artiste of the Year.
Kuky
She refers herself to as the "lyrical mistress". She is gifted and her delivery is topnotch.
The lyrical mistress recently did a feature with King Kaka in 'Maliza na Pombe' and went on to release her debut EP, 'Gold'.
From the beats to lyrical delivery, her album stands out as one of the best openers from a rap artiste and she is promising to live up to the hype.
Nikita Kering'
She set the bar high. At only 16, she was causing ripples in the industry and we don't expect her to lose her mojo anytime soon.
She has been winning awards right, left and centre and her influence in the music business is phenomenal. We wait and see what she has in store for us this year.
Bridget Blue
Bridget Blue is an amazing new talent. She has been releasing great new music all year round; 'Found You', 'Goodbye', 'Woman' and the latest project 'Colours'. The November release, 'Colours', is something worth checking out.
Last year she bagged her Afrima nominations for the best songwriter category and PMVA Nomination in the new artiste of the year category.
Shifuu
Shifuu is a little-known local Afropop recording artiste who says musical instruments have always mystified and completed him in a way that only nature can understand.
Early last year, controversial socialite Amber Ray started her own record label, Rich Badness, and the first signee was Shifuu.
Unlike creatives who have a specific genre dominance, he brings Afrobeat vibes and can rap and sneak in some sleek Amapiano.
He is learning the show biz scene. He walks around with a contingent of well-toned no-nonsense security guards like the superstar he is. Let us wait for this year.
Matata
This is probably the group that will take over the mantle after Sauti Sol.
The Oslo-based all boy band are set to bring a whole paradigm shift in stage presence with their enchanting dance moves.
Related Topics