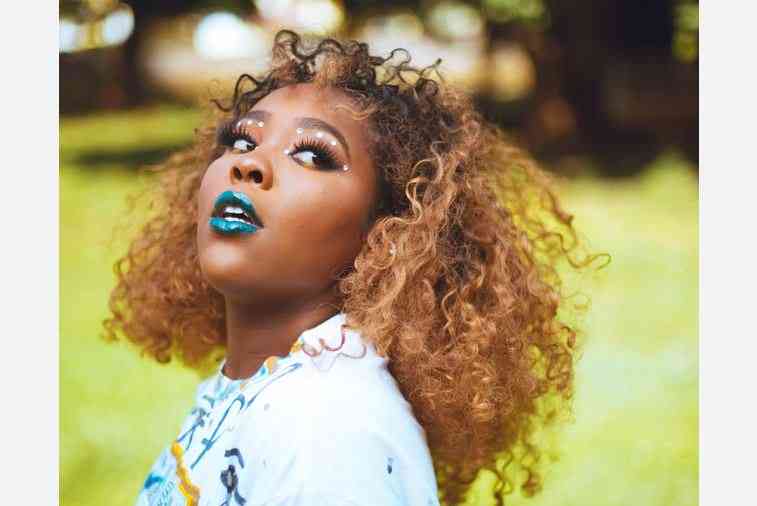 This Friday afternoon finds me at my local, a Bloody Mary in hand and my questions for Kenyan hitmaker Vallerie Muthoni in the other. I go over them, patiently waiting for her to join my video call.
"What's up?" she says with a smile as the call goes through and her face enters my field of view. She is dressed down, her smile the only accessory on her face. As we play catch up, she explains she has been packing for a trip.
"I am going to the states. It is time I go back to my Wakanda and connect with my people," the US-born starlet says. "I am going to be with family, travel, link up with creatives, network and vibes, you know?" she poses.
She continues a trend that has caught my attention for a while. Earlier in the year, another songbird from Kenya named Le Ru, a relatively underground, but extremely dexterous young Afro-jazz artiste had already mentioned how she moved to Boston for studies and to further her music career.
She recently performed at a club in Boston, opening for two mainstream Kenyan names the faithful might be more familiar with, Kristoff and Naiboi.
"I love doing my thing in the States. It may be a smaller crowd because we are just performing for Kenyans in the diaspora, but the money I earn from a club gig here with a reasonable turnout, promoters in Kenya cannot cough up that kind of cash," the Sondeka singer Naiboi told DJ Xclusive in an InstaLive.
Even artiste managers and business stakeholders share sentiments on the lucrative nature of the industry abroad with specificity offered to the US.
"Overseas shows pay you better, but you have to do a lot of shows to feel the amount of money you have earned compared to back home. If you are doing any show within the continent also putting into consideration the Caribbean Islands (around the Indian Ocean) like Mauritius, Comoros, Madagascar, those islands pay you as high as $50,000 (Sh6,136,387) a show," says Kaka Empire boss, Dennis Njenga.
He adds, "But what happens in the States is that a promoter will never pay you that much, they assure you a minimum number of shows for the period you will be there. For example, this December you will do 10 shows with a minimum of $4,000 (Sh491,600) and you are touring different states. That is why you see Kenyan artistes go on tour, come back and buy a house, or a car from the revenue from the small shows.
"Both Africa and the diaspora pay well because they know the value of artistes. When Femi performed in Tanzania, she was paid well. Africa is the best-paying continent. That is why you see a lot of artistes coming to Kenya to perform because a Tanzanian will get paid Sh1 million to 3 million per show. Outside does pay better than locally, of course, unless it is well organised".
In recent times, legacy acts such as Nonini, Bobby Mapesa, and Calvo Mistari, and newbies like Msupa S are being drawn to the allure of the States. Some further their music, while others disregard it for personal reasons.
"A lot of Kenyans are here through family, some come to study, while others do it for financial gain. I was born here and consider myself Kenyan-American. I am involved in home affairs such as being part of the group that lobbied for proper voting systems and diaspora representation in government," says DJ Xpect, a celebrated Kenyan DJ-producer based in New York.
Besides Berklee School of Music alumni such as Karun, Lisa Oduor, and Tetu Shani, there are other Kenyans including R&B royalty Xenia Manasseh that are actually signed to music stables in the US and are recognised there more than they are here.
She wrote on giant star Teyana Taylor's last album, The Album, which was a chart-topping record on the Billboard Top 100.
Not only musicians are ostracised in the debate, but content creators too, including Elsa Majimbo, who recently acquired a pad in Los Angeles, and Andrew Kibe the misogynist and male chauvinist who left Kenya for greener pastures.
Jazz player Aaron Rimbui as well has packed his bags, which makes the states a merrier place for Kenyan entertainers.
"I was a truck driver. It was lonely going on long road trips despite earning huge cash; I just was not happy and had to return home eventually," musician Nyashinski recalls in a past interview.
"There are numerous opportunities in the US, and I do not regret travelling there, but it taught me lessons I will never regret. It made me wiser, and stronger and on the contrary, I am grateful for the experience."
Other success stories include KayCyy. The mid-20-year-old Kenyan recording and performing artiste from Keroka left Kenya at nine through the exploits of a green card.
Today, he is rubbing shoulders with Justin Beiber, Travis Scott, Kanye West, and other A-list artistes.
"I came here because my family was blessed to get the DV Lottery. I was always into music. In church, I was in the choir. My parents would play Michael Jackson when we were younger and I would try to impersonate that. I have always been into the creative side of things, and I just kept pushing, never doubted myself and I still have so much more to achieve," he says.
Signed to Bu Vision through Columbia Records, KayCyy is living the dream.
But it is not a straight road for Kenyans in the US. It is rough and full of bumps, with many having to work through culture shock and other barriers to get their big break. There is a dark side to migrating, and these are the untold stories that can force many to think twice before considering relocation.
Related Topics