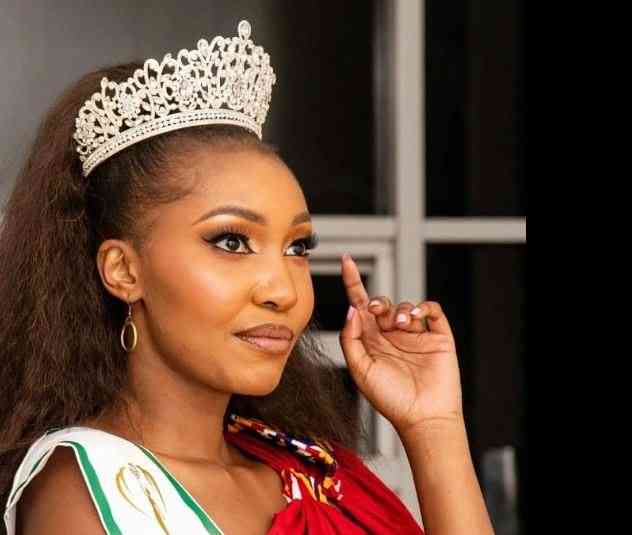 Diana Joy Mbocha is a beauty queen. As she prepares to represent Kenya at the Miss Tourism International pageant in Malaysia on November 25, the model is upbeat about the Miss Tourism International crown.
Preparing for the event is physically and financially draining but she believes this will be worthwhile.
"I am training in terms of speech and also physically. I am also trying to get finances for the trip because all this takes money. We have independent sponsors and we are trying to tap into the government to help us out because this is a government crown. We are also in touch with the Tourism Board that is in charge of the tourism fund," says Diana.
During this interview, she is accompanied by Cynthia Kinya, her modelling personal assistant from Mochez Models, a firm run by Dorothy Oliech.
Diana is wearing her natural hair - dyed blonde and chin-length. Dressed in a bedazzled gold-coloured dress with feather details and stilettoes, her make-up stands out; light, delicate and with hints of blush.
This beauty queen is not your ordinary crown holder, she is not in it just for the win. She is here to change the misconceptions that people have had about beauty queens.
"People misunderstand crowns. They see the glam and the glitz but do not think of what goes on behind the scenes for one to achieve that. I want to educate people on the inclusivity that pageantry has. It is showing everyone that they are beautiful, strong and got brains. The crown is about assuring people that they matter in the little ways they participate in society. It makes you give back to the community," she says.
It is easy to see that confidence comes with the package to succeed in the modelling world.
Getting involved with the industry, for Diana, was a deeper thing than just loving and appreciating her good looks.
"Pageantry saved my life," she says. "Five years ago I went through a violence ordeal and I was looking for a way out - a way to love myself, to connect with myself again, and pageantry became that thing for me."
Although hesitant to dive into the details, she says that she will use her platform for the betterment of society. "I was able to bring myself to the world and show the world that there is more to me than what was done to me and what I went through," she says. She has been in the industry for five years, and defines the highly competitive nature of the field as "brutal", even though she admits that she has "loved every bit of the process."
Getting her foot into the door of the business entailed trying out for several pageants, with resilience being the name of the game.
"I tried out a few pageants - Miss World, Miss Universe, Miss Intercontinental. I got to the finals of Miss Universe, I was the second runner-up in 2018. Then I participated in other pageants, getting 'no's until there was a 'yes'", she says.
Diana has nine siblings.
"I have seven brothers and we are three girls," she says, adding that her family are her biggest fans and supporters.
"Mum is a fashionista, I loved how she used to take care of herself, making her hair and nails".
Diana started dreaming of a modelling career when she was a little girl.
"I encountered pageantry when I was about eight years old. They showed the actual Miss World finals on TV. I watched it with my mum and I was so fascinated," says Diana.
"I loved everything about it - the glam, glitz, the question and answer section - I knew that this is it for me."
She is more than just a pretty face, she is keen on advancing her education.
"I did my law degree at the University of Nairobi and afterwards pursued a Master's degree in International Relations in the UK," she says.
"You have to prove yourself regardless of the kind of modelling work you do, be it high fashion or pageantry. You have to show the judges that you are meant to get this crown because you are going to make a big impact with it," she says, adding, "That comes with brains."
Speaking about her Miss Tourism International reign, the model notes that Miss Tourism Kenya aims to promote the country's tourism sector, both locally and internationally.
"This crown was everything. I got appointed in August, and we are strategising on how I will represent Kenya in Malaysia, with various corporate social responsibility (CSR) projects in the works," she says.
She adds: "When I won, I was ecstatic. I get to go from a subordinate crown to an international one. I get to impact Kenya worldwide and present Kenya to the world. Hopefully, we can showcase Kenya and what it has to offer in matters of tourism; after that, I will work on gender-based violence CSR projects."
Related Topics