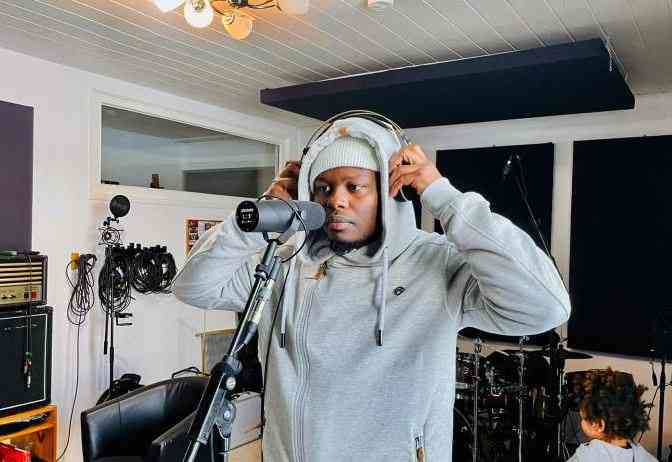 Lately, most rappers come in a thuggish flow and portray their hardcore side and James Masai, popularly known as Jay Maumau refutes this as a misplaced priority.
He terms himself an advocate for education, political involvement, and non-violent social activism.
"Mau Mau were freedom fighters which I read a lot about and relate to. Their pride and political movement are admirable and this inspiration is to be carried on. I decided to carry their name to remind the youth about the heroes who stood for the wordless and suppressed people in our community," he says.
Disturbed by the 2007/08 post-election violence, he started voicing his pain and anger about the divided nation.
Inspired by his grandfather and international artistes like Common, NAS, and Immortal Techniques, he turned his poetry into deep and deadly rhymes highlighting societal ills.
"I felt pain when confronted with the post-election violence and the rampant corruption. Rapping became my tool to speak up, educate and connect with like-minded people. My inspiration does not come from the industry nor look up to anyone; I read about African history and culture from great authors and thinkers, which gives me a deep understanding of myself and the world," he says.
Growing up partly on the South Coast and partly in Kitui, Jay moved to Mombasa after school where he worked for five years before quitting.
"I quit working and started my political radio podcast in which I promoted conscious Hip Hop and hosted one of the first Hip Hop platforms, Last Word Standing at the Alliance Francaise," he says.
Soon afterward, the rapper started travelling under his foundation Africa is Now in East Africa. Through his more comprehensive network in Europe, he decided it was time to travel there and stand for a proud, conscious, and culture-rich image of Africa through Hip Hop.
Through his, mostly Kiswahili lyrics and socio-political themes in his songs and videos, his first successes in the industry came when he performed for the then Chief Justice, Dr Willy Mutunga during the launch of the 2010 Constitution.
"In that spirit, I produced my first documentary, Voice of Justice, which is still online on the Judiciary portal," he says.
By then, Africa had already taken shape, and Jay initiated the movement 'Hip Hop beyond the Mic,' which assisted in community activities like beach cleanings, active support for voter's card registrations, and open discussions about drug abuse and healthcare in the region.
"Music, art, and culture shape an individual's worldview and the community's perception of changes and challenges that are faced daily. There is a need for artistes to understand their role and keep initiating this type of programme to promote, empower and preserve the role of art and culture in the development of mankind," he says.
Jay's genuine struggle and great achievements are further picked up by Professor Carol O'Connor and the president of 'Rhyme and Reason' in the US, where he is featured in her book Telling Our Own Stories (2016).
He has also been featured in the book Hip-Hop in Africa: Prophets of the City and Dusty Foot Philosophers by Professor Msia Kibona Clark.
A professor in African Studies at the Howard University, US, Jay is also featured in Boniface Mwangi's book Unbounded, where the activist wrote, "It is our time to reclaim Kenya from the thugs. Keep spitting those deadly and courageous lyrics!" as a dedication to him.
In 2017, Jay released Nani Sio together with GP Rowdix regarding the teachings of telling our own stories, expressing that the beauty of Africa is not all about poverty and ignorance, but about lively cultures and a lush and diverse environment.
Now working with a Swiss producer, JotCosmos and Bonebeats, Jay is globally linked. His network is producing collaboration albums and huge events in their representing countries but foremost in Austria.
The latest is the Gailklang festival organised by Tobi Tillian and his crew and the famous Nanang Club in Vienna represented by DJ Taff. The rapper has also built an online record label, artiste agency, and a political musical podcast.
Currently based in Austria, Jay is working on his album. He has worked with different people from all over Europe and Africa involved in beats and video production.
He gives a special thanks to Cosmic Studios by Luka Emanuel Oberlechner and Hip Hop Zoo, Zürich.
"I am working on different types of festivals and live music events. People want to be in the matrix of sound and rhythm and feel good and I do not think you will ever reach that with online platforms," he says.
Related Topics