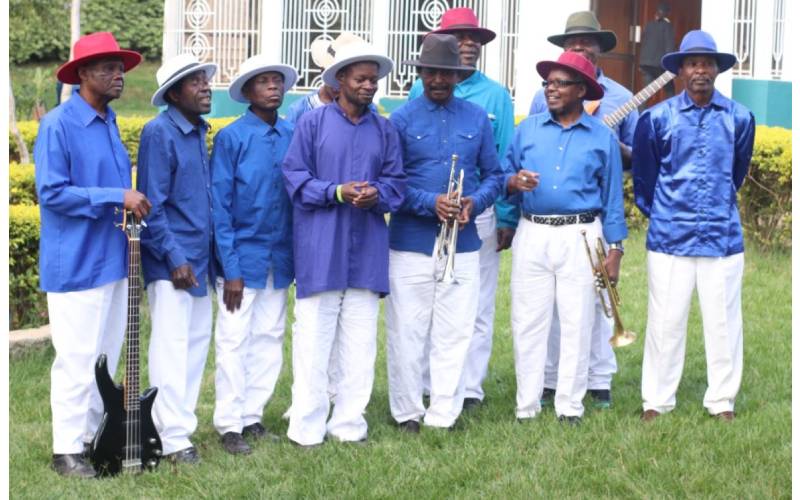 This is the week Stella returns. Which Stella, you may ask.
Well, Stella is the pretty lady in Freshly Mwamburi's hit who went to Japan for her studies and came back with a baby and a short Japanese husband. Memes mean we cannot forget about her.
Interestingly, it has been a year since veteran crooner Freshley Mwamburi rebooted his jam into a massive reggae tune with a fresh video featuring vixens and dancers not yet born when the original song dropped.
The song was repackaged to fit and resonate with the times we live in, reconnecting to a viral-loving generation in the age of the internet that keeps making the song an annual discussion.
The video is a whole movie, with an iconic climax that is a scene of Stella and her new family disembarking from a plane.
Welcome to nostalgia and all its many cousins, the magic that pulls back artistes who had walked away from the game. That 'Can I do it again?' curiosity from former kings and queens of the charts who thirst for another seat on the throne. And this year, the comebacks are creating some buzz.
On Madaraka Day, June 1, the legendary Les Wanyika will entertain music lovers at County 2 County Grill in Westland Close, 24 years after the Amigo masters walked away from the live stage and recording booth. Speaking to Pulse, band leader Sijali Zuwa explained their comeback has been necessitated by fans who long to relive the good old days.
"We are coming back due to public demand, there was a lot of pressure from fans who insisted that as founding members we should not let the band die," said Sijali, adding it was not a knee-jerk decision, but one that has been in the works for some time.
"We started recruiting the current team in 2018. It constitutes various old members and legendary instrumentalists such as Tuesday Oguro, who has played for Maroon Commandos."
Tickets for the comeback show are already on sale, with limited slots available. And they promise an amazing show.
Necessary Noize
Talking about legendary, Necessary Noize teased a reunion, then dropped a beautiful reggae jam on May 5. The latest song, Reality, took us back to 2004 when the group second album dropped and was a must-listen.
In between, the two members, Nazizi and Wyre, went their separate ways to release albums and projects, get married and raise kids, while insisting that Necessary Noize was still alive. We now believe it was.
Boniface Nyaga, the CEO of Mawaitha PR, says there are some factors an artiste or a brand needs to consider before making a comeback, especially after a long time out.
"Absence in any market creates a vacuum that is filled by other players and by the time you are coming back technology, culture and market dynamics have changed," says the man handling the rise of Les Wanyika's from the ashes of has-beens.
He adds, "For Les Wanyika, our research shows its timeless songs give the band extensive relevance despite being absent for 24 years. We have developed a solid comeback strategy that is based on data and bankable tools, and so far it is going very well."
Tommy Malanga, an original member of the band, which was formed in 1978, agrees, saying they have factored the changing times and consumers' tastes, which informed their recruitment process.
"This is the perfect time for us to come back because Rhumba is bigger than ever, not just for the older folks, but young people are dancing to it," he said.
"Our youngest member is 24 and he fits in well because our music cuts across."
The comebacks are happening both here and abroad. Hardstone, one of the biggest pioneers of contemporary Kenyan music, released a whole album, Stone Life, in late April. Sixteen songs have been packaged into it; reggae, ragga and dancehall hits.
Born Harrison Ngunjiri Maina, the gruff-voiced rapper-singer disappeared to the US at the turn of the century, walking away from music when fans could not get enough of Uhiki and Msichana Mwafrika from his first album, Nuting but de Stone, produced by Tedd Josiah.
In his video, Dynamite, he looks and sounds fresh, like he never left. He seems at home on the big screen.
Over in Tanzania, Yamoto Band has been refreshed with new faces and a new song.
The group of young men, originally consisting Dogo Aslay, Mbosso, Enock Bella and Beka, has been rebranded with new members (Bunzary, Dal B, Mey Tone, Zilinde and Gonzaga) and is still under the tutelage of astute businessman, Diamond Platnumz' manager, and showbiz player, Said 'Mkubwa' Fella.
The new group, with a new song, Mjini Kuna Mambo, is the talk of the town. Mkubwa Fella explained sometime last year the new members are still in the probation phase.
"We started with seven, but they are under examination. If they do not pull up, we will cut them down to four," said Fella during the unveiling of talented youth under the Mkubwa na Wanawe brand.
Nyashinski's wild success
Some comebacks have been a huge success, a case in point Nyashinski's, who has taken the reigns and never let go since 2016.
Darassa also took a three-year break, but came back. King Ali Kiba also did take some time off music, only to come back stronger and hungrier for great music.
With many years gone between some projects in an industry that has enough content to make the concept of 'favourite artiste' obsolete, what would inspire an artiste to come out of 'retirement' for a career they had taken leave from?
Sometimes, Malanga explained in an earlier press release, the reason is mortality.
"There are many people who do not know our faces, some even think we are all dead, but I assure you we are here and ready to thrill our fans," said the legend who gave us hits like Sina Makosa, Kasuku and Safari ya Samburu.
Other times, the urge to keep a dream alive wins. Asked in 2021 why he was bringing Yamoto Band back, Fella said, "We must support young men, and it was important to see the talented ones come out."
Cannibal, a front member of Ukoo Flani Maumau, took a hiatus from music to contemplate salvation, which he eventually pursued.
The Street Hustler rapper has shelved a forthcoming gospel album that was supposed to come out in April, with factors beyond his control necessitating the move.
"We have pushed the album to later this year because with an election coming, there are too many distractions," he said.
"But fans should be ready to know the spiritual side of me, I know I will shock some."
The album is packed with different styles, with the artiste singing and rapping, saying his music is now 'mziki uliozaliwa na roho mtakatifu'.
Everyone has a plan to recruit more fans. Les Wanyika, not wanting to appear archaic in the fast world, has a plan in place to connect with fans beyond the stage.
"We have embraced new technology so we can interact with our fans directly and we are working on new music."
Related Topics