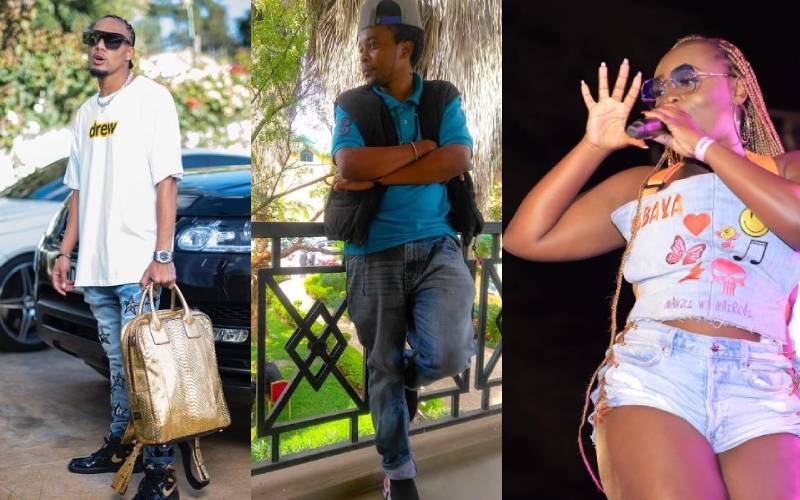 The entertainment business is springing back with shows featuring local and international acts already planned. We caught up with some of your local entertainers on how they meet their bills.
Jimwat
A seasoned Kenyan rapper, Jimwat's last show was at a News Year's event. Besides other expenses, Jimwat pocketed close to Sh50,000.
"I spend a lot of time creating addiction awareness among the youth through my rehabilitation programme," he says.
With a monthly bill of not less than Sh70,000, Jimwat combines ghost writing, studio work and consultancy as his side hustles to raise revenue. His last project, heavily influenced by messages creating awareness about drug addiction and fuelled by his own near death experience, he says was 'fairly received.'
He now broadcasts his content on his channel, which he has named Jimwat Edutainment.
KRG the Don
Dancehall artiste KRG insists he doesn't do music to earn a living. "My love for music is passion driven. However, I'm outstanding because I know the business side of it and thus I get paid."
The flamboyant musician held his last gig on New Year's eve in Nairobi and claims he made a cool six figure to allow him to take a break while everyone toils in January. "I charged 250,000 for that show. Right now I just want to concentrate on making more music and managing my businesses," he said.
He says his next gig will be in April. "I'm currently working on my European tour in April, that's all that's on my mind."
KRG further said his latest project drops this weekend. "I have worked on an Amapiano track with the beautiful DJ Pierra."
Maandy
Amanda Wambui, popularly known as Maandy, is causing waves in the local scene emerging as a vibrant and versatile musician.
After becoming a household name at the height of the pandemic, her consistency and catchy tunes are opening doors. "I only depend on music, I have no income generating side hustle."
Her last gig was towards the end of the year with her next scheduled in a fortnight, on the eve of Valentine's Day. Still fresh in the game, Maandy says her schedule, and expenses, depend on whatever project she is working on.
Her last project, an album 'Frisky' is now available.
Mbogi Genje
They landed heavily on the scene with a unique sheng dialect, with hit after hit making them an instant household name straight from Eastlands. Within weeks of their reign, it was evident their talent was here to stay.
The trio of Smardy Tings, Guzman and Militant had their year opening gig on the seocond day of the year, but say they cannot complain about the festive season showbiz traffic. "We came up with ways to ensure we have constant revenue streams throughout the lockdown period."
Mbogi Genje said their monthly bill is not lower than Sh80,000 mainly attributed to the handouts they share with their peers in the hood.
"We are from the streets, so we take it as our responsibility to make it by supporting the youth to better their businesses and income. We know what it means to sleep hungry, but when we can we make sure no youth within our reach sleeps on an empty stomach."
Their most lucrative side hustles are the endorsements with corporates as well as merchandise. "Besides our branded merchandise, we also sell trendy wear and shoes. Many fans want to dress like us, but they don't know where to buy," says Militant.
Grateful that the industry is slowly coming to life, the trio hints of numerous upcoming projects. "There's so much in store including individual works," they said. Bound by a tight calendar, they are scheduled to perform this weekend outside Nairobi.
Lexxy Young - Sailors
Since rising to fame, the group has had a roller coaster ride. Despite it, they have managed to stick together.
Lexxy Young says their last performance was last year in Kisumu's Club Da Place. "Despite all the challenges we have faced, at least now there's cash flow in the market," he said.
Indicating that each member of the group has their own means of generating revenue, Lexxy says he loves eating. "For that reason, I put up a hotel in my hood and that gets me extra cash."
The Gengetone group, which insists on working on a strategic comeback rates their last project as fair. "We'll be back as of now we are working on different projects then strategise on what to put out to the fans."
Muthaka
As a young contemporary indie soul singer, Muthaka says she needed extra guidance and advice to maneuver the murky showbiz lanes in the midst of an epidemic.
However, this did not deter her dream to continue putting in work with an album in mind. With a major label signing, she held her last gig in December.
"I held my last gig last December. My bill was good enough and of course getting higher than my last pay," she says.
With no particularly defined side hustle at the moment, she is fully concentrating on making music and is scheduled for her next performance later next week. Having recently dropped her debut album, Sunshine, Muthaka is gearing for the skies.
"There's so much in store."
Related Topics