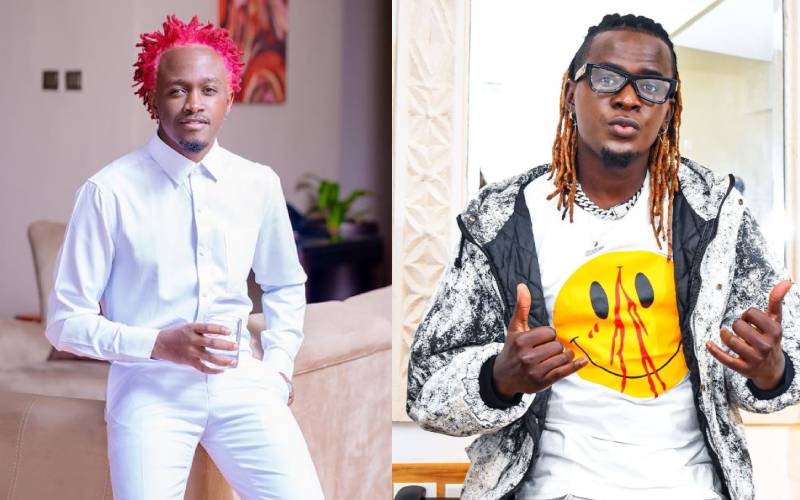 Although artistes are growing into more 'gatekeeper-esque' positions in showbiz, this is not an entirely new phenomenon. There are artistes that are entertainers by day and businessmen by night.
They require no managerial lobbying in boardrooms, they are chiseled to close deals with corporates, and generally have no tolerance for middlemen – they are the middlemen, the voice, and the final say of their own fate.
From the era of Madtraxx & brother DJ Stylez with their bonafide enterprise, Red Republik, to incorporations such as Suzanne Gachukia's Sub Sahara, it's more than an appeal, and more of an ethic and labor for an artiste to dedicate themselves to being in charge of other artistes' prosperity and financial strength.
Below are the modern class of wasanii that are impacting the industry with their own entertainment firms.
Willy Paul – Saldido International
Pozze has become a Kenyan pop star turned music scout.
Known by his actual name as Wilson Opondo, Pozze who churned countless hit records as an artiste himself, collaborated with international heavyweights such as Alaine, and went on to be a big act in Kenyan pop cultural folklore.
Having understood the inner-workings of music and commercial business, Pozze pivoted by starting his own entertainment company – Saldido International.
The Liar crooner has signed artistes such as Miss P, Queen P, and has always been known to keep his ear to the streets as far upcoming talent, as he looks to create the next superstar consequentially making millions in the process.
Sauti Sol – Sol Generation
With their vast experience in the music scene of well over 10 years, the boy band has continuously been at the zenith of music, culture, fashion, commercial relevance, and activism.
The award-winning and critically acclaimed collective consisting Bien, Savara, Polycarp and Chimano has evolved magnificently into music moguls with their record company, Sol Generation.
From great quality, persistence, discipline, to ever green hits, the Sol Generation contingent of Nviiri the StoryTeller & Bensoul have reminded us Tuko Sawa, and delivered our "Favorite Songs" – pun intended.
Sauti Sol has been able to curate a festival, tailor endorsement deals (KLM featuring Sol Generation album), and tap into different worlds such as artiste management and distribution, and their actions have resulted in the Sol Generation camp morphing into solid superstars.
Magix Enga – Magix Empire
Arguably one of Kenya's most riveting producers and beat-makers in the last five years, Magix Enga's metamorphosis from a music man into a business man has been progressive.
When Magix is not stringing anthems such as Dundaing, Nataka Iyo Doh, and many other anthems, the beat king is keen on making new culture shapers in music.
Although his deal with the promising Rudra Kartel fell through, the Gengetone stalwart has been able to nurture a few big hitters.
Magix Empire is a full-fledged music and audio recording studio that has gifted artists a chance to live their dreams through the conduit of Magix Empire.
Bahati – Eastlands Most Beloved
After defeating poverty and ultimately overcoming the harsh conditions of Mathare, Bahati's inevitable success has seen him go on to heights of registering his stable, EMB.
EMB is home to assets owned by Diana Bahati, Bahati himself, and formerly, Gospel Afro-pop signee – Mr. Seed.
EMB can boast stock of owning online TV shows, music masters of Bahati and Diana B, as well as brokering deals for their two main artistes with companies such as Odibet.
Sitting at the top of Kenyan showbiz, EMB has been able to fill stadiums pre-Covid, and has accustomed a reputation of being a business-savvy enterprise as far as arts and entertainment are concerned.
King Kaka – Kaka Empire
One of the most compelling stories of a Kenyan personality was how the fabled Kaka Sungura from Buruburu honed his act.
From Kwa Jam Nakam to Sitaki Kukuona to signing arguably the most relevant femcee, Femi One, to building a dynasty of artistes such as Mbithi, King Kaka's moves have been a marvel all through.
The once dusty emcee now dines with Rémy Martin executives, watches games at the Emirates Stadium in London, cuts deals with Netflix, and poses for pictures with Selena Gomez – if this isn't a glow up, what is?
For his artistes to trust him with their careers, and use his brand name to maneuver through the treacherous halls of Kenyan showbiz industry speaks to the power King Kaka has come to wield, and the might his history has established.
Related Topics