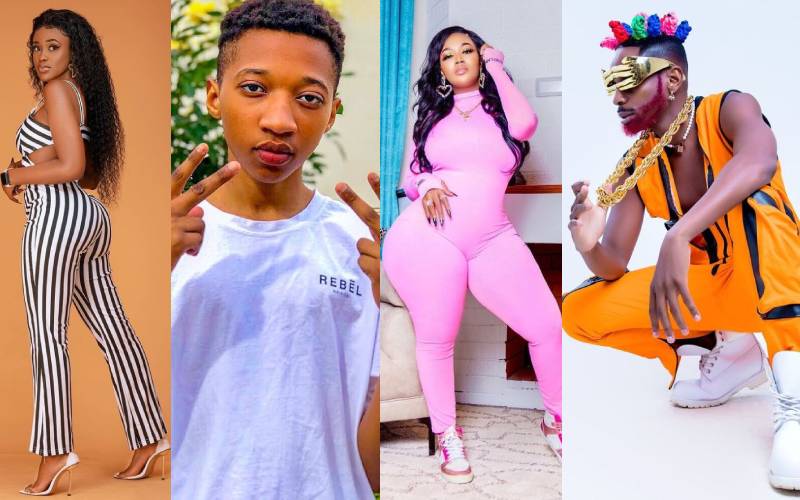 Ben Githae to get political nomination
From being blamed for the Uhuru-Ruto failures and getting trolled on social media to his current support for Raila Odinga's presidential bid, Ben Githae has stood with the system without fear of contradiction. Recently, he told Pulse he was not about to slow down noting he was ready for any appointments, would those in the system feel he was worth serving in an office. And well, two things: Ben Githae will join politics and get elected or, he will land himself a political nomination. Period.
Jalang'o to get baptism of fire in politics
After declaring his interest in serving the people on a public capacity for the better part of the previous year, media personality Felix Odiwour, more popularly known as Jalang'o will find it difficult to secure the Lang'ata MP seat. Well, he will have to fight hard even with 'Baba's endorsement'. Still on matters politics, other celebrities such as DJ Mo, Betty Kyalo and Jacque Maribe have also hinted joining the political world soon.
Size 8 plants church
Ordained as a minister on December 12 in Thika, Size 8 Reborn will most likely plant a church as she continues her spiritual journey and getting closer to God. In her recent interviews, the singer has explained how happy she is when ministering the works of God; a feeling she equates to when she is with her husband and kids. The renowned gospel songbird will look to branch out and set up her own place of worship that will attract many of the faithfuls that appreciate and relate with her journey.
Samidoh to endorse Karen Nyamu's political bid
Samidoh and Karen Nyamu have been a good folder for the showbiz world all year round. From getting babies together to rumours of them travelling overseas, these two have had it loud. Karen Nyamu is expected to go into politics and Samidoh will be the one man who will be singing her into power.
Diamond increases family
Described as East Africa's baby daddy and Tanzania's Bongo Flava star, Diamond Platnumz, after having a successful score on the music front will look to be adding a different kind of score. To celebrate his current music and business windfalls, the Naanzaje hitmaker will increase his lineage by welcoming another bundle of joy to his family that has already four children. However, it remains to be seen who the next baby mama will be, but our money is on Ugandan star, Winnie Nwagi.
Trio Mio becomes a school dropout
The past year or so has undoubtedly been successful for teenage Gengetone star Trio Mio with his fame gradually on the rise. It's because of this, the Cheza Kama Wewe hitmaker might not be able to further progress his studies and opting for the life of glitz and glamour that showbiz industry has to offer. Well, he is already homeschooling…and how does the ordinary Kenyan view that!
Daddy Owen dating, and happy
Exactly last year at a time like this, the news of gospel singer Daddy Owen being dumped by now ex-wife Farida Wambui, shook the industry. Chronologically reported by various outlets of how the Vanity singer was dumped for the Range Rover kind of love and how other several other issues rocked their marriage, Daddy Owen remained vague in this matter and pleaded with his fans for patience and prayers. However, this coming year, through his resilience, he might dip his toes back in the dating pool and fish out another lady.
Terence Creative gets TV show
Arguably one of the best online comedians in Kenya, Lawrence Macharia aka Terence Creative, he of the Wash Wash fame, will most likely land a TV show on either of the popular streaming networks. The show might be of his choosing whether a satirical political piece or his signature life-relating skits.
CMB Prezzo unveils lover
Since his separation with Daisy, his flame and mother of his baby, and since his steamy love affair with the late former Big Brother Africa housemate Goldie, CMB Prezzo has kept his private life just that, private. Recently, he was seen posing holding a toddler who is believed to be his. Prezzo has been showing signs of settling down. This could be the year.
Eric Omondi quits comedy
The writing has been on the wall. In the last one year, the comic side of Eric Omondi has been disappearing. In fact, we remember him more for the controversial Wife Material Show and his battles with the moral cop Ezekiel Mutua. And one more; his recent move to Parliament that did cost him some hours behind bars. Well, Eric is not the President of Comedy any more. It's a wrap with all that clout chasing.
Nadia, Arrow Bwoy tie the knot
Four months ago, pop artistes Nadia Mukami and Arrow Bwoy let the cat out of the bag days after word was rife about their relationship. "This is not about clout chasing. Most people don't understand, but I have come of age when I need to have someone I can build a future with," Nadia disclosed while live streaming with her shirtless partner by her side. And to cement their relationship, the lovebirds will look to wed this year in a blissful ceremony attended by the who's who of the music industry.
Nonini permanently relocates
Looming out of the shadows by launching a footwear line dubbed Mgenge2RU, earlier in September 2020, the self-proclaimed Godfather of Genge, Nonini, is currently enjoying a successful life in the US and thoughts of relocating will by now be proving hard to ignore. Aside from the fashion and merchandise business, being closer to his son will be a key impetus for a permanent relocation.
Kageni retires from radio
Come 2022, and in order to focus on running his private business, media personality Maina Kageni will retire from radio. In one of his morning shows, Kageni hinted that he will be moving to Miami, and probably establish a night club there. "Come next year I am done. I will be retiring from this radio job. I plan on running a club in Miami," he said during his show.
Death of Amapiano
It has been a thrilling experience summed up by performances from the originators of Amapiano, but let's face it, the fad that is whistle-blowing, will die a natural death next year as music lovers will embrace a new culture.
After Sonko, Nairobi to get a newcomer politician
Mike Sonko will be remembered as that Nairobi governor who exuded swag as he ruled in a somewhat controversial style. Some of his utterances costed him heftily. He hosted celebrities to his office freely and even funded some on their project. The next Nairobi governor will be a different man. One who has not been in active politics before. Yes, the oracle has spoken.
Azziad gets boyfriend, pregnant
TikTok queen and internet sensation Azziad Nasenya will surprise her wide audience by welcoming a bundle of joy. Look, every man in town is falling over themselves as they align their wallets to win her love. So, boyfriend, hook up, move in, baby! This might be driven by her wanting to do away with the baby fever as soon as possible and focus on growing her content creation empire.
Vera and Mauzo to release song
Bahati is all out promoting his wife Diana in her new found love, singing. We saw that happen with Vera and Otile before they called it quits. Trend, right? Anticipate a fresh collabo in town born of the Vera and Mauzo union. With a baby out there, these two will be in the business of pushing their business back to the top.
Refigah quits showbiz
The Grandpa Records CEO has been around for quite a while both as a musician and a stable owner who has witnessed many talents grow. Since the Fimbo ya Kwanza tour that saw him crisscross East Africa with his artistes showcasing the best concerts in the region, the showbiz icon has been on top of his game. However, in recent days, Refigah has been giving signals that he could be joining active politics. 2022 will be time for him to quite showbiz.
Gengetone gets new face
Many pundits have written Gengetone off. They allude that it is dead. Here at Pulse we say no. Gengetone is on a metamorphosis. 2022 will see Gengetone get new faces as the old ones gives it a boost to a new level. In fact, we should brace ourselves for a season when the industry will get circulated with the street beat. Yes, Gengetone shall be respected.
Ringtone demonstrates and gets arrested
Ringtone has purportedly become the voice of the 'people'. As the President of Gospel, he is no longer scared of stirring things a little and getting in trouble with the law. This year saw him make headlines for ugly confrontations. It can only get worse. 2022 being a heated year in politics, Ringtone will find himself in the middle of it. One, he will try to get an ODM party ticket and that is where the trouble will start. Just watch this space.
Related Topics