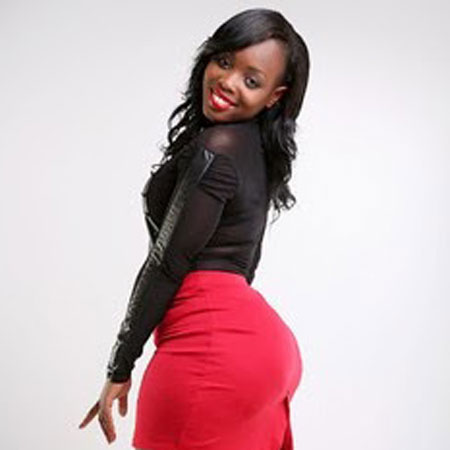 So you think the ratchet urban trend that involves posting of nude photos on Facebook and appearing at every party in town - with a different celeb each time - is an issue for debate?
And are you that Pulser who dreads finding their scandalous stories on the blogs before becoming trending topics? Not the Kenyan socialite! Most of them believe that any publicity is good publicity.
They always spring from no-where and before you know it they are posting their videos and photos all over as they 'market' themselves as the next 'girl-about-town'. Celebs...!
The truth is, as much as many condemn them as publicity seekers who are often taunted as bad role models to the youth, secretly, men keep on chasing them and ogling at their semi-dressed, curvaceous spring chicken bodies on the Internet. They fund their leisure trips and date them secretly as their wives rant on.
We hate them, yet we can't help talking about them. We wish they never existed yet their business seems to dominate our social discussions. "Have you seen Vera's big twins," a politician asks his friend. They pick their phones and dial...Yes, they have her number. A weekend date is being fixed.
The life of a Kenyan socialite is a two-edged sword. They are a good spice for showbiz and they flower our events and social places and make good company to those who enjoy their presence. But these are the same guys who will report to the media how so-and-so wants to date them and how they are not interested. They are unpredictable. And well, they are gossip column writers' best sources.
Today, she is the most loved girl in town, tomorrow, all the bad vibe is following her. They say it is the cost of being in the spotlight. And many times, allegations we have heard made about our popular socialites have left us wondering. Sample this:
So Stacey Pendo stole what?
Stacey Pendo is one such lass who made headlines thanks to her alleged stint with gospel singer Willy Paul. This opportunity thrust her into the spotlight, and she wittily milked the opportunity dry! Before she was done with Willy, BET winner Davido was in town. Swiftly, she scored an opportunity with the Nigerian singer and posted the photos on social media, winning herself more social media attention.
But claims of her 'stealing' tendencies were her down fall. Pendo is alleged to have been caught on camera having stolen a phone, a claims she denies. Besides, who has come out to prove it? Of late, Pendo has been off the grid and those who hated on her now wonder where she has disappeared to.
Risper Faith's arrested?
In came Risper Faith who was seemingly too shy to become a socialite. A well-endowed campus girl, Risper was bright enough to realise that education is key. Sooner than later, after appearing on the Pulse cover, just like Pendo who Pulse created, she was all over social media twerking and flaunting her voluptuous assets. Not such a young girl for a girl enjoying her youth, right?
Dancehall singer Blacqy nailed it by getting her to star in his video Show Me, that was on a whole new level of ratchet and social media trolls feasted on it for days. Then came the drama when Blaqqy announced that Risper took off with his money and clothes after the shoot. A disgruntled Blaqqy even called in police and it was a sad affair seeing Risper Faith getting arrested and whisked away from the Skylux Lounge where she was hosting an event. Risper, sweet Risper, did we hear a whisper?
Vanessa Cheruto's damning lie
Starting off, she was the pretty young girl everyone tried to defend even after blogs dragged her name into scandals with some claiming that she was HIV positive. It was a lie she had to come out fighting. That made her even more popular. So its true whatever doesn't kill you makes you stronger, OK!
As a matter of fact, she was laying the foundation for her 'socialite' career, one which she has ardently grown to date. News about her old 'mzungu boyfriend' who many hated on, didn't shake her! She was on a roll. And she still is, now hosting a gig dubbed Vogue Wednesday at Changes club. We hear all men have discovered Karaoke love. Interesting.
Huddah Monroe's beefs
Eerily enough, it was Huddah's nude stint that got her trending for days and paved the way for the rest of the socialites, some who seem to be doing better than her now. After sending her nudes to Ramzy, a Twitter bigwig, everyone was on her case, trying to get some too. Sadly, she had already tapped onto the twitter lot! It was time for 'business'.
With a killer physique, Huddah has struggled her way to the top, from back in the day when she was a video vixen in Vuka Border by Jaguar featuring AY. Now she is globe trotting and living the adage: A girl has to see the world.
Vera Sidika's enhancements
And of course, Vera is the mother of them all. Now she has all the experience on how to package herself as a socialite. She is well travelled, diverse and enhanced!
Back in her Mombasa days, Vera had her ways of getting attention, but it was her stint as a video vixen that sprung her to stardom. After featuring in P-Unit's You Guy video, which was banned on some television stations, Vera's socialite profile went up and she was on her way to big business.
She even got a 'Sh400,000' weave, enhanced her boobs and bleached her body. She became the most popular socialite in Africa. Recently, photos of her made rounds and many were shocked at the news that her bleaching job seemed to be failing. As a contingency measure Vera took to social media warning people to keep off her business. But how can they? They can't help keeping up with her.
photo:www.ghafla.co.ke
Related Topics