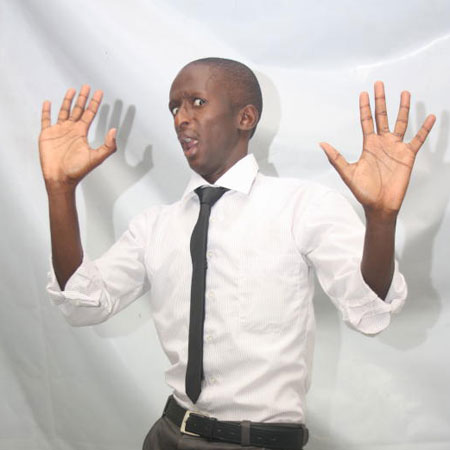 He plays the role of a young, hustling hawker with ambitious dreams as house helps fight for a space in his heart. On another comical show, he plays diverse characters in each episode; on both shows he goes by the stage name Njugush.
Twenty-three years ago, this slim actor was born tongue-tied. And for a close to a month after his birth, his mother would pinch him, just to hear his voice. He would hum. A visit to the doctor followed, then an operation, and the little boy could no longer hold his tongue.
Seven years later, he stumbled into acting by performing in a play at his church. The play's director needed a child who would walk around the set without saying a word. His mother let him take the part.
Three years ago while in college, he acted in the annual drama festival and with just three lines to say ("Yes, my Lord"), comedian Abel Mutua spotted talent.
"I got a call from Abel and he said: 'I have a silly character, do you think you can make it?'" recalls Timothy Kimani, better known as Njugush Mare Mare in The Real Househelps of Kawangware.
That was May last year. Abel had called him in to shoot for Hapa Kule News, a satirical TV show aired on KTN that was at its 16th episode then. He was just about to finish a journalism course at the Kenya Institute of Mass Communication (KIMC).
"I loved telling stories therefore I wanted to be a print journalist. I also wanted to continue with acting. Since acting did not offer financial security, I wanted to be a full time journalist and a part-time actor," shares the slender comedian.
As they taped the show, the Hapa Kule News team joked about starting a Kenyan version of The Real Housewives of Atlanta, which would be an extreme contrast to their flashy lifestyle. The show premiered as a segment in Hapa Kule News, starring Njugush and the late Purity Mwirigi (Kanana Kagwiria).
He remembers receiving the call that Purity had passed on. She had been ailing and they had planned to visit her.
"It was one of the hardest times of my life. We were close both on and off the set. She was a talented actress and it was easy reacting to her lines. She could have been a star. We had made a bet on who would win an award before the other. I believed she was a better comedian than me, I will dedicate my first award to her," he says.
Before the two TV shows came calling, he had spent one year touring high schools and performing plays based on set books, a move that allowed him to experiment with roles and refined him for his two shows.
He has now featured in Safaricom, IEBC, and Zuku Kenya adverts. He is also working on another programme, which he cannot give details about.
"While I was at KIMC, I hosted a reggae show on the school's radio station, ECN. I am currently working on hosting a nightime show at a radio station because of my busy shooting schedule," he fills us in.
He continues: "I am also looking forward to being in a movie. In future, I want to play different roles, to try something different to avoid typecasting. However, I won't be an actor for too long, lest the audience gets tired of me".
He describes himself as humble and ambitious. He likes watching movies, skating and paintballing. Timothy tells us that he is the only slender person in his family because he is not fond of eating. The fear of the unknown pushes him to make the best of today. As he lives his life, he tries to stay scandal free.
"Creating a name in this industry is very hard and can take years, but destroying it is very easy. It can happen in a single minute," he explains.
Related Topics