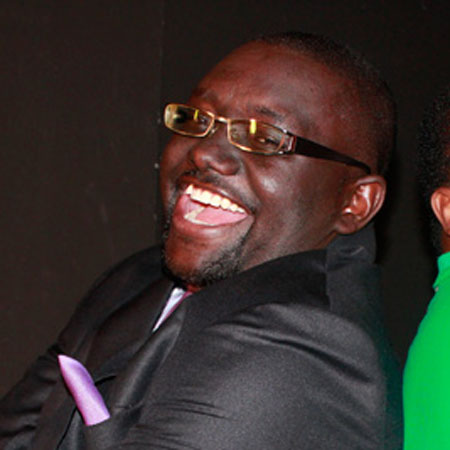 Comidian Fred Omondi [photo:File]
Seated in a dark room with a small notebook on a table and three TV sets behind him with his spectacles on, he is ready to give you the comical side of news in 'shenglish'. His famous line is "Buda Boss".
Freddie -real name Fred Omondi- is a man who does not need much introduction. Yet there is still a lot that is not known by many about him. For starters, being the host of the satirical show Hapa Kule may be what familiarized viewers to him, but the lively and humorous man has been in the comedy industry for as long as the days of Redykyulass.
It is his family ties with one of the show's comedians that took him to watch the recording of the show at Carnivore.
"I had just finished high school and Mdomo Baggy, who is my brother, would tell me to accompany him during the recordings. I would watch them as they get on with their work. In some few occasions I would be an extra," recalls Freddie.
Redykyulass came to an end in 2002 and a new comedy show, Intrukalass took over, before it was also later changed to Red Corner. Freddie made appearances in Intrukalass' segment The Gods Must be Crazy as Mdomo Baggy, without many viewers noticing.
Mdomo Baggy would also shape his brother in more ways than comedy. Freddie is taken back to an incident where his brother told him to go to and be the MC in an event hours before the ceremony started. Mdomo Baggy, who was to be the MC was in Kisumu and a flight delay had prompted him to ask Freddie to step in for him.
"It was in such a short notice but I still hosted the event. He arrived four hours later and got feedback that I rocked the show. I give him credit for who I am today. He introduced me to the realm of comedy and mentored me," he says, adding that Churchill also inspired him.
Freddie acted as the womaniser Chris in the Tabasamu TV series in 2007 and 2008. Then the Landscape Architecture graduate from Jomo Kenyatta University of Agriculture and Technology got employed at Angaza Construction Company. He quit in 2009 and ventured into fulltime comedy. His debut was in 2012 in MNet's show, Comedy Club where he shared a stage with Africa's finest comedians Basket Mouth, Klint da Drunk and Pablo.
The father of a two-year old boy is now grown in the industry, and treaded in his own path through LOL (Laugh Out Loud) in 2012. The televised stand-up comedy had humourists among them Abel Mutua, Karis, Wandindi, Oyoo and Khalid. The show, screened on K24, ended after two seasons. It was the last two episodes that would prove to be the hardest as they wanted to leave a mark. It was also these episodes that opened other doors.
"We used to do a marathon shoot for a whole month. On the shoots of the last two episodes of the show, Abel and I had fears of what they would turn out to be. Protel Studios' Managing Director Farah Migwi was impressed by the shows and gave us a blueprint for Hapa Kule Show. She advised us to run with the idea the way we know best," he recalls.
Earlier this year, the show lost one of its most popular comedians, Purity Mwirigi, alias Kagwiria.
"We used to do these shows together and suddenly, she is gone. She gave the role her all and we have never gotten over the fact that she is gone. We don't want to replace her with somebody else for the show; she fit in perfectly and gave her all," he says.
Fred is a talented salsa dancer, a play director in the Kenya National Drama Festivals, a youth mentor, a former Mathare United player, a TV and Film Production graduate, and a born-again Christian.
He is as well the producer, director and scriptwriter for a movie, Blind Date, a romantic comedy whose shoot will start soon. He is also working on a different show, whose details he is not ready to disclose at this time.
"My focus is to minister through films. We want to inspire people in everyday life experiences," he wraps up.
Related Topics