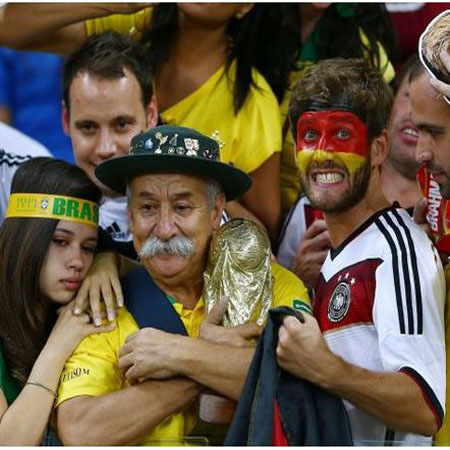 Brazil fans were a sad lot after the game
Let us not mince words here, it was bound to happen. They barely made it past a better Chile side in the second round. The resultant penalties could have gone either way. Then in the quarter finals one of the tournament's revelation Colombia were unlucky to fall to an early goal. They had to chase the game and that gave Brazil the advantage. Sooner rather than later the luck had to run out.
At the final whistle in World Cup semi-final in Belo Horizonte, even the Germany players were astonished at the score line!
Brazil's humiliation at the hands of Germany in Belo Horizonte will go down in football annals. The score was 7-1, the heaviest defeat suffered in the semi-final of a World Cup.
But in truth, this Brazil side never got going. Shorn of their captain and their inspirational talisman Neymar, they were put out of their misery with such brutal efficiency as you are unlikely to see again.
Brazil suffered their worst humiliation in their entire proud footballing history, after losing 7-1 to Germany in the 2014 FIFA World Cup semi-final on Tuesday night.
Short of the leadership and inspirational performances of key centre-back Thiago Silva through suspension, Brazil boss Felipe Scolari entrusted, David Luiz, to take over the captain's armband.
After half an hour, the game was over, Luiz had already been at fault for more than one goal, and his all-round performance over what was left of the game deteriorated to nothing short of an embarrassment to his shirt, the fans who watched on and the manager who made him captain.
Instead of absorbing Thomas Mueller's 11th-minute goal from a poorly defended corner, they continued to burst forward in numbers, with David Luiz rushing downfield far too recklessly and far too often. Germany's pressing game, which to that point had retracted to deal with Brazil's bright start, suddenly moved high up the pitch and, in the space of three minutes, created the turnovers that would end the match as a contest.
Late in the 2012-13 season, Chelsea's interim boss Rafael Benitez utilised David Luiz in a roving but deep midfield role, allowing the Brazilian to express himself on the ball, attack when the opportunity arose and be safe in the knowledge that two, and sometimes three, players sat deeper than him to mop up losses of possession or positional mistakes.
Last season, Jose Mourinho used him in the same role for his club too, where in particular he excelled against Paris Saint-Germain—his new club—in the Champions League.
For Brazil against Germany, Luiz seemed to think he was still playing that role, looking to break forward with menace, pick the ball up in dangerous areas and fashion chances for others moving into the final third.
Except, when he did that, only one centre-back remained in place. And Germany swarmed forward, with great movement, one-touch play and terrifying, clinical precision finishing. Knockout ties between giants are not supposed to go like this. Defeats by the odd goal can be explained away by some of football's favourite clichés. There is no way to offer a rational explanation of a 7-1 massacre. This was abject humiliation, pure and simple.
This World Cup was supposed to be a tale of redemption for Brazil. Payback for the Maracanazo of 1950, when the hosts played so well only to be undone by a solitary goal in the finals, which saw the trophy go to Uruguay. This time it was seven.
Sure, with Neymar lost to injury and Thiago Silva lost to suspension, many of us thought Germany would prevail over Brazil in the World Cup semi-finals, but nobody—none of us—saw this coming.
Seven goals for Germany is inconceivable. That just doesn't happen. Nobody scores seven goals on anyone anymore, not in a major competition like the World Cup. Nobody does that in a match as big as the semi-finals. Nobody does that to Brazil. In Brazil!
There is no parallel for this in any sporting event. (Okay, it has happened in the past. Portugal beat North Korea 7-0 in 2010 while Germany humiliated Saudi Arabia 8-0 in 2002. But with due respect to North Korea and Saudi Arabia, they are nowhere near Brazil both geographically or football wise). Such humiliation is supposed to be unleashed to small teams like Virgin Islands and Vanuatu, not Costa Rica leave alone the hitherto mighty Brazil.
In this World Cup Brazil had been counting on the inspiration and bravado that had seen them win the Confederations Cup and contend for World Cup honours this month.
The thing is, emotion—like money—is a disposable quantity, and when it's gone, all you have got is the very ordinary self you were in the first place. Unlucky for Brazil, they are worse off than they were prior to the tournament. Teams such as Chile and Colombia returned home as heroines but for Brazil it is a major psychological blow and the balance of football power in South America could be shifting slowly.
Related Topics