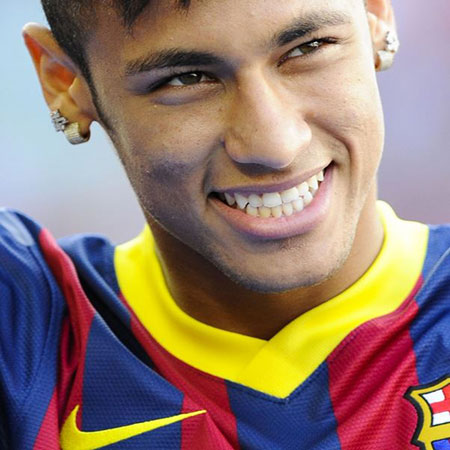 Brazillian player Neymar Photo: Courtesy
NEYMAR
Ladies would not mind if his face froze on the TV screen for the whole 90 minutes; it would be the best football match in history.
The 22 year-old hunk has appeared in TV adverts for Nike, Panasonic and Volkswagen. He was the first Brazilian athlete to feature on the cover of TIME magazine, and has been featured in this month's Vogue magazine for Brazilian edition, with supermodel Gisele Bündchen. France Football ranked him as the 13th world's richest player in 2012. He is a father of a three-year old son from a previous relationship and is currently dating model Gabriella Lenzi.
CRISTIANO RONALDO
He knows he is hot and the good thing is he finds the perfect timing to show his abs to the world. Like when he scored during the UEFA Champions League when the screens were on him. He, however, dates Russian model Irina Shayk. The father of a four-year old son has a hobby of collecting cars and owns 18 cars. He has a sponsorship deal with Nike, Castrol, Giorgio Armani and Coca Cola.
MARIO BALOTELLI
He is not as good looking but girls love Super Mario for his ego. A Ghanaian by birth, he plays for Italy and has citizenship for both countries. He is dating Italian actress Rafaella Fico and before the two started dating, he had been rumoured to be a serial dater. Like Cristiano, he is a lover of cars and owns a couple.
GERARD PIQUÉ
Being Shakira's man does not stop women from adoring this Spanish and FC Barcelona player. The two hit if off during the video shoot to last season's World Cup official song, video Waka Waka (This Time for Africa) despite the Colombian beauty being ten years his senior. Shakira went ahead to release the song 23, Pique's age, when they met. He was the face of Mango men's line HE for four consecutive campaign seasons.
IKER CASILLAS
He welcomed his first child with wife Sara Carbonero, a journalist he's dated since 2010, early this year. He is the captain of Real Madrid and the goalkeeper of the Spain's national team. He was the face of I Am What I am, a campaign under Reebok in 2005 and then got to a sponsorship deal with Adidas in 2012.
ROBIN VAN PERSIE
Considered as one of the best strikers in the world, the Dutch player has two children with wife Bouchra Elbali. In 2005, a former Miss Nigeria Holland winner, Sandra Krijgsman, accused him of raping her in a hotel. He was held in a prison for 14 nights and later released. Sandra changed her story and said that she was not raped while Van Persie admitted to have had slept with her with her consent. His wife forgave him.
OSCAR
The 22 year-old is the first player to score a hat trick in the FIFA Under-20 World Cup final. The Chelsea player is married to childhood sweetheart, Ludmila, who is of Japanese descent. His wife gave birth to their daughter Júlia in June 5 this year.
LIONEL MESSI
The 27 year-old Argentine has won numerous awards notably, the FIFA Ballon d'Or for three consecutive years. Forbes named him second highest earning football player in May this year. TIME magazine named him among the most influential people in the world. Messi ranked second behind Neymar in SportsPro magazine's 2013 list of the world's most marketable athletes. He has been featured in Turkey Airlines, Scalp-D, WeChat, and Gillette adverts.
JAMES RODRÍGUEZ
The 22 year-old Colombian player is sure of his moves with the ball, making him a darling of many women. His body physique increases his ratings and so are his achievements.
He was the youngest player to win the Portuguese Golden Ball award in 2012. He is the second most expensive Colombian player. He can play in any other position.
DAVID VILLA
His nude photos, taken with his mobile phone, leaked into the Internet last Saturday and controversy rose over his rumoured beef with footballer, Raúl González over the number 7 jersey. Villa is married and has three children whose names he has engraved in his customized shoes.
CESC FÀBREGAS
The Chelsea player had his television programme, The Cesc Fàbregas Show: Nike Live that aired once. He had an affair with Lebanese Daniella Semaan while she was still married to a Property tycoon, Elie Taktouk, and now they have a one-year old daughter together.
PATRICE EVRA
He was caught last year by a CCTV camera cheating on his wife with a Playboy model in Paris. The model, Carla Howe, told Sports Mole that she did not know he was married and even had a son, yet he had spent three months of flirt texting.
At 33, he is among the richest players and has a net worth of $10.5 million (Sh923.79m).
Related Topics