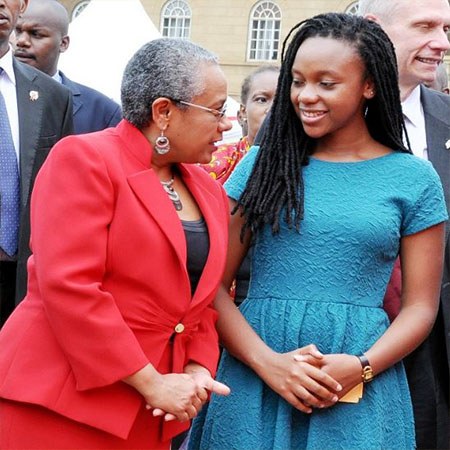 Erica and the Kenyan first lady have a talk
She is young, beautiful, smart, focused and a gentle soul.
16-year-old Erica Gachoka is a star on the rise. With no athletic background, she completed the Chicago Marathon in October — last year — and raised a total of Sh10.2 million for a mobile blood unit.
"I must get that number right," she stresses.
"Sh10.2 million."
"I was on Sunday Live with Julie Gichuru and mistakenly said we raised USD 52,000 but it was a lot more," she says, humbly apologetically.
That's quite a fete for one so young. During the interview, the wife of the Deputy President, Rachel Ruto, challenged her to raise more funds to purchase mobile units for all the counties and not just Nairobi.
"I won't stop at one," she responds with a smile.
Erica has also met the Nairobi Governor, the managing director for the Rockefeller Foundation — Africa and the US ambassador, who were all present at the February 14 launch of the mobile blood unit at the Kenyatta International Convention Centre (KICC), presided over by the First Lady Margret Kenyatta.
"I had just made the trip up from school and by the time I arrived, protocols had to be observed and it was too late for me to make a speech," she recalls.
"I was disappointed because I wanted to appeal to people to give blood regularly."
Speech or no speech, she has already inspired many with her TV appearances to do exactly that. One very important person she has inspired is the First Lady who on Sunday completed the London Marathon to raise money for her Beyond Zero campaign.
The First Lady was one of Erica's earliest supporters. She generously gave her a Sh500,000 donation and hosted her at State House, Nairobi. We ask why she didn't join the First Lady in London and she laughs.
"That would've been so cool," she exclaims.
"I think she's awesome. But I have exams in a few weeks time so no marathons for me!"
She is sitting her IGCSE'S in May at St Andrews school, Turi. But there will be no rest after she sits her final exams. Erica has been nominated by her school to be a Global Scholar representing Kenya at the Global Young Leaders Conference (GYLC): Becoming Leaders of Change that will commence in the United States in June.
She will be part of a delegation that begins in Washington DC and then travels to New York City. She will engage with a United Nations speaker, draft policy proposals, debate issues and work to pass resolutions, which will culminate in the Global Summit simulation, held at the United Nation headquarters.
In Washington she will participate in Global Issues Workshops in which leading authorities present various 21st Century challenges impacting our world and study the act of conflict resolution. Her trip will see her earn two college credits from the George Mason University. All this even before starting her A-Level journey in September!
"It's a lot but I'm looking forward to it," she says.
"My mom always says that you're never too young to make a difference."
Erica is the only child of media personality, Ciku Muiruri.
It's a bit difficult to grasp how one that is so young can accomplish so much, so soon.
"I don't take any of it for granted. God has a purpose for all of us. I just hope that in my own small way, I'm serving out His purpose for me."
We ask her what advice she would give to Pulse readers, many of whom are her age. She sits back and looks thoughtful. Then she smiles.
"A negative mind will never give you a positive life. That mantra has always worked for me!"
Related Topics