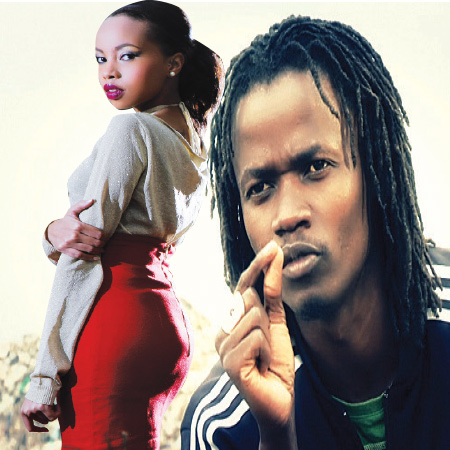 They broke up after 2 years of steamy affair PHOTO:COURTESY
One year into their romantic union, Juliani, during a TV interview, was asked if he was planning to marry his hot celebrity girl Brenda Wairimu.
He blushed and for a minute, the smitten rapper was short of lyrics. He said one needs real cash to afford a wedding with the beauty. But still, the truth is that the two celebrities were already an item, and wedding plans were underway before their ship started wobbling mid last year.
Just what is the inner story in this heartbreaking break up of the most adored couple in town? Did it have to do with cheating as many alleged? Was there a third party pushing for the break up.
"Going into a relationship is not like catching a matatu where you can alight from one and catch another," Juliani told Pulse when asked if he had hooked up with another girl since the break in January.
"My life is still going on," he remarked, hesitantly.
Juliani admitted that the relationship had hit a dead end months prior to the break up.
"We simply had a lot on our plate. Each of us was pushing their end in our careers, and we were hardly getting time to blossom the affair," he admitted, brushing off rumours that Brenda dumped him.
"We did not want to force issues, so we decided to end the affair mutually. We don't have any hard feelings as some people tried to say," he noted. The two laughed at claims that a close friend wedged war between the two ideally out of envy as he wanted to have Brenda for himself.
Even the rumour that Brenda was having a fling with celebrated Nigerian emcee IK seems to be unfounded as the two deny that it had anything to do with the break up.
"Everyone loves differently and so I was doing it my own way. I cannot advise anyone how to love. The thing is, life goes on. Business, music and projects are now my priority. I am set to release my new album this month," he said.
The affair between the two was unique, making it one of the most talked about relationship in celebvile.
The two were from different worlds. While Juliani was being viewed as a hardcore Ghetto lover, Brenda was this uptown girl who loves the fine things in life.
Their personalities were also far different, and it was this divide that got many believing the affair would not last long.
However, the two downplayed their critics with Juliani coming out strong saying that he loved Brenda's down to earth personality.
"She is an awesome girl," he said.
Related Topics