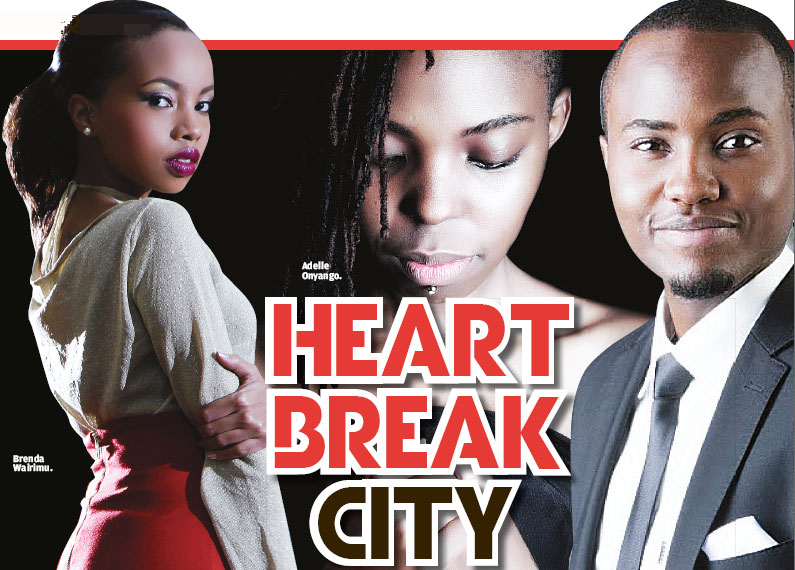 Ruth Matete, the super-talented husky voiced singer took the church podium with a bang, bringing heavens down with her rendition of the Kurt Carr's I Almost let Go worship track. The spirit swept through the congregation like bush fire; Holy Ghost fire, the church calls it!
Here, at the House of Grace where the singer has been the worship leader since she won the Sh5 million regional glory thanks to the reality TV show Tusker Project Fame (TPF), Ruth was at home with her fans. She, however, looked extra enigmatic, sinking her emotions in the moving lyrics, losing herself and letting go as if to touch the sky. "What was she letting go?" one would wonder, before her puzzling confession.
Some weeks before this November Sunday morning, the adored worship girl had had a bitter break up with her fiancé Tysder Prince, a popular actor. Their affair had been an open secret. Their wedding plans had been underway. The turn of events had depressed Ruth and the media was on her back, trying to unearth the break up. Ruth was not the same happy girl. "I was so depressed that
I wanted to take my life," she revealed, her still voice tearing through the church like a grenade blast.
Stories of the worship girl having attempted suicide had been circulating. Was this thunderbolt the confirmation?
Since, Ruth the TPF star has been undergoing counselling and her family has been guarding her closely, blocking her from talking to the press. She no longer leads church worship.
"I don't want to do any interviews now. I am going through some things in my life and I need some time alone. So please understand,'' the rather humble but versatile 28-year-old singer excused herself when Pulse sought her indulgence.
"She's not OK. Her — and her family — are going through some issues that I can't reveal because I don't want to add pain to her. I still have to protect her," her former fiancé told Pulse during a candid interview published here last month. He confirmed that they had called it quits; probably for good, a sad reality he prefers to bury in his past.
Lately, many celebrity relationships have been crumbling. It almost looks like the break up season is nigh. The showbiz fraternity was thrown into confusion a few weeks ago after news emerged that the much anticipated celebrity wedding between corporate guru Michael Okwiri and celebrity former beauty Debra Sanaipei had been cancelled even after plans had gone to advanced stages.
"The couple came to the decision after lengthy discussions and decided to call off the wedding. Sanaipei's increasing professional and business obligations outside the country and Mike's continued commitments in the country led to the couple's decision to call off the wedding but they continue to be close friends," a close friend to the two is quoted as having told a leading showbiz column.
Another source described the move as having been orchestrated by "a mutual understanding between the couple".
Okwiri and Debra, two public figures who have been at the top of their professional careers with celebrated successes, had kept traps for years, until Pulse revealed their romance and planned marriage late last year. The new developments have left many stunned and questions as to what led to the change of heart are on their friends' lips, more so in the paparazzi most wanted juicy investigative celebrity stories diaries. Yesterday, a close source indicated that the couple was still together and that their new wedding plans would be released soon. And Pulse is on the hunt.
Radio girl Adelle and Christopher Obwaka:
The prolific radio beauty and social campaigner posted on her Facebook page that she had resigned her job hosting the morning show at One FM. This was quickly followed by more news, the next thing she was sharing with her fans was a pleasant surprise— that of her engagement and anticipated wedding. Unable to conceal her sweet emotions, the poet and soon to be musician, went public confirming the engagement to one Christopher Obwaka, a doctor. Her Twitter handle broke the news to the word.
"….Adelle [email protected]?Last night @mistachrisa proposed! Yes I said, yes! Sooooo happy :-)
Adelle [email protected]?My engagement ring is all kinds of gorgeous! Love you @mistachrisa…"
As Pulse would later find out, having dated for more than two years, her fiancé, whom she also considered her best friend, proposed over a romantic dinner in early February last year on cup cakes with the prescriptions: "Will you marry me". She confirmed that to Pulse, exclusively, some weeks after we got wind of the engagement.
Posting photos of the engagement cup cakes and the ring, celebrities took the opportunity to congratulate her terming the engagement as 'fulfilling'. But before the dust could settle, the wedding plans of the marriage that was to take place this February hit a dead end.
Sources alleged that the couple decided on taking a break after it occurred that the man Adelle was dating was seeing another woman. Another source alluded that he was even a father, traumatising developments that caught Adelle off-guard.
"I want to keep my personal life so and I don't want to be part of any interview. I don't want to talk about that,'' a perturbed sounding Adelle reacted when we reached out for clarification.
Brenda Wairimu and Juliani:
The Brenda Wairimu and Juliani affair was yet another Pulse exclusive about two years ago and until late last year, the celebrity couple was sailing on their 'honeymoon' romance.
The couple was dubbed the Jay Z and Beyoncé of Kenya with Brenda being this enviable actress and Juliani, a top celebrity in the big money corporate world. Together, they looked like a match made in heaven as they made the affair public.
During a live TV show mid last year, Juliani was asked to comment on whether the two had any marriage plans, a question he diplomatically avoided. That was before cracks in their affair started to emerge. Surprisingly and to the heartbreak of many, the rapper went on TV confirming he was no longer in love with the actress.
Thereafter, photos of Brenda and Big Brother Africa (BBA) Nigerian host IK looking cosy made rounds in social media. Many wondered if IK was in the mix. However still, sources close to the couple confirm the two remain friends with no hard feelings for each other.
"The story is already out. There is no setting the record straight. I don't want to talk about it," Brenda dismissed when Pulse called to get her to speak on the break up.
"It is not important right now. It doesn't matter. Right now I'm working on a project called Farming Is Cool…," Juliani remarked on his part.
Nick Mutuma and Bridget Shighadi:
Walking hand in hand at the launch of Shuga II in 2012, it became official that bad boy of radio Nick Mutuma and fashionista Bridget Shighadi were in love. They confirmed it and from there on, became one of the most talked about celebrity pairs in the city. One year on, the affair hit the rocks with claims emerging that Nick was caught cheating on the elegant damsel. He posted on his Twitter account: "Single life crazy", curtly confirming the heart-breaking news.
"It's all a lie. I know some websites have been writing about those stories and that's why the only magazine I read is the Pulse because they don't speculate. It's not true. It's just garbage. We broke up because we opted to. We're still friends,'' a calm Mutuma told Pulse, dismissing rumours that he had been cheating on his former flame.
"We broke up and I am single. Let's just say when people spend time together, feelings develop. It was a mutual break up," the fashion hottie confirmed.
Rabbit and Sage:
Rapper Rabbit and Sage, arguably one of the talented upcoming singers had a steamy love affair last year before it emerged that the two had broken up. In fact, there are claims that the baby Sage is expecting is Rabbit's, a claim Rabbit declines from clarifying.
"I am in a relationship," Rabbit told Pulse. Asked what happened between him and Sage, Rabbit refused to comment.
"I don't talk about that. No comment," he said.
Madtraxx and Elektra:
No one saw this coming. In fact, only close friends know the two have broken up. We are talking about the showbiz couple of Madtraxx and Elektra.
"Do you have any Valentine's Day plans?" we ask. "I haven't decided," Madtraxx responds. "So are you still dating?" we push further. "So that's the story you wanted? You guys just have a way of getting people to talk," he laughs and continues: "No. I'm not in a relationship right now," he says confirming that his affair with Elektra is dead.
Prezzo and Chagga Barbie:
Hell hath no fury like a woman scorned was the case when Prezzo's Tanzanian beauty Chagga Barbie took to social media to vent.
Posting photos of their happy days together on Instagram, it all seemed good until skeletons started creeping out with one unhappy Huddah attacking Starllisha Tilya aka Chagga Barbie before their house of cards came crumbling down.
"I am about to give you all the keys and security codes," Prezzo once told the Tanzanian hottie.
But that was last year. Recently, Chagga called Prezzo all sorts of names asking what kind of a man he is after she posted that he was asking her to buy him Giuseppe sneakers and an air ticket.
Prezzo kept it diplomatic. "Every action has a reaction. And as far as I'm concerned, that contract has expired. On to the next one," he nailed.
Related Topics