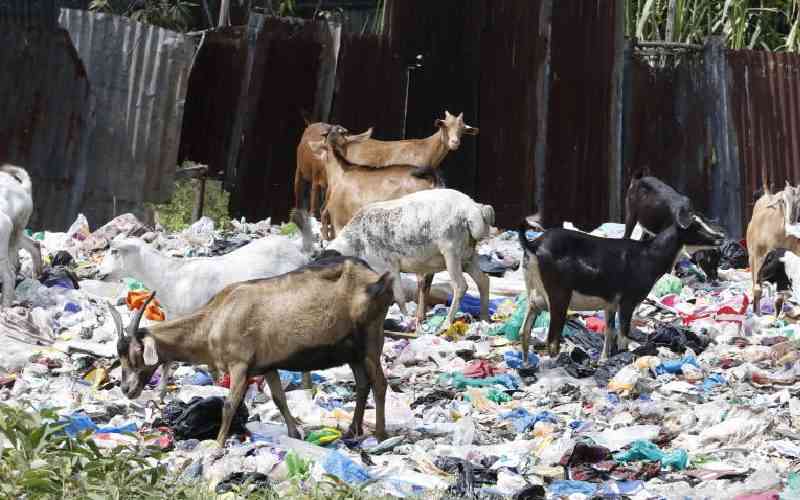 Monica Mueni and Jane Waithera walk confidently home from an estate dry cleaner in Eastlands, holding clothes wrapped in plastic bags.
Plastic bags were banned in Kenya about four years, but the two are least bothered and even agreed to be photographed
"Sugar is wrapped in polythene bags, loaves of bread are wrapped in plastic bags. Garbage collectors supply us with polythene bags while estates dry cleaners wrap laundry in polythene bags," says Mueni.
So, what exactly was banned?
Environmental activists are worried that plastic bags are slowly creeping back and have been polluting the environment and water bodies thus interfering with vegetation, human, marine and aquatic life.
The alarm was recently raised by United Nations Environment Programme (Unep) Deputy Executive Director Joyce Msuya, who singled out Lake Victoria as one dumping ground for waste materials like plastics and paper bags.
"The use of plastic bags is illegal in Kenya, and plastic bags have largely disappeared from many parts of the country. But there is still a black market for them and, thanks to smugglers, they are easy to find in Koyonzo, in Western Kenya, in the marketplace and on the ground as trash," said Msuya.
Kenya implemented a total ban on single-use plastic bags, a move celebrated by environmentalists around the world and one that reflects a growing global trend to ban the disposable products.
With the government threatening large fines and even prison sentences for violators, the effects were immediately noticeable and plastic bag litter reduced substantially.
However, while the ban has largely been considered a success plastic bags have not disappeared entirely or completely.
In certain regions, they are still being smuggled into the country, says Msuya.
National Environment Management Authority (Nema) says Chief Corporate Communications Manager Evans Nyabuto says the manufacture, importation and use of carrier bags and flat bags used for commercial and household packaging were banned via Gazette Notice no. 2334 of March 14, 2017."
The ban, on flimsy single use flat bags, shopping carrier bags and other non-essential flat bags, was necessitated by environmental pollution arising from inadequacies in plastic waste management.
"It was by no means meant to punish the business community or the general public," clarifies Nyabuto.
"The ban gave leeway to the bags used for primary industrial packaging since a total ban is technically impractical." In East Africa, only Rwanda has successfully implemented ban on plastic bags despite a smuggling menace.
"Our neighbouring states such as Ethiopia, Uganda, Tanzania, South Sudan, and Somalia have not banned the use of plastic bags," observes Msuya.
"This means many plastic bags into Kenya could be coming from these countries with the Ugandan border along Lake Victoria emerging as a high-traffic area for illicit bags."
This calls for close border monitoring unit that, checks, controls and apprehends goods that enter the country illegally, she advises.
A place called Koyonzo in Kakamega County, is a perfect example of this plastic spillover. Msuya explains that the town lies just 50 kilometres from the Busia border crossing, a joint facility run by Kenya and Uganda.
Both countries enjoy a cross-border exchange economy which can also make enforcing the plastic bag ban a nightmare considering that plastic bags are ubiquitous in Uganda.
A shoe store along the border fence displays piles of sneakers individually wrapped in plastic, while every other vendor in sight hands their product to the customer in a plastic bag.
The sheer number of people crossing, combined with the availability of plastic bags on the Ugandan side, means sneaking them across the porous border is relatively easy, she laments.
Plastic bag smuggling is thus an issue in Kenya and Nyabuto promises that there will be regulations on the management of plastic packaging as well as that on Extended Producer Responsibility. These will soon be gazetted to better regulate the plastic sector.
Fred Athuok, a lawyer, argues that the problem lies with government agencies and policymakers who are supposed to enforce laws and implement policies."
Athuok says plastic bags endanger our environmental and cause untold suffering to plants, animals and human beings.
He says ban on plastic bags saw many people lose their jobs with many firms shutting down and the government should have put in place mechanisms to cushion against the losses.
Related Topics