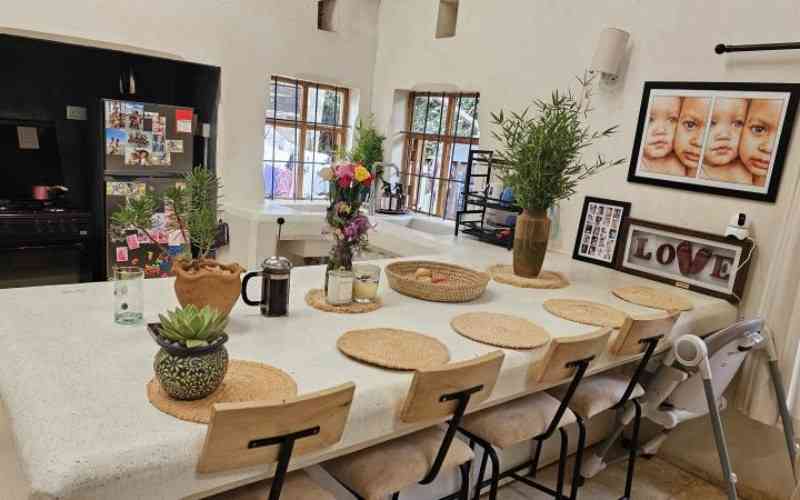 Tatiana Karanja's home, a bungalow in the outskirts of Nairobi is in Swahili-Lamu architectural style. The design is creative, authentic and picturesque.
The home is 'instagrammable', and with distinct character. When you enter her space, you can tell it's owned by a creative. It has a huge compound with a beautiful garden and lounge seats.
Tatiana is an award-winning photographer and mother of three young daughters and adept at juggling.
"My organisational skills have improved. I am still working on them. Olive, my firstborn, prefers I pick her up from school. I care for my seven-month-old baby, and my four-year-old prefers the school bus. I have a helper, and sometimes my family gives me a hand," she says.
Her house is an open plan style with an open kitchen cum dining and a living area. The living room is airy, spacious and bright. The ceiling is a high attic. The circular window at the loft stands out, and the bespoke spiral staircase is artistic.
"I'm only worried about my seven-month-old baby. I will cross the bridge when I get there. For now, my other two kids have learnt to use the staircase pretty well," she said when asked how she keeps her children safe.
A translucent iron sheet brings light into the living room. Four wooden windows with great design are aesthetically outstanding and functional. The wooden framing gives them a rustic effect.
White plastered walls Lamu style, cosy brown sofas, terrazzo floor, brown sink-in carpet, rustic table, and retro-inspired accessories give her space character and personality. The focal wall displays a bookshelf with her children's books and artwork.
There are houseplants everywhere. They are captivating and in harmony with the rest of the house's décor.
Eye-catching portraits of Tatiana and her little girls hold memories of their holidays – some are family picture stamps showcasing her expertise in photography.
The loft doubles up as a sleeping room, work area and TV room with a spectacular view of trees and the manicured garden from the round window. The bird's eye view of the living room and kitchen from the loft is incredible.
Two Lamu chairs give the loft's lounge a sense of coziness and a rustic feel. Images of her grandparents, accolades and awards display what she treasures most in the house.
"As you can see, I have also largely incorporated my kids' books and artwork in the space so they can feel they have played a role in creating the space,'' she explains.
An eye-catching chic, white marble dining table that doubles as a kitchen working top is an exciting feature.
Tatiana custom-made the high bar stool chairs with a fancy design. Wicker mats match the colour of the wood on the stools creating harmony and evoking a sense of boho style. "We dine, wind down and chill from here from time to time," she says.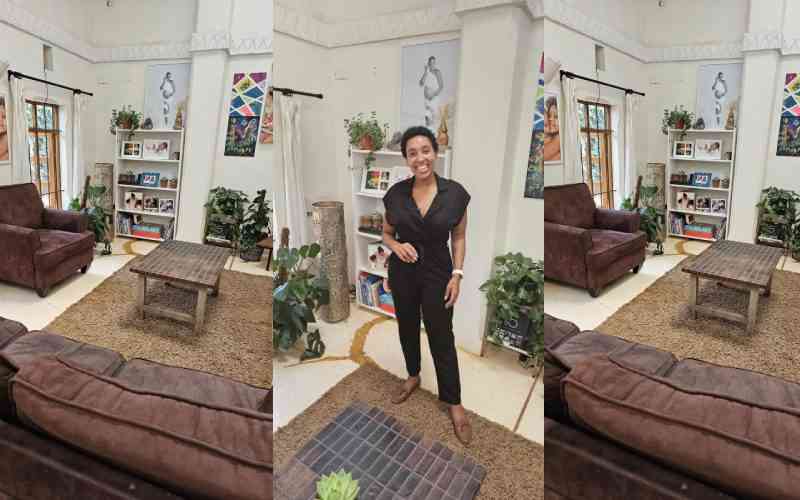 Her home lends a chic and relaxed getaway. She is a phenomenon, resilient, hardworking, and a perfect example of a mother who is not yet ready to let go of what she treasures the most, bringing up her kids. She plans to venture into teaching kids photography.
Related Topics