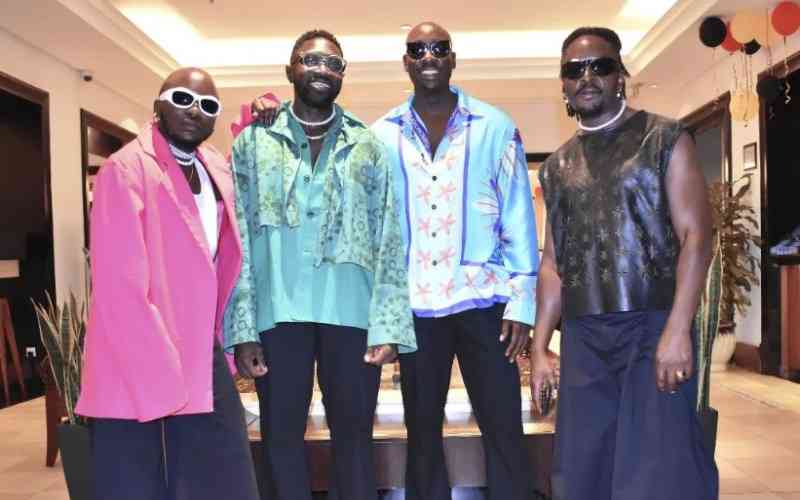 Sauti Sol's Bien-Aime Baraza has explained the secret behind the band's longevity and relevance for over a decade.
Speaking on the Afrobeats Podcast, the Inauma singer said brotherhood has been key to their success and they often attend therapy sessions to navigate some of their challenges.
"We met in high school when we were 15 and that was in 2002. Sauti Sol is 20 years old.
"It has been a journey of chasing higher highs...the brotherhood has been very strong and they are my best friends. If anything happens to me right now the first person I will call is a Sauti Sol member and they will come," he said.
Adding: "We do go for therapy like a married couple...this is my longest marriage. To date we go for therapy, we sit down and talk not only about the things that are troubling us but we also celebrate the beautiful things that are happening in our lives."
Bien added that it is important to remain grounded despite the fame, and egos need to be tamed for the prolonged success of a group.
He also spoke about how exposure to different music genres expanded their thinking and pushed them to be better versions of themselves.
"We started going for these award ceremonies and a lot of our peers were winning but in the beginning, we were not.
"We began questioning ourselves. Are we not as talented? Working with other artistes opened up their markets to us and vice versa," he said.
The singer said, unlike other artistes, they have never paid for collaborations with international artistes as their projects were anchored on good music and friendship.
In 2021, the boy band announced that they would be focusing on solo projects under the label 'Alone Together' and many thought it was the end of the road for the talented group.
After working on several individual projects that complemented their individual styles, they reunited in 2022 and even released a song 'Lil Mama'.
Related Topics