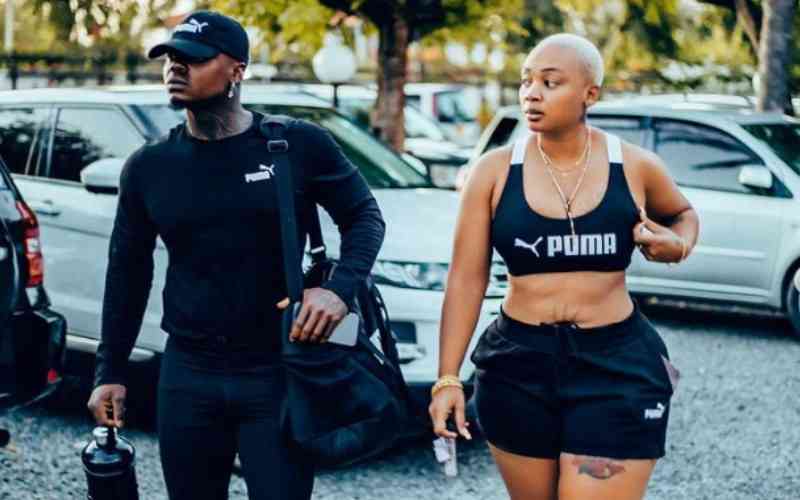 Tanzanian love birds, singer Harmonize and actress Frida Kajala have tattooed each other's names after covering up the previous ones following their first break up.
Harmonize got a K which stands for Kajala while Frida got the letter R which stands for Rajab, Harmonize's real name.
Not too long ago, Kajala flaunted her latest gift from her man, a new iPhone 14 Pro Max and netizens could not keep calm.
Harmonize is known to spoil his woman with luxury gifts, setting high standards for the gents.
To honour his love for Kajala, the Deka hitmaker went on one knee a few months ago to ask for her hand in marriage to which she said yes.
"We've been friends for almost seven years, sidhani kama kuna mtu anajua hilo [I don't think any of you know this]. Tulianza kama marafiki, watu ambao wanafahamiana..." he stated.
Pouring out his heart in a speech to her, the former WCB signee revealed that Kajala helped him a lot when he was going through a difficult time.
"You've been there for me in a lot of things that I cannot explain right now - ni siri kati yangu na wewe na hata mara zingine umeniambia 'don't say it in public'. There was a time I was experiencing a hard time and you even took me in, to live in your house and it's recent. I didn't have a house or even a place to sleep in... na hiyo imekuwa siri between you and I and you kept it private, hujai kuizungumzia mtu yeyote," he went on.
Despite the couple making the most of their love now, this was not the case a few years ago. The now coveted love birds had a nasty split almost a year ago, just three months into their new relationship.
Kajala cut ties with the singer and blocked him on all social media platforms.
Because of this, Harmonize took it upon himself to try everything in his power to try and win her back, and eventually did.
Hinting at her reason for forgiving the singer in a previous Instagram post, Kajala said, "Forgiveness isn't saying what they did was okay, it's just saying you won't hold onto that negative energy any longer."
To celebrate the milestone, the Konde Music Worldwide CEO tattooed Kajala and her daughter Paula on his leg with the message, 'I am sorry.'
Related Topics