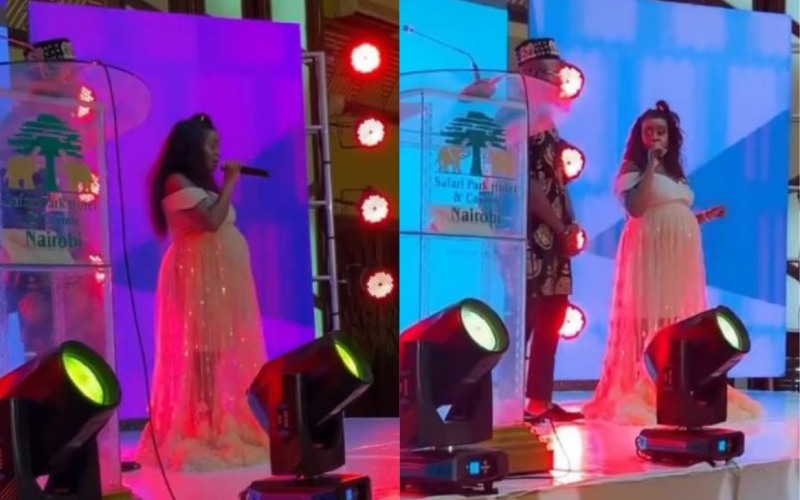 Celebrity couple Nadia Mukami and Arrow Bwoy on Tuesday announced that they are expecting a baby boy, much to the delight of their friends and fans.
Speaking during the launch of their foundation Lola and Safari, the duo could not contain their excitement as they prepared to start a new journey together.
According to Nadia, the name of the foundation is derived from the names they were to give a child they lost and it will target young girls amd mothers who have challenges with pregnancy, childbirth, post-partum depression and those who cannot afford maternity health care.
"Lola and Safari Foundation also focuses on teenage girls who have dropped out of school due to early pregnancies and offers sensitization to young girls on planned pregnancies with the hashtag, 'IT CAN WAIT'," wrote Nadia.
On her pregnancy journey, Nadia explained why she kept it private, adding that she was not hiding from the limelight but opted to embrace it differently.
"No one has to die just for gender's sake, just because you are a woman and you got a baby, it doesn't have to put you in danger. Sometimes you are frustrated.
"I remember when I got pregnant, God remembered me the most. I have done so many cooperate deals because I have embraced my journey privately. Watu wa blogs mko hapa najua mtasema Nadia alikuwa anaficha mimba, no. Pregnancy is a very private journey, there are days you wake up you have a big meeting but you just want to sleep the whole day. So sometimes some of us don't want to reveal it out there," said Nadia Mukami.
Also read: Nadia responds to Jalango's pregnancy claims
A number of celebrities took to social media to congratulate Nadia on her pregnancy and wished her well as she prepares to be a mom.
Krgthedon: Congratulations Arrow Bwoy and Nadia, the family is getting bigger.
thisisMutuma: Congrats Nadia. I am happy for you and Arrow Bwoy. May God bless you.
ICT and Youth Affairs CAS Nadia Ahmed also took time to convey her message to the couple, saying she was honoured to have been the one to confirm the baby's gender.
Also read: Did Jalas confirm Nadia's pregnancy
Related Topics