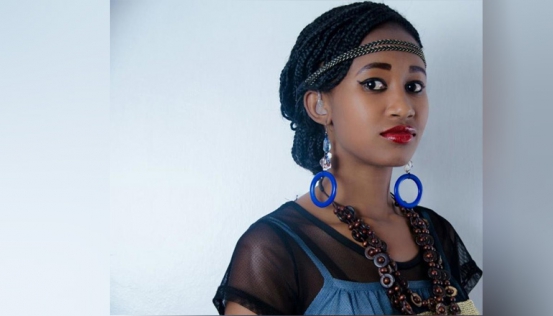 For 26-year-old Jackline Akinyi life has been anything but easy. Tired and frustrated she almost gave in to committing suicide but something held her back. To this day, she has no idea what stopped her.
"Sometime back when I was in primary school I hated my life so much and even after high school in 2010 the thoughts kept ringing in my head," she says.
The first born daughter in a family of six grew up in a normal and loving set up until something went very wrong after she contracted malaria.
"I suffered from malaria at the age of four and I was given quinine. It was too strong and it partially destroyed my hearing," Jacky says.
But it was not until she was in primary school that she discovered her hearing problem. "It dawned on me when I was in Standard Three that I couldn't hear well and it saddened me as I grew up," she says.
Unable to relate to others, she developed a hate for everything including God. She felt that her life was unfair. "In class I would keep to myself. I was always silent never talking to anyone except my first best friend, Thelma Emomuge, who I still cherish. If I was asked a question by teachers in class I would stare at my classmates because I couldn't hear and nobody would help me understand. I always felt embarrassed and like my life meant nothing," she reveals.
Jacky could not do her homework well and she would often be at the bottom of the class. "Friends would abuse me. Some would even go to the extent of visiting my house to tell my mum that I was a thief, which was a lie. This happened when I was in Standard Three and my mum had to pay up for no reason. Another time I fell asleep in class and woke up to find all my pencils had been stolen and my classmates had gone for lunch. Even elderly people would call me dumb since I never used to talk," she says.
In Standard Six, she was transferred from a mixed school to an all-girls school. This was after her mother was introduced to a doctor who was based at a deaf and dumb school. The doctor fixed hearing aids. She got an aid for one ear and there was some change in her hearing. After that, her grades saw a slight improvement but she could not stand people seeing her aids.
"I felt like I never belonged in this world but I passed my Kenya Certificate of Primary School exams and left many at the bottom when I scored above 300 marks. Imagine that, a deaf girl! I give God all the glory for giving me favour because I used to pray during exams and before every paper. I used to hate God but attending Sunday school changed me a bit, though I still harboured some hatred considering that the church never took away my physical impairment," Jackie says.
And then in Form One, Jacky woke up one morning to discover her hearing aid wasn't working. "I tried a new battery but it didn't work. I tried another one but it was all in vain and the stress began," she says.
Unable to reach the doctor who had fitted the aid, she had to go back to school without it. "The teachers ensured that I sat at the front in class. I survived by reading textbooks ahead of time and revising questions with the help of my friends who were always there for me," she says. But it would not be easy. Rude classmates would tell her off when she asked what was being said during assembly and although she ticked all the boxes to make head girl, she was passed over because the school administration felt she would be bullied.
Angry at the snub, she ditched the good girl persona and attacked anyone who picked on her. "I didn't take any nonsense and kept to myself. I was the lonely girl who only had one or two good friends," Jacky says.
When she passed her Kenya Certificate of Secondary School exams, her father managed to secure her hearing aids for both her ears courtesy of Safaricom. "If only they came while I was still in high school I would have passed with flying colours," Jacky says.
When she joined university she maintained her good student ways. It was there that she was told about hearing aids specialists who were coming to Eldoret. They were part of the Starkey Hearing Foundation. ''Now I am wearing a new set of free hearing aids. My first set was so expensive. Starkey has become my new family. I thank founder Bill Austin and his lovely wife," she says.
Determined to complete her studies, she graduated and now works as a successful graphic designer. She is also a talented painter and sketch artist. "I began using my sketching and painting talents while in Standard Four during art and craft. After high school I started doing it commercially," Jacky reveals.
And it doesn't end there. She has also taken up modelling. "I have participated in several events including Miss Governor's Lounge where I finished as runners up, Face of Westgate, Mtindo Afrika, the Ankara Fashion Festival 2015 and many others. To those who feel their lives are not worth living, Jacky has this to say.
"Everyone has at one point in life gone through very tough times. Had God blessed us with everything we needed we would never have learnt to overcome tough times. I challenge everyone to go beyond what's easy and comfortable. Try new things and confront new obstacles you haven't faced before. Doing so will make you stronger and increase your faith."
Related Topics