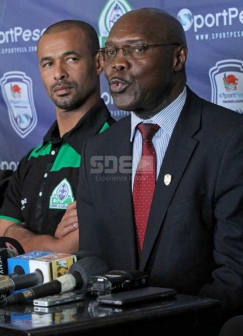 "Over the years, Gor has won every trophy in Kenya, but we have failed to compete with our continental peers.
When Frank Nuttall went missing, I asked a friend to get me a coach from Europe. As a club, we ended up with a number of options and at some point we were spoilt for choice since a number of coaches from as far as Romania, Italy, France, England and many other European countries applied.
As a club, we discussed amongst members of the executive council and decided to hire a coach who will not only bring good results to the club, but also change the flair of Kenyan football. As such, we looked at some of the most successful teams in the English Premier League, La Liga and Bundesliga and the results showed that at almost every club, there was a coach with South American roots producing great results.
That is how we settled on Ze Maria because he had four major qualifications that none of the other coaches had. Ze Maria is young and able to communicate fluently in English. But most importantly, of all the applicants, Ze Maria was the best ex international with the best club football history.
Since his arrival, the Brazilian has turned around the team's performance and for the first time in the history of contemporary Gor, every player looks forward to the training sessions; it is no longer a compulsory thing, but a game where every player wants to impress.
I have high regard for him and admire the fact that he has introduced new rules and laid down procedures that seek to instil team discipline and collective responsibility within the players and the technical bench.
Every coach comes with his own expectations and requirement, but so far, Ze Maria has given us a challenge on reasonable demands. He keeps telling me that his desire is to build players from the age groups stipulated by FIFA and that is why he has given younger members of the team like Amos Nondi, Eric Ouma Marcelo and Omino more playing time.
We shall come up with youth structures in line with Ze Maria's demands and such will save us from all the agony of signing up foreign players. In Ze Maria, Gor will go places and win majors."
Related Topics