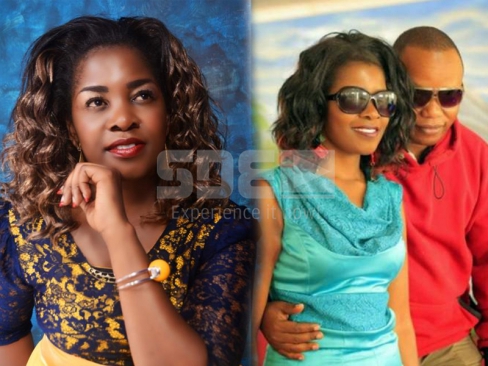 Gospel artiste Gloria Muliro is accusing her estranged husband of using blackmail to get her back.
This comes after a fellow upcoming gospel artiste, Aime Mbumba, accused the singer of stealing his song.
A message sent to The Nairobian indicated that Gloria approached Aime for a collabo of the song, Mapito, promising to split the royalties.
"Unfortunately, when Gloria separated from Pastor Eric Omba, she went ahead and recorded the song in a different studio and even copied my Congolese accent. When I called Pastor Omba about it he asked me to call Gloria as they were not on talking terms. Gloria promised to meet me and pay me 50 per cent of the royalties from the song, but unfortunately she has not been picking my calls. I'm told the song has made a lot of money that I'm yet to receive."
In a heated conversation telephone whose recording was sent to The Nairobian, Gloria can be heard saying she has no control of the song and that she was forced by her estranged husband to record it. "If you think I am making money from the song why don't you go to the mobile phone ringtone providers and withdraw the song. Go ahead and pull it down from YouTube. I even suspect that your brother (pastor Omba) is seated next to you as you make this phone call. You know he forced me to record the song...you know how he was," she said.
When we called Gloria she referred us to her manager who only identified herself as Debbie.
The manager explained: "That song is not even the issue. That's just a plot by Pastor Eric Omba to get back with Gloria but that will never happen. Eric has been using that so called musician to frustrate her. She had nothing to do with their agreement on the song and Eric should just leave Gloria alone."
Pastor Eric Omba, on the other hand, is calling for reconciliation.
"Why are they rushing to the media when they can just agree on how to share royalties. I wish we were still communicating with Gloria I could have helped, but now I have no access to her or even her music and royalties," said Pastor Omba dismissing allegations that he was using the issue to get Gloria back.
"Gloria is accusing me of forcing her to record the song but that does not make sense. I cannot force someone to open their mouth and sing. She should also know that if I wanted to ruin her reputation there are better ways to do it," Omba said, adding he is not planning to remarry following the messy split with his celebrity 'wife.'
Details of the couple's breakup hit headlines after the Sitolia singer revealed that Omba had cheated on her, embezzled her cash, and threatened to kill her.
Gloria Muliro, 34, was a house girl who became a teacher. She sponsored herself through college after saving for two years and taught at Maranatha Academy before making her music breakthrough in 2007. Apart from performing in Church and recording songs, Gloria has established The Gloria Muliro Foundation, which runs a children's home in Vihiga County.
Related Topics