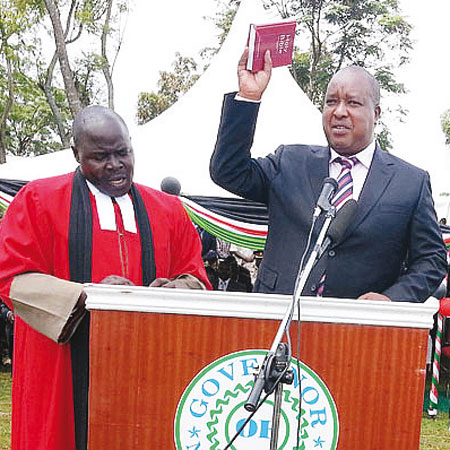 Deputy Governor Amos Nyaribo
A deputy governor has denied that three prostitutes stripped him naked and stole his phones and money.
Amos Nyaribo of Nyamira told The Nairobian that claims that he was robbed by call girls in Kisumu are rumours.
"Those are rumours being spread by my political opponents," he said on phone.
A police source claimed the veteran politician lost three smartphones each valued at Sh75,000, an unknown amount of money and his clothes to the women at a Kisumu lodge. The deputy governor had traveled to Kisumu to address a meeting attended by ward representatives from his county.
The source said before he addressed the meeting, he took the three young women for a glass of wine but ended up in a room that had been booked by his county government.
The politician is said to have been robbed in unclear circumstances and left naked. When he drove back to Nyamira, he is said to have reported the robbery to police. He, however, recorded a statement saying his cell phones had been stolen from his official car.
A CID officer told The Nairobian they are tracking the phones but the politician "has refused to give clear information of what happened on that fateful day".
The phones were bought for senior officials by Nyamira County government.
Related Topics