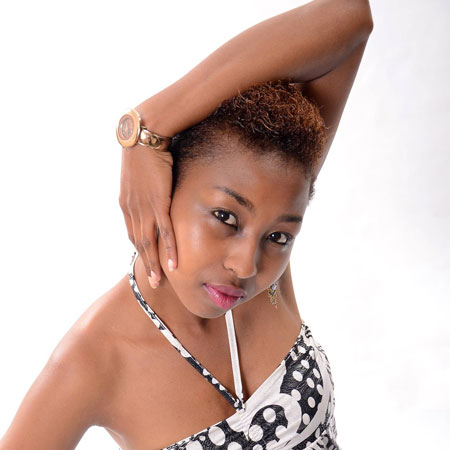 Vivian's music is influenced by Wahu,Eric Wainaina and Emeli Sande.
Just like the many upcoming musicians scrambling for a piece of the Kenyan music pie, Vivian Wambui's journey started when she was a toddler.
"I basically started singing when I knew I could talk," the soft voiced light complexioned lass jokes.
Back in school, she could present melodious tunes during prize giving days and other school ceremonies.
"I have been singing in and out whenever I get the time. I am working with producer Philip Makanda, who has been a longtime friend," she explains.
"Why did you take this long to pursue music as a career then?" I ask her.
"It's not easy doing music in Kenya. Every good thing takes time to nurture," she posits. "I can't say I'm professionally trained, but I am lucky to have people who are experienced and that is good for me," she says.
Vivian is riding high on her My Dream hit song, which according to her, is a three part symbolic song that marks her entry into the music scene.
"Jaguar heard the song courtesy of Philo. He liked it and in a way became a piece to the puzzle," the Emeli Sande, Eric Wainaina and Wahu influenced artiste explains.
"My genre of music is not restricted. My first song is a combination of House and Kwaito beats. I love House, R&B, Afro, Pop and Soul but I want to blend all of these," she asserts.
Part of her challenge and by extension all of the musicians is that of financing the music. "Making music is expensive. Music doesn't pay immediately and it's driven by passion and commitment. I have my side hustles that include hosting karaoke on Wednesdays and Thursdays at Mchana opposite Prestige Plaza and at the Pit Stop in Lang'ata, respectively. I get support from those that believe in me," the Main Studios-based artiste states.
Besides music, Vivian keeps a low profile when it comes to family life and relationships.
"I am third born in a family of four; three girls and one boy," she says, while remaining dodgy on the dating question. "And where do you see yourself in five years?"
"I would have grown my name as a brand, become diversified and cross the borders," she concludes.
Related Topics