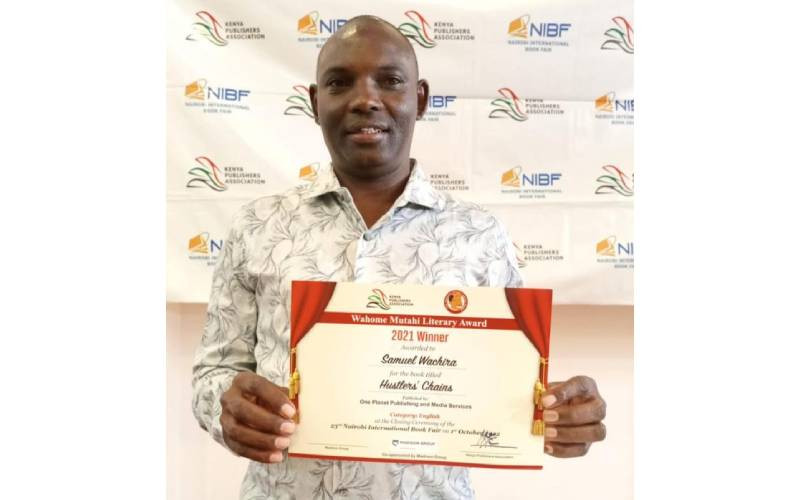 It is not for nothing a Meru Catholic priest's book scooped the top prize in one of Kenya's biggest literary awards.
When he is not shepherding souls in the chapel, Father Samuel Wachira is a voracious reader who has made a name as a great writer, too.
Fr Wachira's 'Hustlers' Chains' scooped this year's Wahome Mutahi Literary Prize, cementing his place in the competitive literary scene.
Fr Wachira, who is in charge of Runogone Catholic Parish in North Imenti, finally bagged the coveted prize after coming close previously.
His other books are 'The Whistleblower' and 'A Spider's Web'.
'The Whistleblower' was shortlisted for the Jomo Kenyatta Award in Literature in 2017. He said it is his favourite title because it put him among the best writers in Kenya.
Other books include 'The Gold Rush' and 'Tales from the Amazon'. The second title is a collection of stories from his 10 years of pastoral work in Brazil. It is a set book for diploma students in teachers' colleges.
The 'Hustlers' Chain' that was published in December 2020 sees the author delve into the intricacies that shape a political election. The priest is however quick to swear that it has no association with President William Ruto, who has been christened 'Chief Hustler' by his supporters.
The satirical book is an unputdownable read, with its engrossing and comical view of the financing, plots and strategies that politicians and their supporters deploy to win an election.
Published by One Planet, Fr Wachira created a country, a people and an election, and set out on a journey to tell how politicians leave nothing to chance as they target power, in the most humorous manner.
'Hustlers' Chain' is a story of political plots, betrayal, love, excitement, and expectations in Majengo, where impoverished citizens have been waiting for a worthy leader to improve their lives.
The writer paints a colourful picture of Kenyan politics; the campaigns, the candidates, language, ethnicity, class and other factors that shape the electoral process.
"I created an election. I created a constituency where the minority rule the majority but through the ballot. Because Majengo is a slum where the majority live, Majuu is a suburb with fewer people. They are in the same constituency but the MP comes from Majuu."
In 'Hustlers' Chains', Wachira's successfully dissects the factors that have enabled the minority to rule or stifle the majority. It is the people of the slum that vote for dynasty, he offers.
Majengo people finally decide they have to finally liberate themselves from the curse of Majuu always having an MP who, incidentally, comes from the same family.
"It is an inherited seat, from big daddy one, to big daddy two and three!" he quipped.
People look for a candidate from Majengo where different tribes live but where there is a plan to have them vote differently.
The main character, Professor, goes around Majengo and sells his agenda to bring success to the people. What follows is political intrigue in a hotly contested election where the dynamics change and players get entangled in a web of deceit and betrayal in the rough world of politics.
Fr Wachira says he addressed all the themes in an election - ethnicity, class, voter bribery, campaign language, damage campaigns do to the environment, the truth and lies.
He says he was happy during the Nairobi International Book Fair which ended On October 1, when he received the award at PrideInn Hotel in Nairobi. The chief guest was Prof Laban Ayiro, the Vice Chancellor of Daystar University.
"After writing five books, I think I was no longer a toddler."
He says it was a pleasure to meet Patrick Mutahi, the son of the late Wahome Mutahi who wrote "Whispers", a popular newspaper column.
"I was a great admirer of Wahome Mutahi. I used to read him while still in primary school. My happiest moment was when I met Whispers Junior, his son," he said.
[email protected]
Related Topics