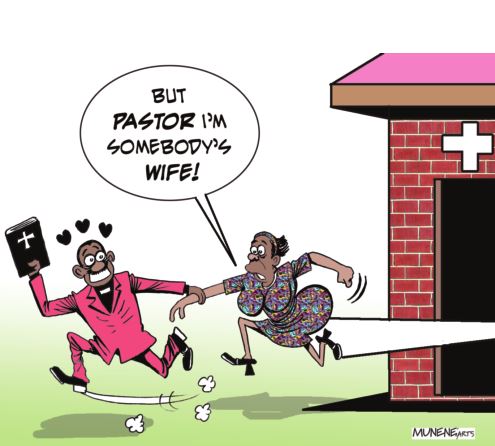 As a deeply religious and God fearing man, I have taken considerable time meditating and reflecting on the recent happenings involving men of God engaging in acts of rod with other men's wives.
Never mind that even when the engagement is legit (as in a pastor and a single woman), as a rule of the thumb but anything swollen, that should be strictly nocturnal business!
Not too long ago, members of the public kicked out a pastor holed up in an 'amorous congress' with a mechanic's wife were kicked out of a hotel room in Karatina. Needless to say, I take it that they needed to be in such prayerful mode that they had to seek some quiet and private 'sanctuary'. You got to give them some benefit of doubt here, folks.
Who in his sane mind can try to reach God in those cacophonous eating halls that masquerade as restaurants? Or even on a hotel lobby fully knowing how Kenyans love putting their noses on other people's business? Can't two 'prayerful' adults pray in peace without whipping up imaginations and excitement? Nkt, some Kenyans!
Then there was another allegedly 'outed' by the blue pill in a faithful bedroom in Buruburu Estate, Nairobi waiting to 'undertake private prayer session'. Personally, I'm beginning to think that the blue tablet is being labelled a villain by all and sundry just because it cannot speak for itself.
For goodness sake, the man could have had a cardiac arrest from a myriad of diseases that afflicted man. How many people die of cardiac arrest daily worldwide, anyway? Do we have to spew out conspiracy theories? And if yes, must these theories be mired in illicit love affair? No! No! No! Kenyans must stop this madness.
Then there was this pastor, again in Nyeri (I think women beating men in Nyeri has taken a back seat) who sought the hand of a bootylicious young woman in marriage. Unfortunately for him, he did not bother to engage the woman's old geezer with the niceties that our customary social order dictates.
The pastor was rudely shocked when the old geezer stormed the wedding ceremony like a real Nyeri cowboy and declared the entire shenanigan a sham!
He was lucky he was not facing my grandfather, Mzee Masikonde himself. He would not have stopped at just stopping the ceremony. Probably, the mzee would have left no stone unturned, quite literally in his quest to address the anathema.
Where I come from, there are things a proper man must not forget as he plans and organises to marry a woman. He, for instance, prior to wedding, must visit his future father-in-law with beehive complete with live bees as a sign of his prowess. And this also helps to prove his determination in providing for the woman.
The problem with all these pastors' moments is that we tend to have too many 'eye witness' accounts giving blow by blow accounts of what transpired. Yet none of these witnesses are small enough to be the proverbial fly on the wall.
I think it's time the real pastors either stood up to be counted or tell us who the real pastors are. Do these pastors have some sort of a loose — even if it's amorphous — grouping? If yes, it ought to step forward and stand before the cameras and issue stern warnings to amorous men of the cloth too willing to trade the cloth for the rubber.
It's time to find out if some of our so-called pastors need prayers.
Related Topics