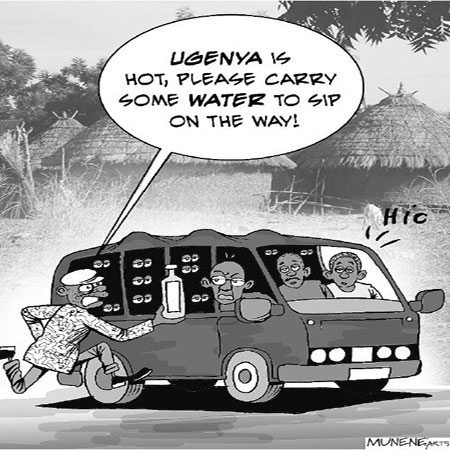 We went to a place called Ukwala last week to plant a beautiful woman. Brenda has been cooking for a son of Ugenya. She died from that kumbafu thing that is 'bravely borne'.
And as happens in Luo land, the grieving man ensured that we, the mourners, were well fed. In fact, when we were about to leave, he angrily strode to our car and ordered us out.
"You cannot leave this homestead without drinking water," he announced.
We tried to argue that we had drunk water to our fill and that as a matter of fact, we had bottles of mineral water stacked on the backseat, but wapi! Moments later, he returned with a bottle of 'water' with picture of a grouse painted on it.
A grouse, for those not in the know, is a cousin of the quail; that confounded bird that is sending Kenyans bonkers. The content in a bottle that bears a grouse can also send you bonkers if you overdose. It is a fiery liquid brewed in Scotland — not far from Sussex, where old Burning Spear, the father of Uhuru, employed a tot of 'native cunning', committed the crime of bigamy and put a lass called Edna Clarke in the family way.
So I drunk a bit (I am being very economical with the truth) of those grouse fluids and bade the bereaved man bye. But just when the car was pulling out, a gentleman with a colourful goatee and a suspicious glint in his eye raced over and said "Ugenya is hot. Please carry some water to sip on the way" and without waiting for an answer tossed a bottle of mineral water in the car.
It is only when I was sitting on my veranda in the village that evening that I discovered that what the gentleman with a colourfoul goatee and a suspicious glint in his eye had tossed into the car was not mineral water but 'Ugenya gin'. This is chang'aa brewed by the women of Ugenya, with as much skill as the women of Scotland brew that thing sold in a bottle with a picture of a grouse.
Of course I dare not confess that I partook of that Ugenya gin, lest Simon Manda, my primary school mate who is now the assistant chief and local sheriff, issues a warrant for my arrest.
But what's my point? Ugenya gin is no different from the fluids brewed in Scotland. Yet 50 years after independence, our brewers and their clients remain criminals while our leaders talk devolution and toast to each other's health using foreign hooch.
Look, our people won't stop drinking Ugenya gin just because it is illegal. And our gin is wasting lives because revellers are afraid of cops so they drink it neat, in one chocking gulp, which is very unfriendly to the liver.
I say we legalise this thing, so Mama Pima can sell her hooch in peace. And drinkers can sip slowly like gentleman as they chat — between 4pm and 8pm — in much the same way their MP enjoys his tot of that Scottish thing with a grouse on the bottle.
Related Topics