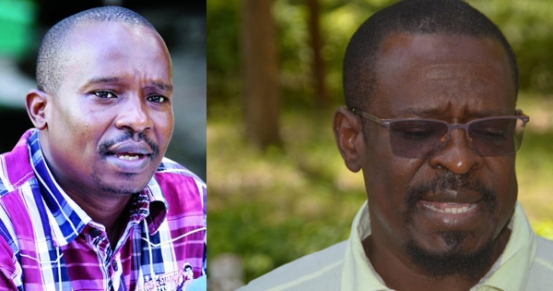 There is sibling rivalry brewing in Tharaka Nithi County where two brothers — both professors — are gunning for the senatorial seat.
Prof Kithure Kindiki, the Senate Majority Leader, is the Jubilee pointman, while his elder brother, Prof Isaiah Kindiki is a dyed-in-the-wool Raila Odinga supporter.
The brothers say that despite their political differences, blood is still thicker than water.
"Family issues are not political. We remain brothers who have divergent ideologies," says Isaiah.
Their father, the Rev Daniel Kindiki, notes that his children exhibited good leadership signs from an early age, but of more interest to observers is how the Methodist cleric and Mama Hannah Kindiki, a housewife, managed to churn out children who became icons of academia.
All his nine children are brain boxes, with each at least, having a Master's degree — with Kithure and his four brothers being university lecturers.
Indeed, in 2005 and at the age of 32, Kithure became one of the youngest deans of law at the University of Nairobi after earning his PhD in international law from the University of Pretoria where he completed his doctorate in two and a half years — a record not broken since 1918! He was studying while newly-married to his now university lecturer wife.
It was not surprising as Kithure was a straight 'A' student — the best in Meru — during his primary school days. Rev Kindiki told The Nairobian that both his sons "served as prefects in their respective primary schools, where their teachers showed confidence in their abilities to interact with their peers.
"They went to school together, the senator at Kamatungu Boarding Primary School and Isaiah at Irunduni Primary School. They looked very promising from the beginning," says the proud father, who though has not been seen at political events, is busy spreading the gospel in rural communities as he has done in the larger Meru area for the last three decades.
"They were good children and did not have any disciplinary issues. So, parenting them was an easy thing because they did what parents would wish of their children," says the father, adding that their academic prowess was evident from the beginning.
"Their certificates were always impressive and it showed why they were made prefects. The senator was active in church where he used his little pocket money to contribute to groups that sunk boreholes to benefit the community," he explains, and recalls that Isaiah "was very good in science subjects, especially in agriculture. He always helped to till the land and take care of crops."
Isaiah, the elder brother, is a professor of agriculture with a PhD in soil science and "though now lecturing in South Africa on matters agriculture, owns a large mango farm that they all take care of now."
The proud father adds: "They, like their other siblings, are doing a very good job. They perform their duties in their professions and when they come back home, we work together in the farm and other areas."
His first born son, Nyagah Kindiki, is a professor of education at Moi University where Kithure earned his bachelor's degree in law. The entire family, county and the region is proud of what his sons have done locally and at the national level. Kithinji Kindiki, another brother, is a linguistics lecturer at Daystar University, while Prof Moses Kindiki (international political economy) teaches at Narok University.
Their sisters, Sarah Kindiki is a medical expert at Masinde Muliro University with a master's degree in microbiology, Margaret Kindiki is a biology teacher at Alliance High School with a master's degree in applied parasitology. Then there is Mayanne Kindiki who works at the Kenya Bureau of Standards, while Ruth Kindiki is in community development in Tharaka Nithi.
The area has always voted for the incumbent president alongside other areas in Mt Kenya, but this time, things have changed, largely due to the simmering clash of siblings.
Tharaka Nithi has over 200,000 registered voters and with the two leading presidential flag-bearers in a neck-to-neck race — according to opinion polls — those votes could come in handy and both parties are banking on the Kindiki siblings for the coming August 8 General Election.
Kithure, the diminutive former lecturer with boyish looks, has direct access to the presidency. He reckons that "the ground is locked up for Jubilee" even though Raila is free to sell his agenda in his forthcoming tour of the area while his brother says that the county is tired of marginalisation by successive governments and views Raila as the change that will get them out of poverty.
Related Topics