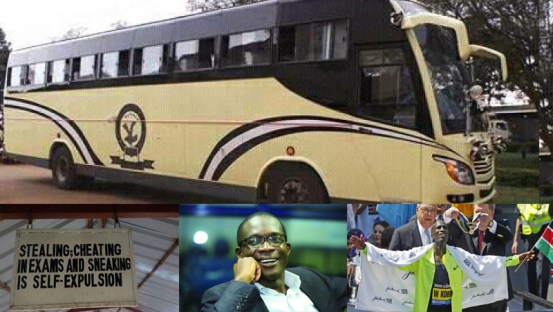 St Joseph's Boys High is a national school established by the Catholic Diocese of Kitale in Trans Nzoia County.
It was previously a mixed school before the girls' section broke off around 1993.
Traditionally, 'Sainty' students wore brown trousers and sweaters, colours that came in handy when it rained, and the muddy conditions made laundry a not-so-pleasant task.
It was here that a student caught sleeping in class or stealing received generous lashing from the deputy principal — besides washing the dining hall or the long stretch between the laboratory and the Form Four block. Some were made to chop firewood.
Every Friday morning, Form Four students who failed the weekly CATs were lined up during assembly and passed along the 'conveyor belt' of teacher to teacher for caning.
Students braved daily sessions of githeri at meal time. Popular meals included rice madondo on Saturdays, and ugali with beef on Tuesdays and Saturdays.
Papa was the favourite cook and whenever students asked for more meat, his standard retort was: "Papako alichincha hapa ndofu?' (babako alichinja hapa ndovu?)
The school principal, Peter Obwago, ensured students ate fish every Valentine's Day and not necessarily because the school excels in academics, rugby, table tennis and music.
St Joseph's Boys have a sister school, St Joseph's Girls High, but students instead lusted after lasses from St Brigid's Girls, Kiminini, with whom they attended church for which the boys dressed to kill, but changed immediately after the service.
Notable alumni guided by the motto 'Diligent Effort for Excellence' include Ezra Chiloba, CEO of the Independent Electoral and Boundaries Commission (IEBC) and Wesley Korir, the Cherangany Mp and marathoner. Others who wore mrunje (torn or old clothes) on Sunday after washing their uniforms) were Dan Sikuta, Kabras Sugar and national team rugby player and business journalist Joshua Masinde.
Related Topics