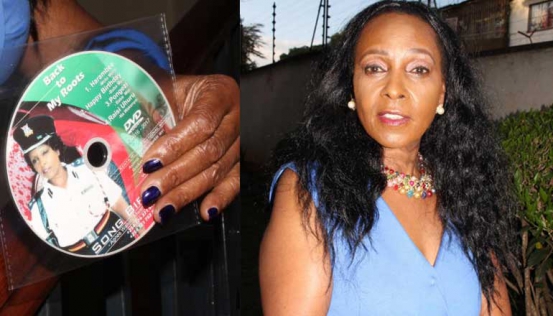 After working for the police for 43 years and rising through the ranks to Senior Superintendent of Police (SSP), Agnes Wanjiru is now wearing a musical cap
When was the last time you heard a patriotic song? You know, a song like the ones we sang in primary school when Mtukufu Rais visited? We memorised them and katikad with sisal skirts around our waists?
The songs were basically full of praises for our leaders and an adoration for our beautiful country.
We are talking about Kenya Nchi Yangu by Kakai Kilonzo, which took us back down memory lane with a video of our country's milestones - from politics to sports to infrastructure.
And now, one musician, Agnes Wanjiru Mwanyigha, is bringing the memories back in a big way.
Mwanyigha, mother to media personality, Sheila Mwanyigha and wife to the late Director of Music at the Kenya Police Band, Gideon Victor Mwanyigha, has released an album titled Back to My Roots, which has songs that praise our leaders.
The album contains four patriotic songs namely, Harambee Moto Moto, Happy Birthday Baba Moi, Pongezi Baba Moi and Raisi Uhuru na Wakenya, under the banner of her band, Kenya ni Taifa National Band.
She reveals that she retired this year after singing in the police band for many years and serving in different police departments.
Her music, she says, is aimed at thanking Kenyans who supported her police career and performance in the police band.
The former Senior Superintendent of Police (SSP) who joined the Kenya Police in 1973, says that she was encouraged to join the force by the late Traffic Commandant, Mary Mwangangi.
"I learnt that the late president Jomo Kenyatta had issued a directive allowing women to join the force. They were also looking for women who could sing for him in the police band. I loved music and decided to give it a shot," she says.
She enrolled at the Kiganjo Police Training College and was recruited to the Police Band 3 Unit.
Her late husband, Gideon Mwanyigha, headed the main police band and to some extent, inspired her.
"In 1982 after my husband was promoted to an inspector and put in charge of all police bands, I as the leader of band 3, was tasked with the responsibility of leading my band to perform in different places like such as high-end hotels, show grounds and other events. Initially, we covered other musicians' songs, but as we grew, we started composing our own songs," said Mwanyigha.
Mwanyigha said that she owes her music success to her late husband and her daughter, who has really helped her financially.
"One of the songs, Harambee Moto Moto, was composed by my late husband and as a dedication to Jomo Kenyatta in the late 1960s. The other two songs are dedicated to former President Moi, since I am his biggest fan. He supported the police band a lot and I am forever grateful. I am hopeful that one day, I will perform at his birthday party," she says.
In the album, Mwanyigah has also dedicated a song to President Uhuru.
"The song is also full of praises for the late Dedan Kimathi, Mama Sarah Obama, US President Barrack Obama, the Kapenguria 6, Deputy President William Ruto and his wife Rachel, Cord co-principal Raila Odinga and his wife Ida, and First Lady Margaret Kenyatta, among others," she concludes.
Currently, she does security consultancy for different local and international companies.
Related Topics