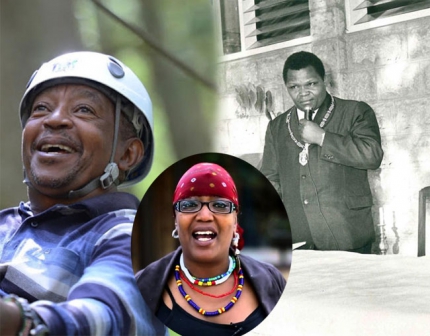 The Kaigwas are an artistic family. The patriarch, Mark Kaigwa, was a story teller and one-time deputy mayor of Nairobi. His wife Perpetua Wamuyu Kaigwa was a mimic while two of their four children are famous artists; one in theatre, television and film, the other in the world of sculpture and what's more... their paternal grandma was a versatile traditional dancer!
Mark Wambugu Kaigwa: The Deputy Mayor of Nairobi for three years to 1965 owned Kaigwa General Stores in Makadara estate in Nairobi's Eastlands. It was the first miro shop to have a kerosene pump in the area besides a neon light that attracted onlookers at night fall. Mark Kaigwa's fortunes changed, and so he shifted houses from Makadara, Ofafa Maringo and finally Garden Estate off Thika Road as he got embroiled in council politics and his wife in business.
Mumbi Kaigwa: South Africa's CEO magazine awarded her the 2015 Lifetime Achievement award for being Africa's "most influential woman in the arts and culture."
Staging Eve Ensler's The Vagina Monologues got her the 2003 Eve Woman of the Year (Arts and Culture) award, befitting for the alumnus of Limuru Girls' School, Kenya High, UoN (BA, French and Arabic) and USIU (MSc. Management). Mumbi left the UN after a decade in 1998 to follow her heart for the arts, and meandered through North Africa, Asia and Europe, besides acting in Neighbours, the Australian television series aired by KTN in the 1990s and, among other films, The Constant Gardener.
Before her marriage went south, the mother of Mo and William (named after William Shakespeare no less) was married to theatre director Keith Pearson.
Gakunju Kaigwa: Billy, an alumnus of Kenyatta University (Fine Arts ) holds a Masters' in Public Art from Scotland's University of Dundee. The versatile sculptor has portrayed the human body using wood, steel, stone resin, glass and bronze with his works found in Kenya and around the world.
Indeed, the Westlands Mall sports a sculpture of a diving woman made by the one-time designer of sets for news and interviews at the Ministry of Information. Billy, an art teacher at an international school, has been at Kuona Trust Studio since returning from the United States in 2003.
Jagi Gakunju: The uncle of Mumbi and Billy was for 22 years (until 2014) the long-running CEO of AAR. The alumnus of UoN (LLB) and Minnesota University (MA Healthcare Administration) published 'Cycling in Africa' and was honoured by the UN for his solid waste management effort with Uvumbuzi Club which he chaired.
Related Topics