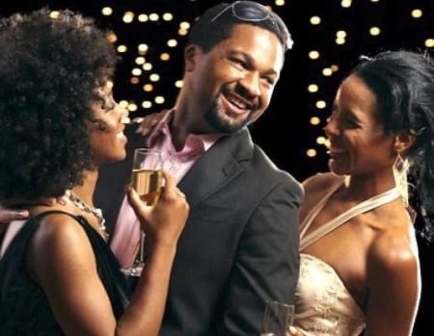 Gentlemen, have you ever been in this situation: You finally pluck up the courage to ask out that drop-dead gorgeous damsel you have had your eyes on for a while. You invite her to join you for a drink after work. To your delight, she says yes! Then she makes an odd request. She asks if she can bring a friend. What do you say?
Or let's assume she doesn't even ask. She just shows up with a friend or two at your planned date. How would you react?
A considerable number of women are guilty of turning a potentially romantic situation into a social event by bringing along their friends, sometimes without giving prior notice to their partners. It can be a very awkward situation for a man. Most men would be pissed and probably lose interest in the girl.
There are many reasons that can make a woman feel compelled to bring a friend on a date. Perhaps she is not yet comfortable enough to be alone with you, so she brings a friend as backup, which in my opinion is a reasonable and prudent thing to do.
Or maybe to her, it is not a 'real' date and she wants to set the precedent as the evening being a friendly hangout. Whatever the case, you should never act irrationally or get visibly mad when a woman brings a friend to a date. You may think of it as an inconvenience, but it is still possible to woo the woman of your dreams even when a your first date becomes a threesome.
A first date is just a time to meet someone and see if they're interesting enough to meet again. Instead of automatically assuming she just doesn't like you and she just wants free drinks for herself and her friends, you can choose to look at it another way. She doesn't know you well, but she is interested in you and wants to get to know you, but she isn't yet sure if she can feel safe with you. Look at it as a chance to get to know and spend time with the girl you fancy, and also get to meet someone new.
It is completely normal for women to bring a friend along on their first date. More often than not, she just wants another person there, not because she is wary of you or she is not all that interested in you, but they just want to gradually ease into the one-on-one dating format.
When you turn down her request to bringing a friend you, you will push her away. You also risk offending her friend and if things do work out between you and her, the friend won't be a big fan of you. There is no way you can convince her not to bring a friend without sounding like you have a hidden agenda. Just go along with it. Seriously, what is the worst that can happen?
If you still want to have a one-on-one conversation with her without making her feel uncomfortable, invite a friend of yours too so he can keep your date's friend company while you get to know her. If you can't get someone to come along, go anyway. You will be the cool guy with two pretty girls in your arms.
@roxannekenya
Related Topics