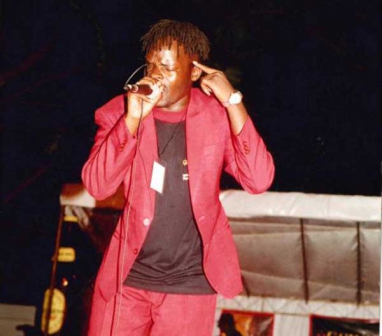 Ten years ago, the issue of musicians and their bread and butter versus piracy was depicted in music so authentically Kenyan, the themes remain true to date.
Poxi Presha (Prechard Pouka Olang) who was buried around this time in 2005, was the bold artiste who told it as it was, and still is.
His hit song, Otonglo Time, is a blend of Luo traditional nyatiti and contemporary and urban style rap.
This song and many more such as Dhako (Total Balaa album), Mummy, Jaluo Jeuri, Lunchtime remix, Wape Really and Otonglo Time, immortalised Poxi and his music that remains evergreen.
Poxi's was the best diction in Kenyan music as evidenced in Otonglo Time where every word is heard despite the fast-paced rapping. In it, he tells of the plight of young Kenyans struggling to better their lot amidst harsh business conditions.
He reckons that life without otonglo (money) is meaningless as society has no time for those without deep pockets.
But his courage is not only in the lyrics and the message; it is also in the language.
At a time when urban music was defined in either sheng or English, this young man born in Mombasa but found his musical base in Nairobi, was easy with Dholuo and surprisingly made it to the top of the charts for months.
Yet, Poxi after seeing no change in the manner producers, brokers and pirates were literally milking musicians dry, became the face of anti-piracy crusade, and a push for a fair share of proceeds from music.
The fat cats in piracy syndicates saw to it that he cooled his heels in Mombasa police cells for his campaigns. They even had popular bloggers label him extortionist.
Poxi was inspired to fight piracy on the back of the fate of his predecessors such as Fundi Konde, Fadhili Williams, Gabriel Omollo and Juma Toto most of whom ended up paupers at the end of their careers.
One can easily credit Poxi for the establishment of such institutions as the Music Copyright Society of Kenya that today collects royalties for local and international musicians from media houses, service industries and other commercial consumers of music despite the challenges MCSK faces.
It is no secret that it is more likely than not to have in Kenya's households pirated CDs and DVDs making all partakers to this criminal act of stealing from hard working artists.
Poxi Presha, a pioneering Kenyan rapper, succumbed to tuberculosis at St Lang'ata's St Mary's Hospital. He was 34.
Related Topics