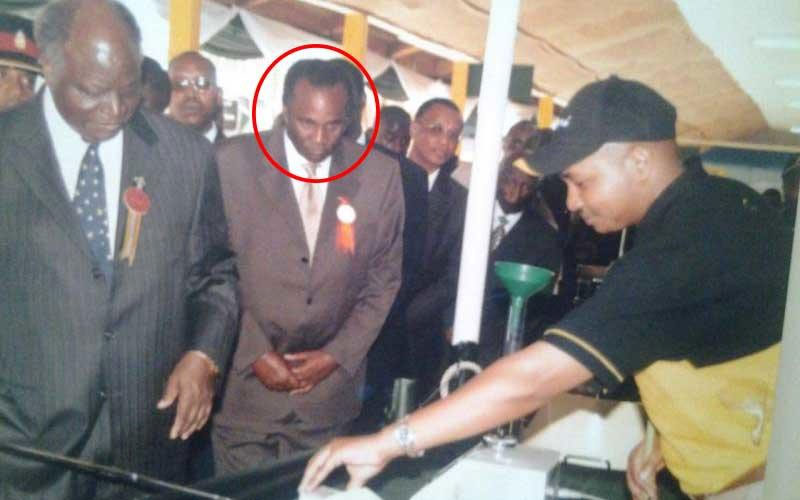 The widow of Meru tea tycoon Stephen Mutai M'Imanyara, who died in January 2018, has been given a nod by the High Court to decide how to distribute her late husband's vast fortune.
The widow, Honesty Kanyua Manyara, was last month appointed the sole administrator of the estate with interests sweeping across tea plantations and brokerage, agricultural holdings, land, bank accounts, shares and properties, including residential houses and flats in Nairobi, Mombasa, Isiolo, Ngong and Meru.
M'Imanyara, who died at 78, was one of Africa's largest individual tea farmers and easily Meru's richest son.
High Court Judge David Majanja sitting in Meru directed Kanyua to apply for a confirmation within 30 days "and in default any of the parties to do so."
The parties in question include Engineer Lee Kimathi Njue, a real estate developer, who is claiming he is also a son of M'Imanyara, one of the founders of Co-operative Bank and a former long-serving chair of Kenya Tea Development Agency (KTDA).
Kimathi is demanding to be appointed as either the administrator or joint administrator of the estate.
Of interest in the court filings is a letter written on February 2, 2018 by Kathera Location chief Japhet Mwirigi Mutonga, which kick-started the succession cause. Chief Mwirigi included Kimathi as the late M'Imanyara's son and lists his widow and her children as other beneficiaries.
But Justice Majanja ruled that, "It is not in dispute that some of the parties herein are the widow and the children of the deceased. In order to ensure the estate is finalised within time and to avoid unnecessary dispute, I appoint Honesty Kanyua Manyara (widow) as administrator of the estate and a grant shall issue."
Justice Majanja also asked the parties to appear before Meru Resident Judge Alfred Mabeya on December 3 to hear the widow's proposed distribution after filing of the deceased's assets and liabilities.
Kimathi claims he was born out of a relationship between M'Imanyara and his mother, Martha Mukwanjeru, a former school principal.
Mukwanjeru missed M'Imanyara's burial as she was in Europe at the time. Kimathi attended despite missing on the obituary and burial plans.
Kimathi's application for letters of administration had been opposed by M'Imanyara's eldest daughter Dr Bertha Kaimenyi, and her brother Kiogora Mutai, who disowned him in separate affidavits, with Dr Kaimenyi arguing that Kimathi had no relationship with her father which was why "his name does not feature in the petitioner's birth certificate."
She lists the survivors and dependents as her mother, herself, brothers Kiogora and Ronald Mutuma and sisters Eva Kirumba Mutai-Njukia and Norah Ntui Mutai.
"Kimathi was never introduced to us as a son and is not in the newspaper obituary of the deceased," claimed Dr Kaimenyi. "He has no right to be appointed an administrator and might mismanage the estate to the detriment of the survivors and dependents."
Kiogora Mutai also attached filings of a divorce case between Kimathi's mother, Judith Mukwanjeru and Salesio Njue at the Meru Law Courts last December and argued that Kimathi's "father is known and is alive and more importantly, he knows his father and has taken up his identity."
The divorce proceedings filed in court show that Mukwanjeru and Salesio Njue were married in 1970 and separated in 1978 after the union begot three children, now all adults. "I need to be freed from this marriage that has kept me lonesome for many years," Mukwanjeru had pleaded with court.
But in his 38-page response to the objections, Kimathi explained how M'Imanyara educated and paid his fees from kindergarten in Kenya to the Morehouse College in America, where Martin Luther King Jr was an alumnus.
Kimathi also claims M'Imanyara not only got him his first job, but also provided capital for his first business.
He also annexed family photos with his stepbrothers and sisters from childhood, besides annexed evidence of bank transfers and guarantees that the deceased made to support his business ventures.
"I have been very close to my father from birth until his demise," argued Kimathi. "We shared intimate moments even with my children who equally loved their grandfather."
November is the hustle month and we are all about youngins making their money, and we need your help. Do you know of any young person in school/campus who is running a hustle that absolutely deserves to be celebrated? Drop us an email on: [email protected]
Related Topics