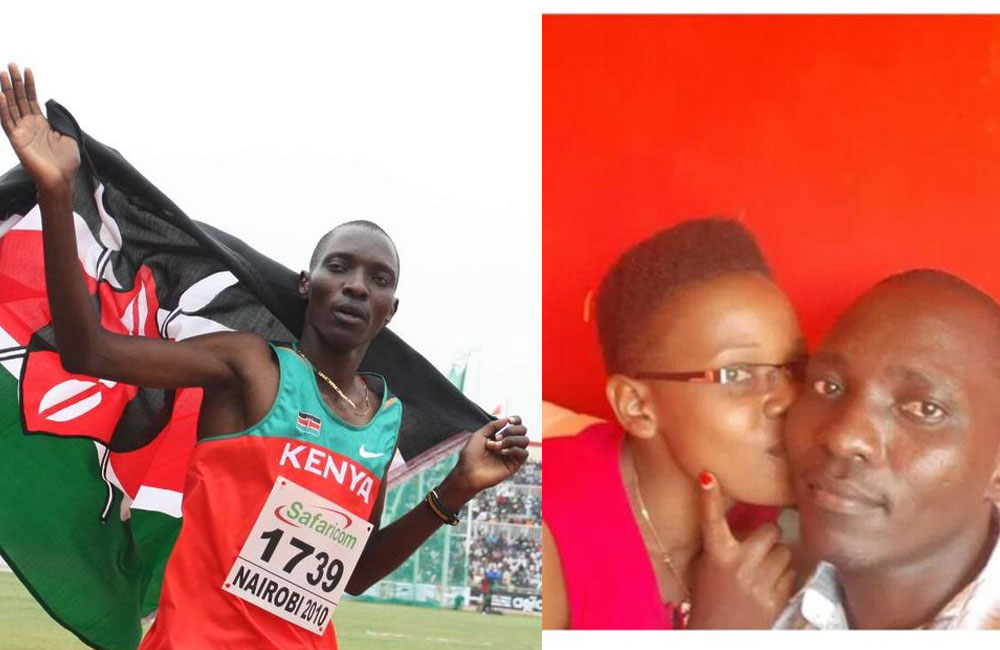 Andrew Chepsiya, the husband to Nancy Rotich - the woman seen exchanging saliva with the former 1500m athlete Asbel Kiprop in a raunchy video that has gone viral - has come out to defend his wife.
Chepsiya, Kiprop's training partner and close friend, now claims his wife, who vied for an MCA seat in last year's elections, had been blackmailed into sleeping with the former champion.
"She told me that Asbel had agreed to fund her campaigns during the elections only if they met at a restaurant in town. The athlete convinced her to order wine and got her drunk," Chepsiya told The Nairobian.
He added that: "My wife does not drink. I have never seen her drink alcohol. I was shocked to see her looking drunk in that video."
Chepsiya claims that, "I suspect that Asbel took advantage of her after he convinced her to take wine to sleep with her. He then took photos and recorded videos, which he used to blackmail her into recurrent sexual escapades."
He revealed that his wife had confessed to him and ask for forgiveness for being unfaithful.
"She called me to let me know that she regrets her actions and she was very remorseful," Chepsiya told The Nairobian, even though he confirmed that their marriage was over.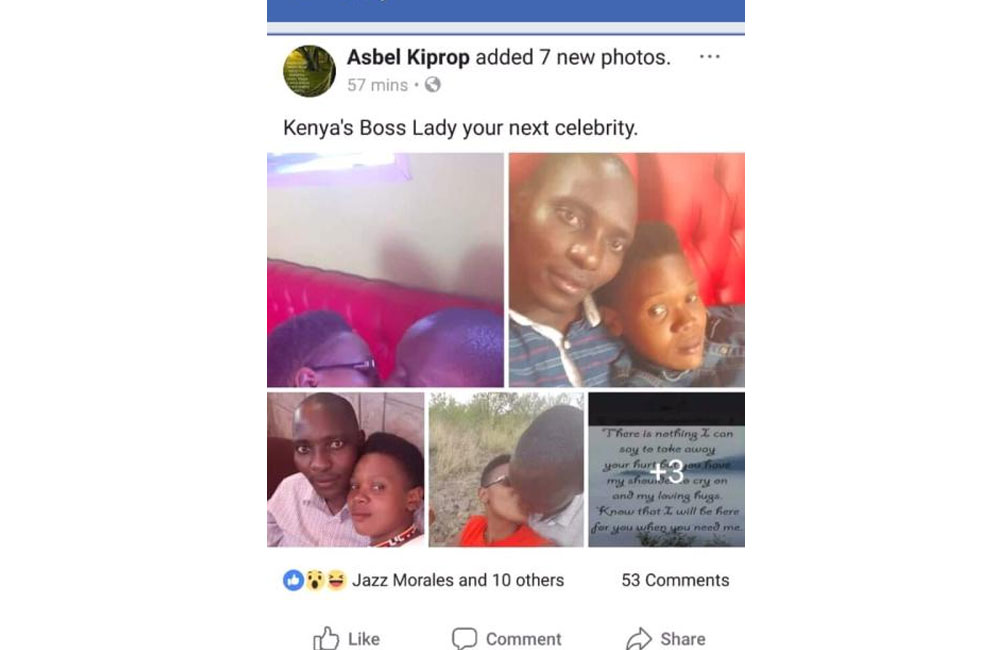 Meanwhile, Asbel Kiprop's wife, Sammary Cherotich, has blamed her husband's penchant for the bottle and deep financial woes for his recent acts.
Her claims come just days after Kiprop leaked pictures and a video recording of himself and Nancy.
Cherotich says she had confronted her husband about his alleged love affair with Nancy, but he had denied it vehemently.
Cherotich told The Nairobian that her husband's close friends had informed her of Asbel's cheating ways, prompting her to sit him down to seek the truth.
"I confronted Asbel on Sunday morning (August 26), just hours before he leaked the videos. I wanted to establish if indeed he was cheating on me with a married woman. He dismissed me, terming the allegations as baseless lies," Cherotich told The Nairobian.
She went on to say that her husband was barely sober when he summoned family members to their house in Kaptinga, Uasin Gishu County and broke the news of his love affair with Nancy.
Cherotich said she reached out to Nancy, whom she met during the day to find out the truth, but Nancy too denied the allegations.
"She downplayed the issue, and I told her if indeed it was true, then it would come out publicly in due course," she said.
Cherotich explained that her husband came home drunk and summoned his family to the living room, where he broke the news and confessed his affair.
"A close family member attempted to intervene and asked Asbel not air the matters in front of the kids, but he became violent and kicked out the relative," Cherotich told The Nairobian.
Cherotich said Asbel produced two mobile phones, which he said belonged to Nancy, adding that he had evidence that Nancy was cheating on him with elite athletes and politicians.
"He said he was bitter that Nancy was in a relationship with him for his money, but now that his fortunes were dwindling, she had resorted to 'cheating on him'," said Cherotich.
"I grabbed the phones. He tried to wrestle me but he fell onto a table and injured his arm.He then stormed out of the house to an undisclosed location, where he later posted the photos and video online," Cherotich said.
Cherotich who is also an athlete said she has moved out of their matrimonial home and has embarked on resuming training to cater for her young family.
"Asbel has not paid bride price to my parents, and has never set foot in my home to formally introduce himself to my parents for the eight years that we have been married. I'm not going back," she asserted.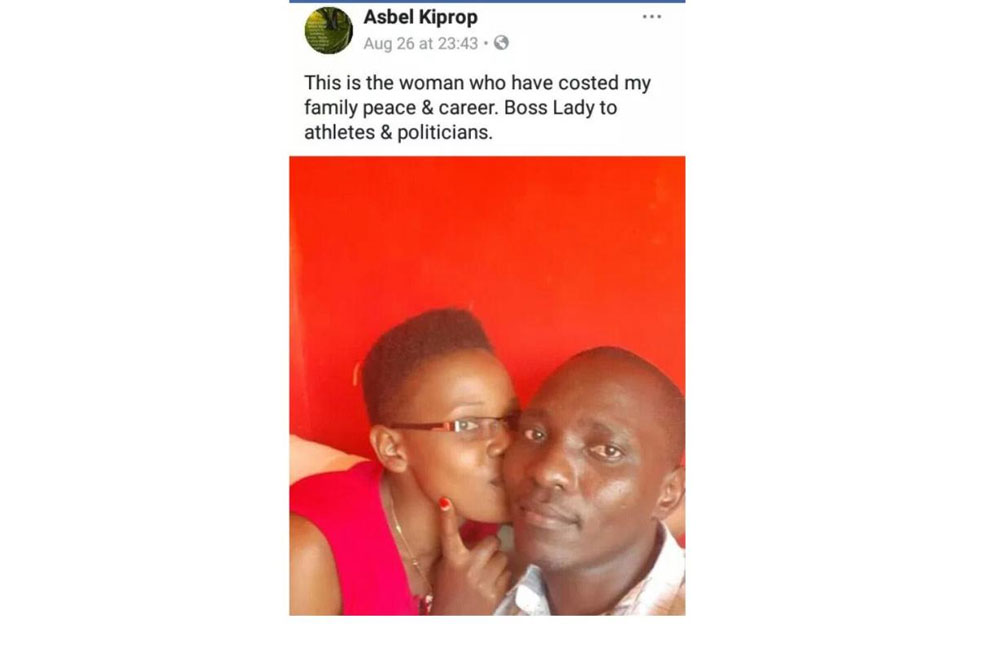 The love triangle left Nancy fighting for her life, two broken marriages and reputations destroyed.
Nancy attempted to commit suicide by swallowing pesticide at her house in Kuinet, Eldoret, a few hours after Kiprop leaked a video showing them in a compromising situation.Asbel also called the woman's husband and confessed that they have been having an affair since 2016.
The athlete said he did all this to exorcise the ghosts of his diminishing career that has seen him fight doping allegations and a series of other misfortunes. He blamed his secret lover for all his troubles, including a case last year when he knocked down a pedestrian on his way from the airport to pick her for one of their clandestine escapades.
"I am coming out clean to expose this woman who is like a bad omen to my career. Her entry into my life saw good fortunes fly out and misfortunes dogging me like a shadow," the former 1500m champion said on phone.
"I called Chepsiya at 7.30pm to confess, just before I posted the video and photos on my Facebook page," Kiprop said.
The call triggered an altercation between Chepsiya and his wife Nancy, culminating into a decision by the wife to walk out.
"She wanted to leave during the night, but I told her to spend the night then leave in the morning. That is when she took the pesticide in an attempt to commit suicide," Chepsiya said.
"I rushed her to hospital after my brother and I discovered that she was unconscious in bed after packing her clothes. We saw an opened packet of pesticide which we suspect she had swallowed," he said.
"I paid Sh10,000 as a deposit for her to be admitted to the hospital after we drove her from home," Chespiya said.
The video, which went viral, shows the athlete in his vehicle kissing the woman in a denim, unbuttoned blouse as they enjoy Kalenjin music blaring from the car's loudspeakers.
Chepsiya said that the lengthy call from Asbel opened a Pandora's Box on the numerous affairs his wife had with other athletes and politicians.
He added that after the call, Nancy owned up to having been involved in numerous affairs and agreed amicably to split as their marriage was irreparably broken. Chepsiya revealed that he had gotten wind of the affair a while back, but the revelation came as a shocker to him. He is angry at Kiprop for his betrayal.
"He is worse than a murderer. The things he has done behind my back, yet he is my friend and fellow athlete, go beyond what an enemy would do," he said.
The athlete recalls a day when Asbel called him for drinks at a local joint near the Moi University School of Law Annex in Eldoret, which turned out to be a hoax and plan to get him away from his wife.
"He asked me to join them for a few drinks. Little did I know that he was on a mission to know my location before going to pick my wife for a prearranged love making session. They killed a woman in a road accident as they were driving back from the airport," he said.
Chepsiya explained that the two were very close that he had lent Asbel Sh500,000 to settle the accident matter with the family of the deceased woman they had knocked.
Nancy, a businesswoman-turned-politician had unsuccessfully vied for a Member of County Assembly seat in the past general elections. Asked about allegations of Chepsiya snitching on him to the anti-doping agency, Asbel denied knowledge of such allegations, saying that what was being spread out there were baseless rumours.
Related Topics