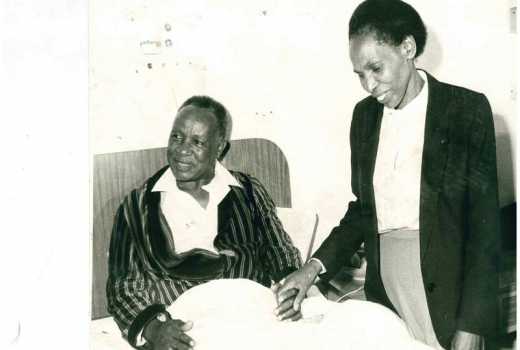 He was named after a traditional brew, and despite once heading the giant Kenya Breweries, he never sipped a drop.
The late Kenneth Matiba, the first of seven siblings, was quite restrained even in childhood. His no-nonsense father, Stanley Njindo, a tough teacher, did not entertain his children climbing trees or sitting on the laps of adults at their Kahuhia home in Murang'a County.
And while most toddlers were fed roasted bananas chewed up by the mother or cucu and delivered as a pulp from the mouth and fed with the index finger, Matiba's father would have none of that from his stay-at-home wife.
Funny how his younger brother, Kimani, who hated school, disappeared during the State of Emergency in the 1950s and was never to be seen again.
But could Matiba's father have entertained him chatting up girls?
Well, that we can only conclude from his sternness. But meeting his wife of over 50 years, Edith Matiba and mother of his four children, happened in Murang'a where her brother worked as a veterinary officer in the 1950s.
Edith was in primary school. He took note of her and rekindled his interest when he joined his father's alma mater, Alliance High School in 1951. Alliance was in Kikuyu, where Edith was the daughter of its most famous son, Musa Gitau after whom an eponymous school is named.
So mesmerised with Edith was Matiba that he befriended her elder brother, Bernard Wachira, for an opportunity to sneak out of Alliance and visit her at their home most Saturdays.
Fate conspired when Edith joined Alliance Girls High School, the sister school, making life easier for them to date and which continued after he joined Makerere University in Uganda where he maintained a "sanctitude" life and worked hard not to embarrass his fiancée.
Matiba kept off alcohol and jigs outside university for five years, even though there was freedom for all manner of amusement, Matiba recalls in his memoirs, Aiming High: The Story of My Life. His only sin was probably smoking.
The couple left Makerere and got married in 1960. By 1964 Matiba was earning Sh3,200 per month as PS in the Ministry of Education, while Edith was earning Sh1,000 monthly as a community development officer.
He was still not drinking alcohol when he left the civil service for Kenya Breweries as personal assistant to the managing director Bryan Hobson in 1968. When he took over as general manager three years later, he founded an ingenious way of introducing Tusker lager to the UK in 1975.
Matiba approached Cyril Hooper, a missionary who was once in Kenya, and though he never drunk, the man of God devised other ways of using the beer.
"He was using it to catch slugs. He told me there was a special gadget known as a "slug pub" in which he put the beer and then the slugs just crowded in, drank it, got drunk and then drowned in it," notes Matiba, adding that although his office at Kenya Breweries received visitors ranging from bishops, pastors, priests, nuns and even Akorinos, "I used to give them all tea, except one bishop who preferred Milo," writes Matiba who swept floors, scrubbed vessels, cleaned hot water tanks, cleaned storage tanks, shifted pumps and fiddled about with huge hose pipes, messed up with yeast and helped repair parts when he was posted to Tanzania Breweries in Dar-es-Salaam for three months as a management trainee.
Related Topics