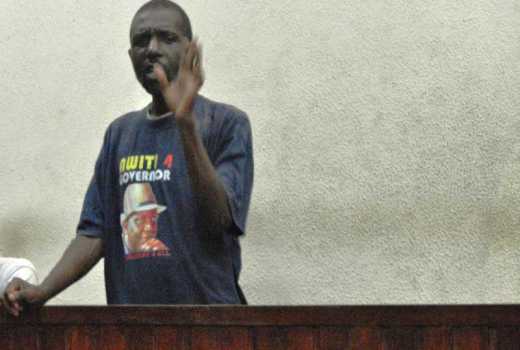 Kabera Muindo Steven was arrested for being in the country illegally
The Congolese national claimed he has been abused by fellow prisoners at Shimo la Tewa Prison
A prisoner in Shimo la Tewa Prison in Mombasa has pleaded with the court to order his repatriation to his country, claiming he is being sodomised by fellow inmates.
He claims he has been raped and beaten by fellow inmates at the prison for long.
Kabera Muindo Steven from Congo pleaded with Senior Principal Magistrate Henry Nyakweba that he wished to be repatriated back to Congo as he fears for his life.
"I pray you help me return back home Your Honour. The men in the prison will kill me. Every day they are abusing me. I pray I go to my embassy and they help me please please (sic)," begged Steven.
Steven who speaks French and some English was arrested in Mombasa on December 1, 2017 and charged with being in the country illegally.
He denied the charges and was released on a bond of Sh100, 000 with two sureties of similar amount.
A psychiatric report from Coast General Hospital CGH in Mombasa indicates that Steven is mentally sound and fit to stand trial.
The Congolese said that he fled Congo because his life was in danger, and ended up in Kenya after failing to get refuge in Uganda.
The court directed that the prosecution avail a French interpreter to help with the case.
"I cannot help. It is the prosecution handling your case. Get a French interpreter so that we can conclude this matter and see if we can repatriate you back," the judge ordered.
Related Topics