Kenyan women have drummed their displeasure with Kenyan men whom they say are unromantic. They lack chivalry
Most can hardly think outside the love box. But there are some who go overboard and prove the cynics wrong
That we're unromantic is a stereotype borne of watching too many soap operas and being conned by our West African brothers and not a few Congolese musicians who sing at night and have an entire day to do your shopping, launder your G-strings and don't also most do their hair in salons?
Counselling psychologist James Mbugua clarifies that "Kenyan women need to be realistic as hiring a chopper to bring flowers or proposing to her in a grand manner only one percent of Kenyan men might do that. Kenyan men love with passion."
Kenyan men are indeed, romantic. Who else funds all those ideas on the Wedding Show, My Perfect Wedding and My Dream Wedding?
Here are the most openly romantic Kenyan men. Take your pick.
1. Eric Omondi's billboard love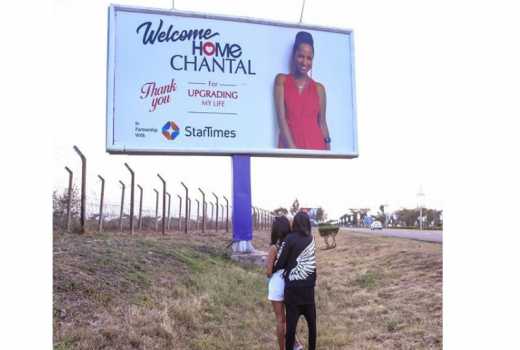 Comedian Eric Omondi surprised his fiancée Chantal by erecting a welcoming billboard at the JKIA after her long stay in Italy.
The huge billboard had a clear written message Chantal "Welcome home Chantal, welcome home my love."
Before she came back he promised to pitch tent an JKIA until she comes, "My heart beat. My Love. My Queen. My Angel. I withdraw every petition that may make you unhappy. I will peacefully pitch camp at the Jomo Kenyatta International Airport every Monday, Wednesday and Friday until you come back... Please tag her for me... @miss.chanty," wrote Eric Omondi who proposed to her on Valentine's Day while on a getaway in 2016.
In September 2015 Eric caused a stir at JKIA when he hired the FBI dance Crew to perform for her when she jetted back in the country
2. Simon Kabu's range of birthday gift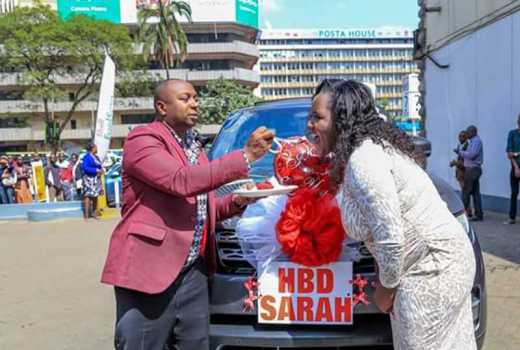 Business came to a standstill on Nairobi's Koinange Street after Bonfire Adventures chair Simon Kabu surprised his wife Sarah Kabu, the MD, with a Range Rover, a five tear red velvet cake and an after party at Kiza Lounge for her 39th birthday.
"The birthday was not meant to be a publicity stunt, I decided that the cake and car to be brought to the office because I wanted to surprise her. She was not at home, she was working and that was the best choice, if she was at home definitely the gifts would be taken there. We always do it big. In 2015, we went to the Europe cruise, 2016 we went to Seychelles and this year was London but our six month old daughter did not have a passport hence I settled for the Range Rover," Kabu told The Nairobian.
"Range Rover Sport has always been her favourite car, when we are in traffic or driving and it passes she keeps on showing me and she had said by 40 years she would buy the Range."
3. Macakiage's stretch marks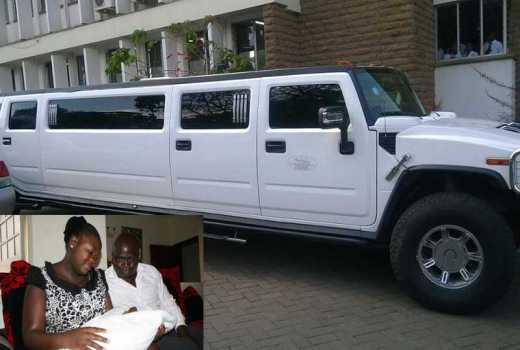 In October 2014, city businessman Eric Macakiage welcomed his son, Jayden Cole Otieno, to the world using a stretch Limo to pick his wife Irene from the Nairobi Hospital, saying, "I have a responsibility to take care of people who are directly connected to me. And if it means splurging money just to see them comfortable, I will do it."
The man who splashed Sh3 million on his wedding stayed in the labour ward until Jayden was delivered.
"I had no role in the maternity and delivery room. After I saw what my wife went through, I wanted a transition from pain to joy, my friends planned the entourage, which had some very serious cars. All I did was consulting the Royal Limo guy for the Chrysler limo; 15 of my friends came in the others," he explained.
4. Terrence Mwangi's street proposal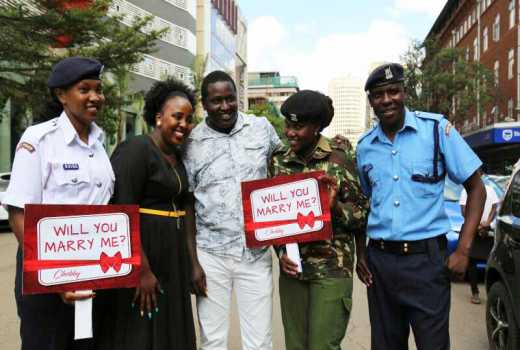 Terrence Mwangi, a creative director, proposed to producer Milly Chebet on the streets of Nairobi in April last year. One of Millicent's friends tricked her into believing they were running errands before cops pulled them over at Nation Centre and demanded they shuka from their car.
Her friend who was driving pleaded guilty to not having a driving license and their safety belts were not strapped.
While talking to the cop, FBI dancers and some of her friends appeared from nowhere with 20 placards written "Will you marry me?" When she turned around, she saw Terrence on one bended knee, a ring on his finger.
Chebet had no choice. She said yes!
5. GG's motorbike proposal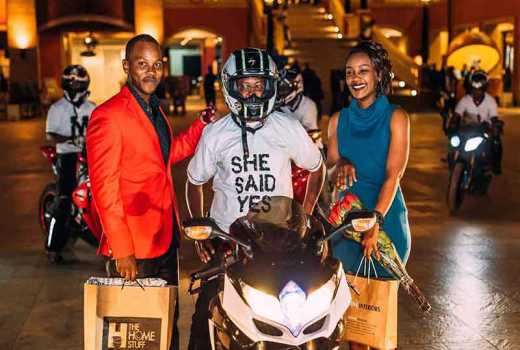 GG a biker pulled all the stops while proposing to his girlfriend Faith Shiru at the Hub's Piazza. GG choreographed a proposal to remember.
With the help of fellow bikers, GG printed T-shirts for the bikers with each one having a letter at the back forming 'Faith Shiru' and when they turned it formed 'Will you marry me?'
The bikers first gathered and formed a heart shape; they all walked in and formed a line showing the name inscribed on the back of the T-shirts. When Shiru arrived the crew turned to 'Will you marry me? As GG went on one knee.
Shiru said yes, an awed crowd watching from the side-lines.
6. Frank serenades Rachel Shebesh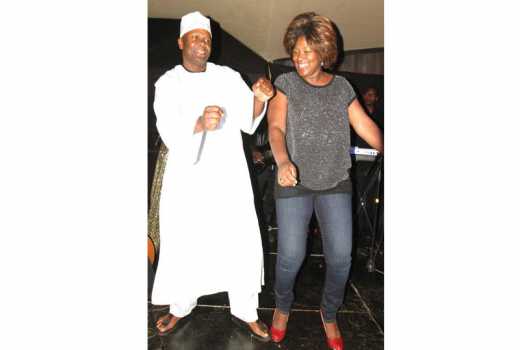 Frank Shebesh treated his wife, former Nairobi Woman Rep Rachel Shebesh to a lavish party at Karen Oasis Club. Rachel celebrated her 45th birthday with a number of fellow politicians including Raila Odinga's daughter Rosemary, Joyce Laboso, Cecily Mbarire and Beatrice Elachi.
Award-winning singer Suzzane Owiyo was also in the house as a jovial Frank held his wife's hand to the dance floor with the two whispering sweet nothings. He then helped her cut the cake which the two shared with their distinguished guests among them politicians.
7. Anthony Samba's Airport proposal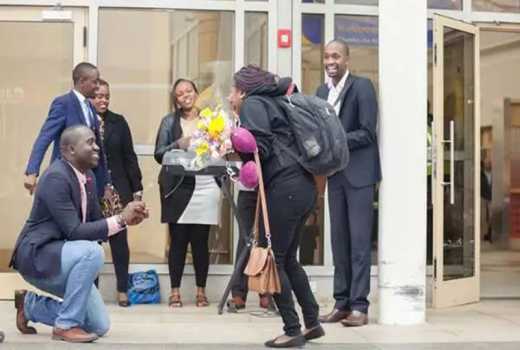 Antony Samba, a television producer, brought business to a standstill at the Jomo Kenyatta International Airport when he proposed to his girlfriend Getty Nthiiri in November 2016.
Antony got a few people to hold up a banner with the words, 'Will you marry me?' besides hiring a photographer and band to set the mood just before she arrived.
Getty was not expecting the proposal after her flight, but her man went on one knee. She said yes!
8. Lonina Leteipan's chopper proposal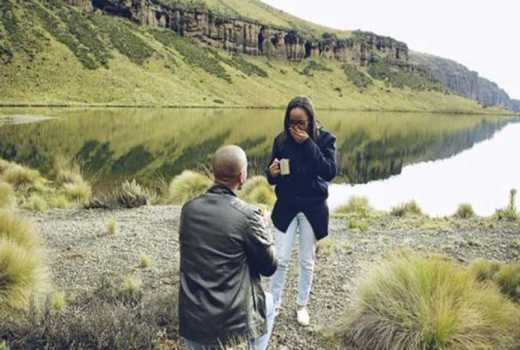 Lonina Leteipan, a former Youth Banking Manager with a local bank, proposed to fashion blogger Sharon Mundia at an amazingly romantic surprise proposal trip via helicopter to Mount Kenya in May of 2015.
The two love birds were on a weekend gate away that doubled up as a photo shoot for her website but when they arrived at the venue on the banks of a crater lake she was surprised when he knelt and popped the question "Will you Marry Me?" A shocked Sharon said yes before breaking the news of her engagement on her blog.
9. Mwasigwe Mwendwa's KICC proposal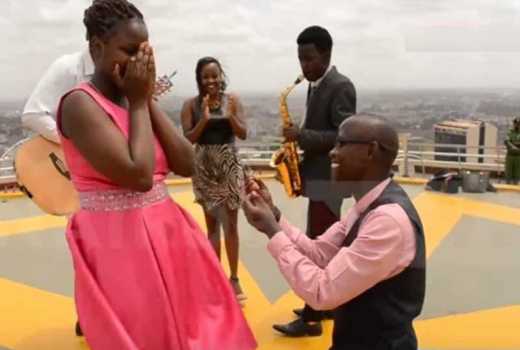 Mwasigwe Mwendwa wanted to create a memorable proposal for his girlfriend Elizabeth Mwangi, a Business Information Technology student at Jomo Kenyatta University.
At first, he considered a billboard along the Thika Superhighway where she would see it all the time as she lives in Thika.
"But it was very expensive," recalls Mwendwa. In February last year he invited her for his sister's gig at KICC. As the band played, Mwendwa went down on one knee. She said yes.
Not bad for a couple that met on Facebook with Elizabeth finally meeting him after months of playing hide and seek.
10. Ababu's flood of puppy love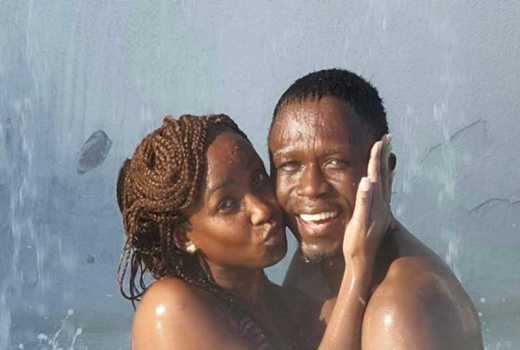 Politicians are known to keep their wives under lock and key unless there is a national holiday to parade them. But not former Budalangi MP Ababu Namwamba whose Facebook page provides glimpses of his soft side.
He often floods it with photos of his romantic getaways with his wife, Prisca Mwaro. Like their 2015 tour of India's Taj Mahal with the caption reading: "The Taj Mahal in Agra truly is a wonder...a special monument to True Love!"
In a tour of Dubai that year he wrote: "Quite a refreshing weekend in Dubai's Arabian Desert… with Shipep soulmate Priscah Ababu Namwamba." To celebrate Mother's Day, he flew her to Reykjavik, Iceland to appreciate her being a good mother and wife.
'Generali' later explained to a local television that "You should find a way to spend time with the one you love within your circumstances."
Related Topics