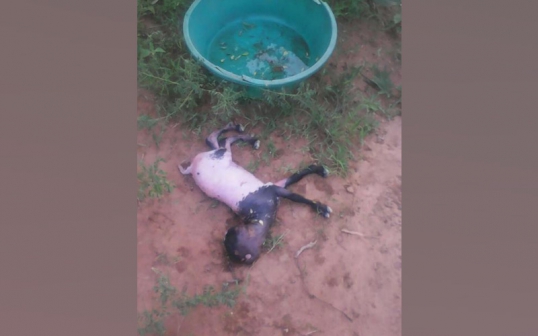 The goat's owner was shocked after it gave birth to a kid with a human head
According to the owner, this is clear evidence that someone had sex with the goat
Residents of Kyaani village in Masinga sub-county, Machakos County were shocked after a goat gave birth to a kid with a human head.
The owner of the goat, Sabina Kamwele, said she was astonished when her goat gave birth at around noon.
"I was not around when the goat gave birth. When I arrived home, I found the new-born kid lying on the ground. I was shocked when I saw its head resembling that of a human. This is so strange. That only means someone must have had sex with the goat!" she exclaimed.
Confirming the incident, area assistant Chief Josephat Mawia said the case was reported to his office and he was equally shocked.
"By the time I got to the scene, I found the kid dead, but its head, eyes, mouth, ears and the head resembled that of a human. It is clear that someone had sexual relations with the doe," he said.
Mawia said that they are investigating the matter.
Related Topics