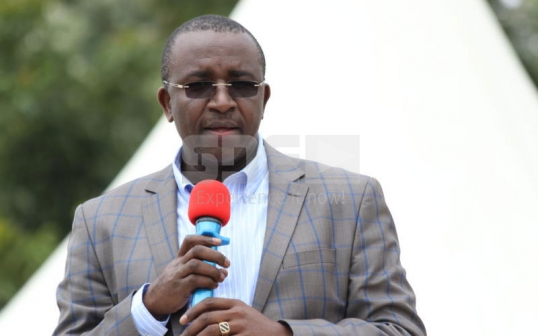 Mithika Linturi's law degree from the University of Nairobi was deregistered by the institution
His admission forms state he got a B- but the EACC established he got a C-, which could not allow him admission to the university
Meru Senator Mithika Linturi recently joined the growing list of politicians whose academic qualifications have been revoked.
His case puts the Independent Electoral and Boundaries Commission (IEBC) on the spot for clearing him to contest elections despite being furnished with misgivings regarding his certificates.
The University of Nairobi recently deregistered Linturi's 2014 law degree, claiming that he used fake academic qualification papers to gain admission to the institution.
A petition against his election also claims that he passes himself as a Bachelor of Commerce graduate from the University of Nairobi, yet in a sworn affidavit, an investigator with the Ethics and Anti-Corruption Commission (EACC), claimed that Linturi never registered as a student for the course, and that he was not among those who graduated in 2001.
Linturi's admission forms indicated that he obtained a B- from Igembe Boys Secondary School, where he claims to have been a student between 1986 and 1989, yet he reportedly scored a C- which could not have allowed him admission to university.
Further the EACC established that Igembe Boys Secondary School did not exist under code 34008 in the year Linturi claims to have graduated in 1989 and instead, the code belonged to Igembe Secondary School where he earned scored C-.
Linturi, who listed his marital status as 'separated' in his university admission papers, also claimed to have earned a Bachelor of Commerce degree from Marathwada University in India in 2001, the same year he was supposed to have been a student at the University of Nairobi.
Investigations by EACC also revealed that Marathwada University changed its name to Dr Babasaheb Ambedkar Marathwada University on January 14, 1994, yet Linturi's 2001 papers reflected the old name.
Linturi has thus been marked as one of the public officers who have questionable integrity contrary to the Constitution of Kenya regarding the holding of position such as that of a Senator.
The Nairobian has now established that EACC in its supporting evidence submitted copies of alleged fake certificates in constitutional petition 394 of 2017 filed at Milimani Law Courts.
Some of the tabled documents include response by the Kenya National Examinations Council and findings on the Indian university following request by the IEBC for a probe after an anonymous claim that the senator could have used forged documents.
The EACC inquired from the University of Nairobi in a letter dated May 24 whether Linturi was enrolled there and which courses he took. In its response, through a letter dated May 30, 2017, the senior assistant registrar (examinations) at the university stated that Linturi was not a registered student in the School of Business and that his name did not appear in the graduation booklet in 2001.
"It is evidently deceptive that on the part of the first respondent (Linturi) to declare that he obtained a degree from UoN and another from Marathwada University, India in the same year," stated the affidavit.
The affidavit further claimed that the senator had misrepresented his secondary education results with papers in his possession bearing a mean grade of B-.
The Kenya National Examinations Council in its response indicated that the senator attained a mean grade of C-. The council state that: "Following your request for verification and confirmation of the year 1989 KCSE examination results for Mithika Franklin Linturi, it has been established that the purported copy of certificate presented for authentication is obtained from forged document".
EACC also stated that they had invited Linturi to record statements between May and June touching on the allegations but he declined. Later EACC advised the IEBC on the senator's conduct, including lacking integrity to vie for a senatorial position.
Related Topics