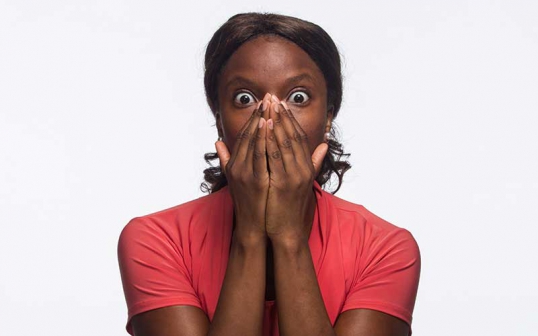 Cases of parents sleeping with their sons and daughter in-laws are on the rise
I asked him why he couldn't just look for a woman to marry instead of sleeping with my husband, but he slapped me and walked off- City woman
A 25-year-old city wife was last weekend shell-shocked when she walked into her father and husband in bed.
Mercy, whose surname we are protecting to save her family embarrassment, had first called Radio Maisha during a phone-in programme seeking help on what to do.
Mercy later narrated to The Nairobian how a visit to her father, a widow, left her in shock.
"My father is a widow, following the death of my mother three years ago. I had not seen him for a while, so I decided to drop by his place in the afternoon. The house was not locked and he wasn't in the sitting room or the kitchen," says Mercy.
She explains that when she got no response after calling out her father, she went to the bedroom where she busted her hubby and father - both stark naked.
Mercy's father is in his 50s and has not remarried.
"I was shocked. I didn't know what to do and didn't want to continue looking at my naked father. So I turned and collapsed in the sitting room. My husband, now dressed, followed me and I found the energy to confront him," narrates Mercy, adding that upon questioning him, he refused to 'admit liability' and instead told her not to worry because it was her father who has been taking care of them since the business he ran was funded by him.
"He has been in business for two and half years, and I never knew the business was funded by my father," Mercy went on. "I just thought my husband and my father were close because my husband frequently used to tell me that he met my father and that he had sent greetings."
She then confronted her father.
"I asked him why he couldn't just look for a woman to marry instead of sleeping with my husband. He slapped me and walked off. I am so hurt and confused. I have moved out of the house and living with friends. I am three months pregnant and I am not sure if I will be going back to live with my husband," says the Bachelor of Commerce graduate from a local University who was raised in Eldoret before her family moved to Nairobi.
Mercy has been married for three years, and her first pregnancy ended in a miscarriage.
"I have never suspected my man to be gay. We have had normal intercourse and he didn't look gay in any way, although the last few months, our bedroom life has been waning, and I thought maybe it's normal for that to happen in marriages," she explains, adding that, "My husband has tried calling me but I don't pick his calls. I don't know what to tell him. My father has however not bothered to call."
The Nairobian could not however reach the husband and her father for their side of the story. Phone calls to them went unanswered.
My husband and mother did not return that night
Cases of parents having lungula with their sons and daughters-in-law have been reported before, including the case of Embakasi woman, Hannah Mwenje, who caught her husband in their bed with her mother one morning.
"It was a Sunday. I went to church with my two children. My husband was still sleeping when I left. During the church service, my baby became restless, so I decided to leave before the service was over because he was making so much noise and disrupting the service. "I got home and found the door open. I could hear voices from the bedroom," she says, pausing to describe their two-room house in Pipeline, Embakasi.
"My husband heard me walk in and came out of the bedroom naked. He dragged me into the bedroom and I found my mother naked in bed. I was dazed," Hannah recalled. She says the two went ahead and finished their 'business' as she stood shell-shocked.
"My mother told me that a man like my husband didn't deserve a woman like me. She then dressed and gave my one-year-old son five shillings to buy sweets. They left with my husband as I collapsed on the floor," Hannah said.
Her husband, who is a plumber, and her mother didn't come back that night.
"I didn't see them for two days. On Wednesday the following week, I went for kibarua with my children and when I came back in the evening, the house had been swept clean. Everything was gone, including my children's clothes," she says.
But the born-again woman says she has forgiven them after recovering from her suicidal thoughts.
"I can't accept him back knowing that he slept with my mother, but I have forgiven him and have no grudge with them," she says.
Hannah says her relationship with her mother hasn't always been smooth.
She was born in Naivasha and has never known her father.
"I had to drop out of school after primary school because my mother couldn't afford to take me to high school. She was a perpetual drunk."
She sought employment and it was while working as a waitress at a Mombasa hotel that she met her husband.
"I just know he is from Western Kenya. He never took me to meet his parents."
They got married and moved to Nairobi. It was then that her mother started visiting her frequently.
"She would come every few weeks, but I got suspicious when she started going out to drink with my husband," says Hannah who neither drinks nor smokes.
She confronted her husband over the issue of drinking with her mum but the man was adamant, saying a man has to take care of his mother-in-law and that he would not stop buying her alcohol.
Not surprisingly, cases of older women snatching husbands from their daughters, or daughters snatching men from their mothers are hardly reported due to embarrassment and stigma.
Experts say such deviant behaviour is among the many modern ills that place the traditional family unit at risk.
"Traditionally, people feared curses, but nowadays, no one believes in being cursed. That is why someone can sleep with his uncle and feel nothing. Sex is just sex, with no feelings attached," says University of Nairobi sociology lecturer, Ken Ouko.
Related Topics