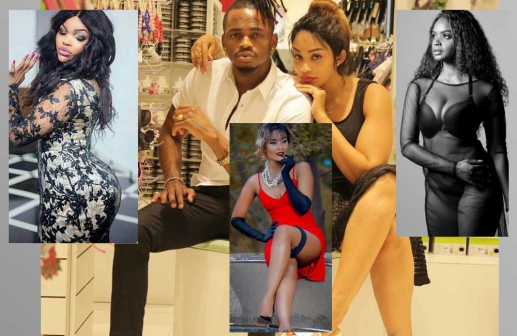 Simba, arguably the most bankable East African musician with a fortune of Sh412million seems to prey on 'yellow yellow' slay queeens
Socialite-cum-video vixen Hamisa Mabetto's confession that Tanzania's self-proclaimed Simba is the father of her son caused an unheralded stir in the music scene
Simba's flowing cash and sauti inayoweza kumtoa nyoka pangoni, brought more beauties than he could chew
The story of Diamond Platinumz is unusual rags to riches punctuated with a harem of beautiful socialites, an over protective single mother, missing-in-action dad and a much older Ugandan wife (cougar) Zari Hassan. The soft-spoken Naseeb Abdul Juma's (his real name) rise to the top has not been an easy task.
Video vixens, slay queens, cougars, models, actresses and tube beauties formed a beeline for his attention:
Puppy Love: Enter Wema Sepetu
Former Miss Tanzania Wema Sepetu was Diamond's puppy love. The actress-cum-socialite was once heralded as Diamond's future wife before cheating rumours hit the internet.
In a past interview with True Love Magazine, Wema opened up on her relationship with Diamond and said they met on Facebook. Back then, Wema lived with her sister in the USA.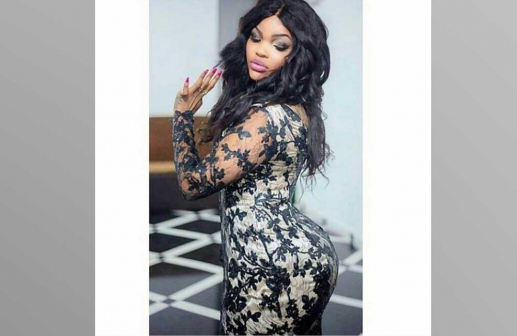 She later travelled to Tanzania to meet him but all was not rosy.
Wema claims that her mother disliked Diamond as she thought he was bad influence. She however could not keep the secret relationship for long. Wema once lied to her mum that she was travelling to Zimbabwe for a charity event.
But the couple were snapped hanging out in a bus. Unable to keep it a secret, the couple made the affair public.
But before the wedding bells could toll, beautiful Ugandan socialite Zari Hassan trained her eyes on Diamond.
The older, mother of three (one teenage son) had just walked out of marriage from South Africa-based Ugandan tycoon, the late Ivan Lukwago.
Zari swept Diamond off his feet.
She complicated the four year relationship between Diamond and Wema and their split was inevitable in 2014.
Wema was left licking her wounds and found solace in Big Brother Africa Hotshots winner, Idris Sultan. The affair came to a sad end when Wema suffered a miscarriage.
Idris told Dizzim Online that he slept and dated more than 30 women to get over Wema.
Cougar Love: Zari Hassan brings Ugandan bed magic and expertise
Zari walked out of a 12-year-old marriage to the late Ivan Lukwago claiming the marriage was ' toxic and abusive.'
In an interview with Faridah Nakazibwe on NTV Uganda in December 2015, Zari said, "I tried so much to mend the relationship but it failed. I was abused in front of my kids and in public places."
However, the late Ivan denied the claims, saying Zari's injuries were as a result of a car crash. The couple's three kids Pinto, Raphael and Quincy were in distress.
Zari dumped Ivan and hooked up with Ugandan basketball star Isaac Lugudde aka LK4 and later dated muscle man Farouk Sempala. Zari ended both affairs.
Smarting from heartbreak, Zari laid trap for Diamond. That was in December 2014. Being an older woman, she wowed Diamond with classy lifestyle and bedroom skills. The affair was no longer a secret.
The couple appeared together during the Channel O Video Music Awards in South Africa where they revealed they were an item.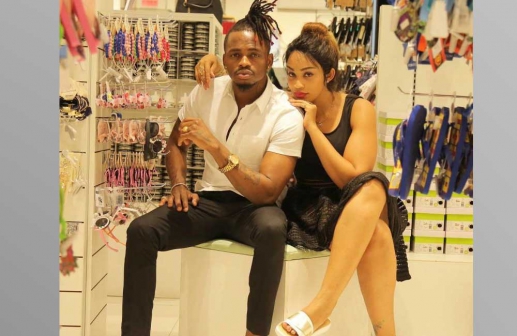 Diamond told Tanzania's Clouds FM that he was not worried about Zari checkered romantic past. Zari, during the same interview, also said that she was not attracted to Diamond at first.
In August 2015, the couple welcomed their daughter Tiffah and in December last year,their baby boy Nillan. Soon rumours started flying that Diamond had started messing around with beautiful video vixens.
It is said that when Diamond decided to re-work the hugely popular song, Salome by featuring his fast-rising sidekick Rayvanny, the horse had already bolted. Diamond became too cosy with vixen Hamisa Mobetto on Salome set that a steamy affair soon followed.
Although he denied romping with the socialite, hell broke loose when she got pregnant and announced to all and sundry — when she delivered — that the boy was Diamond's.
Enter side chick: Hamisa Mobetto and baby prince Naseeb Dangote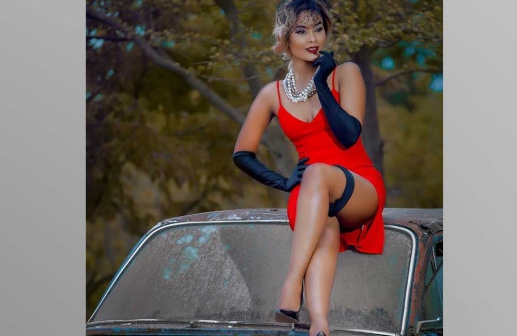 The moment Hamisa dropped the bombshell last week that Diamond was dating her behind Zari's back trouble was already rocking Simba's romantic kingdom.
Speculations had been rife on who could be Hamisa's baby daddy although she kept her lips tight. However, photos of Hamisa in Diamond and Zari's house were leaked by Celeb Chronicles.
Things, however, got out of hand when Zari's conversation with Hamisa dating back to November 2016 was also leaked. Simba was cornered. He had to do something. Diamond went on Clouds FM to clarify the matter.
He welcomed Hamisa's child as his son and apologised to Zari. Immediately, Hamisa opened an Instagram account for her son and named him after his father.
Enter... Delicious Dillish Mathews, tasteful presented for Simba in love-island
According to Celeb Chronicles, Diamond was romantically linked to Namibian Big Brother Africa 2013 winner, Dillish Mathews. Diamond was rumoured to have spent quality time with her during a vacation in Zanzibar. Diamond denied the affair on a radio interview with Clouds FM.
Dillish, however did not come out to address the allegations.
Jokate Mwangelo was not joking with Diamond and Ali Kiba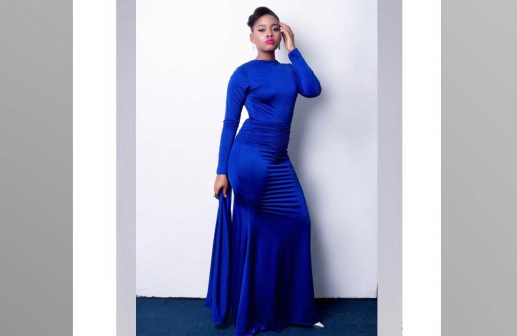 The steamy affair between Diamond and TV sex siren Jokate is well documented. It is also the genesis of the fall-out between Ali Kiba and Diamond. The beautiful TV personality romped Diamond behind Wema's back when she was still linked to Ali Kiba.
Wema revealed during her interview with True Love Magazine that the affair caused a bad rift between Kigoma mates Diamond, and Ali Kiba.
Diamond, however, in an interview with Clouds TV Diamond denied the affair and said he had no beef with Ali Kiba.
Enter queen of socialites: Vera Sidika showing more to Diamond
The chartbuster, Show Me currently ruling the musical charts is a testament on how special bootylicious Vera Sidika is to Wasafi Records.
The song released early this year has a chorus that serenades Vera as Diamond's side-kick.
Harmonize and Rich Mavoko wax lyrical about her fundamentals. Beyond the song, the rumours linking Diamond to Vera started doing rounds in December last year when the Kenyan socialite made an appearance during Wasafi beach party. Both parties have never addressed the issue.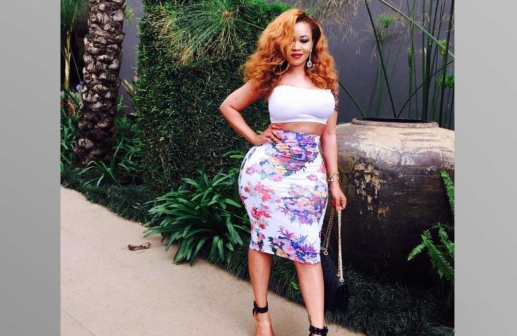 Enter video vixen Hawa and baby claims
One of the most hushed affair is that between beautiful vixen Hawa and Diamond. The beauty appeared on Diamond's sophomore song, Nitarejea in 2013 and word started doing rounds about the affair.
A video clip was posted on Bongo Stars where Hawa made allegations that Diamond fathered her first daughter but refused to take care of her.
"I have tried to reach him but all has been in vain, he knows that I have his baby but he has never been here to see him," said Hawa.
Enter boss lady socialite Huddah Monroe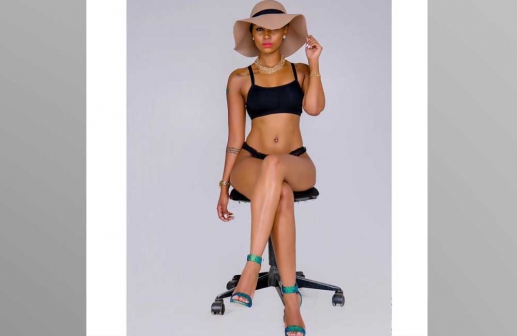 In August last year, Zari was beefing with Huddah. This came to the fore after Huddah posted on Instagram something about Diamond.
It read: "When you think your man is yours kumbe (yet) he is ours. And I ate and dined with both of you. Having kids with someone to tie him down doesn't mean he won't leave. The little boy is public property, you order him like pizza. Don't hate the player or the game, hate yourself, Madam!" Huddah posted.
Zari did not take this lightly and responded on her Instagram page captioning a photo of herself with Diamond.
"Watu na bae zetu... nyaku nyakus can't even post their own. Told you, if he can't claim you in public, don't give him the goods in private. You know what that means right and I bet you know where that leaves you. Tag your bae and wish him or her a good night. #ToWhomItMayConcern."
In June this year, Huddah addressed the issue through Snapchat she said, "Reasons why I don't f*** with married men is coz I'm a feminist, I care about the next woman. Even allegations that I slept with Zari's man when I was with him were all lies."
Enter actress Jacqueline Wolper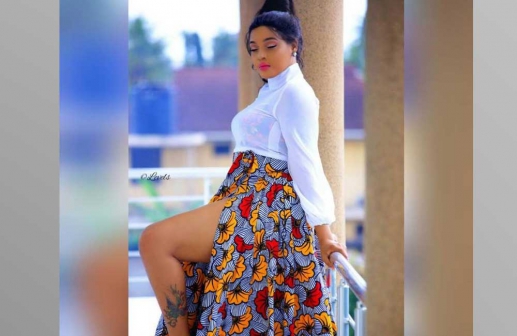 Actress Jacqueline Wolper confessed that she has dated both Ali Kiba and Diamond before he started dating Zari.
In a segment on EATV when asked have you been in a relationship with Kiba? She said, "Ali Kiba ndiyo"
When asked whether she has been in a romantic relationship with Baba Tiffah, Wolper said; "Diamond tuna mahusiano mengi sana zaidi hata ya kimapenzi…ni bosi wangu, rafiki yangu, mshauri wangu, yaani na mahusiano nae mengi, umenielewa? Kikazi na vitu vingi."
It is said that the actress broke up with Diamond.
Enter Jesca Honey pot from Burundi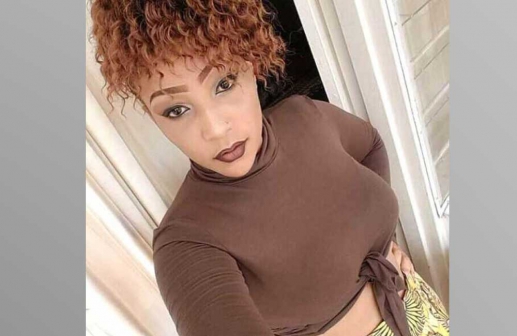 24-year-old Burundian, Jesca Honey took to Instagram and claimed Diamond is the father to her twin daughters.
Jesca said she met Diamond in 2013 when he travelled to the country for a concert.
Diamond sent one of his boys to approach her and directed her to a hotel room where they got intimate.
"Since then, he has never given me financial assistance," stated Jesca. She shared photos of her twin daughters on Instagram and even stated that she is ready for DNA tests to eliminate any doubts.
"Please Diamond Platnumz, I have solely taken care of these children since they were born. It's time for you to take them and care for them. I give up," added Jesca.
She further stated Diamond's mum is aware that Diamond sired twins with her.
Diamond is yet to respond.
Related Topics