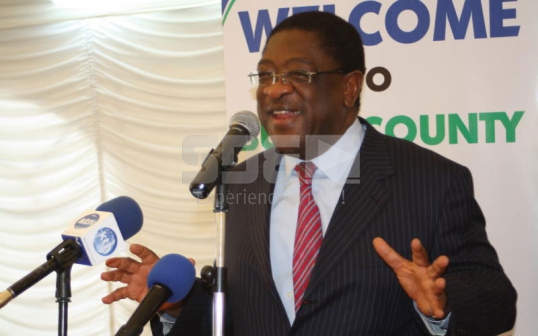 Amos Wako's has two children, Julius and Debora with his first wife Flora Ngaira Wako
Flora Wako's father was the first African Deputy Chair of the Public Service Commission
Amos Wako had two children with first wife Flora Ngaira Wako. They are Julius and Debora Wako. Julius, a splitting image of his father, is a lawyer specializing in banking and finance.
He attended his father's alma mater, Alliance High School and after attending the University of Warwick and Queen Mary University for his Masters in Law, he joined his father's old law firm on his way to his current position as a partner in the corporate and commercial division of one of the most prominent legal practices in Kenya.
His mother and Wako's wife Flora, is a scion of a prominent Luhya family in Kakamega.
Her father, Benjamin Ngaira was a wealthy and respected civil servant, the first African Deputy Chair of the Public Service Commission in 1962 when he was appointed by Kenya's last colonial governor, Malcolm MacDonald.
Ngaira's children became part of Kenya's Who's Who. Besides Flora, who wrote a children's book 'Kenyan Fables' published in 1989, there is also pioneer research scientist Beneah Majisu, the first Director of Muguga Forestry Institute and who was married to Lady Justice Effie Owuor before their divorce.
Then there is Prof Norah Olembo and the late Jemimah Kaisha, a long-time secretary in State House.
Ngaira died at Kenyatta National Hospital on February 27, 1968 after doctors forgot to remove some gadgets, including cotton, before stitching him up, forcing a second operation that claimed his life.
The Minister for health, JD Otiende denied any wrong doing from the doctors and told Parliament that "After all, he (Ngaira) was a dying man!" which ended his political career.
Related Topics